Bud Selig doesn't like champagne celebrations
MLB commissioner Bud Selig would rather postseason celebrations not include spraying champagne.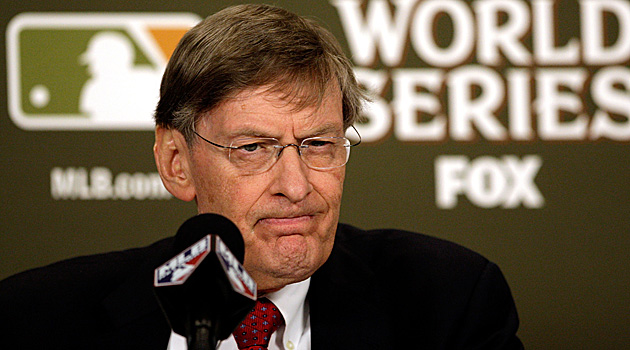 I do NOT approve of your celebrations, gentlemen! (Getty Images)
Considering the time of the year, we've seen an awful lot of champagne spraying of late, as is baseball tradition when clinching a postseason berth ... or wild-card title ... or LDS victory ... or LCS victory ... or World Series victory. Is it too much? Maybe, but it's all in good fun and it's tradition. Pretty harmless from where I sit.
Still, commissioner Bud Selig isn't a fan. From the Los Angeles Times:
"This is something I am not happy about: spraying champagne all over," he said. "I'm not a fan of that."

Would he like to put a stop to it?

"I don't know that we can," he said.

You're the commissioner, he was reminded. Of course you could.

"We could," he said. "I understand that. It is something I have talked to the clubs about and will continue to talk to the clubs about. You want to have great celebrations, fine. But spraying each other with champagne is not that."

So would he want the clubs to celebrate without champagne, or in some other way?

"It has been a conversation amongst clubs and club owners," he said. "I'm not saying we will do anything. But it is something we have talked about."
Can I speak up with just one humble voice? Please don't do anything. Stop talking about it, too. It doesn't hurt anything, and baseball fans generally have enough venom to hurl in your direction, Mr. Commissioner. There's no reason to give them more ammunition.
For more baseball news, rumors and analysis, follow @EyeOnBaseball on Twitter, subscribe to the RSS feed and "like" us on Facebook.
Kinsler will slot in at second base for the Angels

The Marlins got a better return for Ozuna than Stanton or Gordon

The two teams are going about things in very different ways
The Marlins are indeed in teardown mode under new ownership

The Marlins still have more attractive pieces

The A's need outfield help, and the Cardinals have a glut