Bud Selig hoping for farewell tour of all 30 MLB cities in 2014
Commissioner Bud Selig is retiring next year, and he hopes to take a tour of all 30 MLB cities to say goodbye to fans.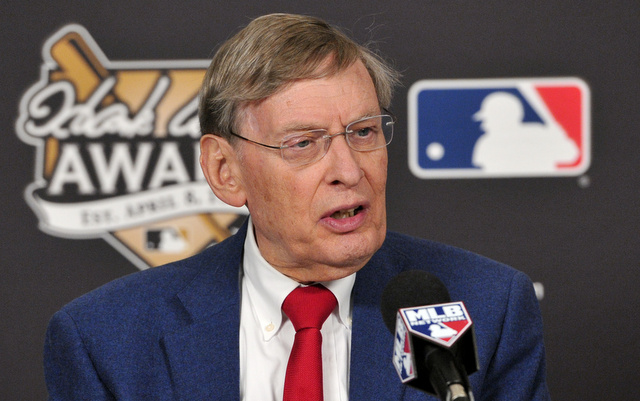 MORE: FA tracker: position players | FA tracker: pitchers
In each of the last two seasons, we've watched an all-time great walk away from baseball. In 2012 it was Chipper Jones, and last year it was Mariano Rivera. Both players were honored in each road ballpark in their final seasons and received gifts from the other clubs.
Commissioner Bud Selig, who is retiring following the 2014 campaign, is hoping for a similar farewell tour. He wants to say thank you to fans in each of the 30 cities. Here is what Selig told Jayson Stark of ESPN:
"I want to talk to season-ticket holders and fans," he said. "I've got a lot of people to thank."

That idea came about, he said, in part because several clubs reached out to him after his announcement and asked to honor him, but also because Rivera's farewell tour got Selig to thinking about ways to connect with people who love baseball.

"I like that," Selig said. "I like talking to people. And ... that's what I want to do: [speak to] season-ticket holders, people who work at ballparks. I just like to walk around and talk to people. I love that. I did that when I ran the Brewers. And I enjoyed it. I miss that.

"Many people ask me, 'Is there anything you miss [about owning a team]?' And that's it. I really miss all that. I knew every vendor. And you knew what they were thinking, too, because they'll tell you, especially if your team is losing."
Commissioners in sports leagues tend to be unpopular. It's just the way it is. If he is honored on the field before games, Selig's retirement tour would feature more boos than cheers, guaranteed. He presided over the so-called Steroid Era and a ton of people will hold that against him.
Now time for some real talk: Selig is one of the best commissioners in history of American sports, especially MLB. Yes, he did preside over the Steroid Era and that is a black mark on his record, but the game has grown tremendously under his watch. Interleague play, the wild-card system, 21 consecutive years of labor peace, globalization and the World Baseball Classic ... all of that makes his tenure a smashing success overall.
Selig has been far from perfect but he has been great for baseball. A farewell tour probably wouldn't be received well by fans, but he deserves one as much as any other commissioner.
(h/t Big League Stew)
The lefty starter is coming off a terrible season

After acquiring Ian Kinsler and Zack Cozart in recent days, the Angels are trending upward

Cozart's coming off a big season as the Reds' shortstop
The veteran slugger spent the last eight seasons with Cleveland

The Padres may be poised for an active winter

Yes, Bryce Harper is going to make a lot of money next winter