Bud Selig, Jerry Reinsdorf at odds over upcoming commissioner vote
Bud Selig wants his right-hand man, Rob Manfred, to succeed him as MLB commissioner. But is Selig's good friend and White Sox owner Jerry Reinsdorf working to defeat his favored candidate?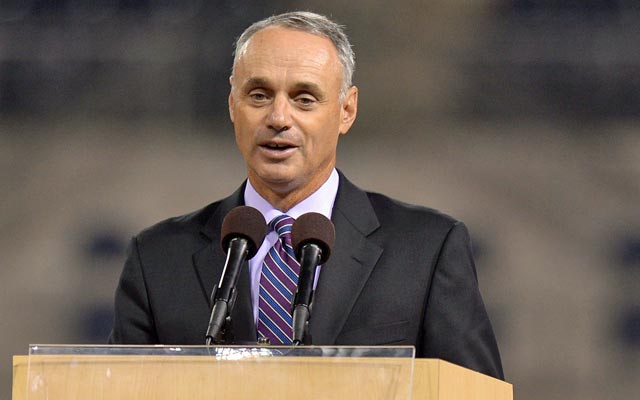 More MLB: Power Rankings | Expert Picks | Latest news & notes | Fantasy news
A fascinating battle at the highest level of baseball's power pyramid appears to be brewing for next week in Baltimore, where all 30 owners are expected to vote on Bud Selig's replacement as commissioner between top MLB chief operating officer Rob Manfred, Red Sox part-owner Tom Werner and MLB executive vice president for business Tim Brosnan.
What makes this vote especially interesting is that most owners are strongly supporting Manfred, Selig's right-hand man for many years, while word is that Selig's close friend and ally for decades, longtime White Sox owner Jerry Reinsdorf, is backing both or either of the other two candidates. Reinsdorf might possibly also favor a potential fourth fall-back candidate, Diamondbacks president Derrick Hall.
In any case, Manfred is seen as a strong favorite after a big last couple years in which he negotiated a CBA more favorable to owners that curtails pay for some top free agents and draft choices and also helped lead the successful mission to nab and suspend 13 players in the Biogenesis scandal, plus many more years of service to MLB. Werner is viewed today as the main competitor to Manfred, and there is apparently a lot of beyond-the-scenes discussion going on about how one or more of the upstarts can pull off an upset.
Insiders are surprised Reinsdorf could be working to install a candidate or candidates to beat Manfred, who has been Selig's top executive for years. But while Reinsdorf declined to say even who has his support, and in fact suggested he only has a "leaning" at the moment, he did suggest no one should assume anyone always sees eye-to-eye with anyone else, no matter how close they may be.
 "Bud's my friend. I don't always agree with him, and he doesn't always agree with me," Reinsdorf said in a phone interview. "We disagree sometimes, but since he's the commissioner he usually wins."
Some are surprised that Reinsdorf not only isn't lining up behind Selig but that he seems to be against Manfred, as no one noticed any previous rift between the two men. Others, in fact, describe the no-nonsense Manfred, while tough in negotiations, as necessarily deferential to owners. It would have been odd for Manfred to buck Reinsdorf anyway since Manfred knows full well how close Reinsdorf and Selig have been through the decades.
Reinsdorf, a member of the search committee that's headed by Cardinals owner Bill DeWitt, wouldn't confirm he's supporting Werner, Brosnan or a combination of the two. "I have a definite leaning," Reinsdorf said, "but I think I owe it to the game and the process to listen to everyone [in Baltimore a week from Thursday]."
Other baseball powers assume Selig supports Manfred, who is in many ways the logical successor, but Reinsdorf said he's yet to hear that directly from Selig, so he implied he can't be sure.
"He hasn't told me he has a favorite," Reinsdorf said of Selig. "He told me he would let the clubs listen to the presentation and vote in the best interests of baseball."
Reinsdorf has been a major power broker in baseball for decades, and often has worked behind the scenes to wield influence, including but not nearly limited to the well-known power play when he and Selig worked together to oust Fay Vincent, the commissioner who preceded Selig. So it's understandable why so many folks inside the game are stunned Reinsdorf is seen as being the key man on the opposite side of this crucial call at the end of Selig's 22-year tenure.
Such a fight could carry the potential to fray baseball's most famous executive friendship, though Reinsdorf was said to have been among the many dignitaries to have attended Selig's 80th birthday party this past weekend at his Milwaukee home.  The event was thought to be decidedly "non political," according to a source, meaning commissioner politics were seen as off limits.
As Reinsdorf alluded to, Selig has a history of winning votes, often unanimously, and people familiar with the situation suggest the belief is that Manfred may have about 20 votes, with 23 of 30 votes (75 percent) needed for election. Votes will be taken until someone gets the necessary 23, if anyone does. The first vote is scheduled to take place Aug. 14 in Baltimore.
Reinsdorf disagreed with the belief Manfred (or anyone else) has close to 20 votes, though he admitted he can't be sure. "I have not been vote counting, but my feeling is, it's definitely more wide open than that," Reinsdorf said.
Other insiders suggest the Mets, Yankees, Dodgers, Phillies, Giants, Cardinals, Cubs and possibly close to 15 more teams are likely to support Manfred, giving him the possibility of about 20 or so votes to start. Meanwhile, the Angels and Brewers are seen as likely to join Reinsdorf's White Sox and Werner's Red Sox in the Werner or Werner/Brosnan camp (in the event Werner and Brosnan join forces, which is seen as a possibility).
The Rays, Blue Jays, A's, Diamondbacks, Reds and Nationals are seen as potential "wild cards" who are undecided and could go either way, though some wonder how even an iconoclastic ownership group such as Tampa Bay or any other small-market club would ultimately support a person from the large market Red Sox to become commissioner.
There have been some serious suggestions Werner and Brosnan could join forces, which makes sense since Manfred could have a substantial lead at this point. There also has been word the Werner-Brosnan camp could try to recruit Blue Jays president Paul Beeston for a high-level role with their potential regime, but that possible partnership isn't a certainty.
The commissioner search committee is said to have been impressed by all three final candidate presentations. Though all the committee members but Reinsdorf are seen as supporting Manfred, Werner -- the former TV magnate -- was said to have made a surprisingly strong presentation before the committee, moving him from extreme long shot to become the main competitor to Manfred.
Bob Nightengale of USA Today first identified the final three candidates for the vote. Michael Schmidt of the New York Times first reported several weeks ago on Reinsdorf's leanings.
The slugger had shoulder surgery in November

Tebow reported to spring training with Mets position players on Sunday

Santa Clara senior Jake Brodt did the honors Saturday
Eric Hosmer's eight-year contract with San Diego has wide-ranging ramifications

Keep tabs on the top 50 free agents right here

The Padres have been heavily connected with Hosmer all offseason