Bud Selig no fan of Oakland Coliseum or Rays' attendance woes
Oakland Coliseum is a "pit" and the Rays' attendance issue is a 'disgrace,' according to commissioner Bud Selig.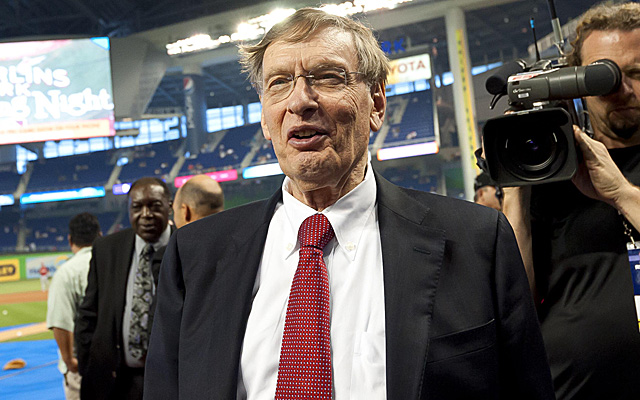 More MLB: Scoreboard | Standings | Probable Pitchers | Sortable Stats | Odds
Commissioner Bud Selig was on the John Feinstein show Wednesday and had some harsh words when it came to the ballpark woes of two franchises likely headed to the postseason -- well, one is already in, one is in a very good position.
On the Athletics stadium situation, which has run into raw sewage issues on more than one occasion this season.
Via The John Feinstein Show, on the A's stadium situation:
"It's a pit," Selig said. "It reminds me of old County Stadium and Shea Stadium. We need to deal with that. I've had a committee working on it for two or three years, and there's no question we're going to have to solve that problem."

But hasn't the committee been working on it for a long time? What's the hold-up?

"We have, John, but I'll tell you it's far more complex," Selig said. "Look, you have one team that wants to move and the other team doesn't want them to move, and it's a very complicated situation. Before I leave, I'm satisfied we'll work out something."
This is a complicated situation, as Selig said, but the basic issue is the A's want to move to San Jose and build a new stadium, but the Giants technically "own" that territory. Again, there's far more to it, with lawsuits and all.
Now, onto the Rays, who appear poised to make the playoffs for the fourth time in the past six seasons -- an amazing accomplishment for any team, much less a small-market club in the mighty AL East. Yet they rank last in the majors in attendance this season -- yes, below the likes of the Marlins and Astros -- at only 18,645 tickets sold per game heading into Wednesday.
Again, via The John Feinstein Show, here's Selig's take:
"That's just disgraceful," Selig said. "I don't know how much blunter I can be than that."
The problem in Tampa Bay is that Tropicana Field is located in St. Petersburg and the team is locked into a lease through the 2027 season. For now, there seems very little wiggle room on that, too.
It's hard to blame Mr. Commissioner on either of these situations. Many baseball fans would rather see the A's playing in a nice, new baseball-only stadium while seeing the Rays get to actually play in front of a packed house on a regular basis.
The Angels' Ohtani faced Milwaukee in Cactus League action on Saturday

New Mexico broke the school and WAC single-game run record with a 39-0 victory over Mississippi...

It's the first Saturday slate of spring training games, and Ohtani will be taking the mound...
The Tigers are very early in their rebuild and they're counting on Miguel Cabrera to rebound...

The Grapefruit League and Cactus League seasons started on Friday

Data will be collected and then used to determine whether humidors are necessary in 2019