Bud Selig wants tougher penalties for performance-enhancing drugs
Commissioner Bud Selig said on Saturday that he wants tougher penalties for performance-enhancing drugs.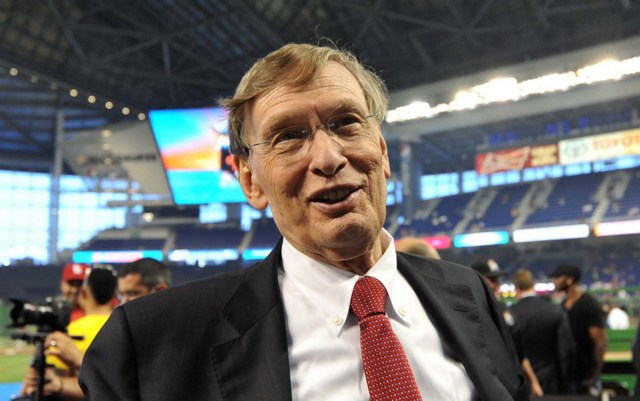 Commissioner Bud Selig told reporters on Saturday he wants tougher penalties for performance-enhancing drug offenses, and he hopes MLB and the players' union can reach an agreement "expeditiously." MLB executive vice president Rob Manfred and union chief Michael Weiner are already working on it.
"The time has come to make meaningful adjustments to our penalties," said Selig, according to CBSSports.com's Jon Heyman."We need to do everything possible to deter the use of performance enhancing drugs ... [the recent Biogenesis investigation has] driven my intensity to increase the toughness of our PED penalties ... Apparently the penalties haven't deterred some players."
Under the current system, first-time offenders receive a 50-game suspension, second-timers a 100-game suspension and third-timers a lifetime ban. Selig said he wants to increase the suspension length for first-timers with the lifetime ban coming after the second offense.
"Yeah, I would change everything," added the commissioner, who emphasized the game has come a long way in regards to drug testing in the last 10 years. MLB became the first major U.S. sport to implement random, in-season blood testing for human growth hormone, which will begin this season. The HGH testing system was put in place after the latest collective bargaining agreement was ratified, and any changes to the penalty system would also not have to wait until the current agreement expires.
Star players like Melky Cabrera, Ryan Braun and Alex Rodriguez were connected in recent weeks to performance-enhancing drugs and Biogenesis, the South Florida clinic run by Anthony Bosch. Cabrera, Yasmani Grandal and Bartolo Colon were suspended 50 games for failed drug tests in 2012 while Braun successfully appealed a failed test following the 2011 season.
"Until we can gain the total respect back of the fans and have them trust us, we have work to do," said Joe Torre, MLB's executive vice president of baseball operations.
For more baseball news, rumors and analysis, follow @EyeOnBaseball on Twitter, subscribe to the RSS feed and "like" us on Facebook. Also, individually interact with us on Twitter: @MattSnyder27, @daynperry and @mikeaxisa.

The veteran skipper has been Mets manager since the start of the 2011 season

The Cincinnati ballpark will have expanded netting in place by Opening Day 2018

The Baltimore third baseman is eligible for free agency following the 2018 season
The clubs breaks ground on Globe Life Field next week

The fan struck at Wednesday's Twins-Yankees game was hospitalized

The Yankees are almost certainly headed to the postseason as a real threat to win the World...