Budding slugger Kris Bryant brings scouts back to Glaus, Werth
Considered the best position-player prospect in the country, University of San Diego third baseman Kris Bryant is expected to be taken within the first few picks in Thursday's draft. Hard to say whether he'll wind up at third base or right field in the majors, but scouts are certain of one thing: His power bat will translate.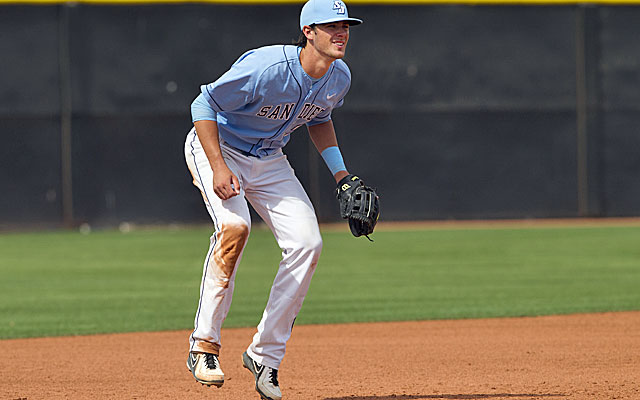 Kris Bryant has been turning home runs into cash for a good portion of his life. Now, on the eve of the MLB Draft, the University of San Diego junior third baseman has a chance to make some real cash.
Considered the best position-player prospect available, he and his five tools are projected to go within the first three or four picks Thursday. His power is brawny enough that he is being advised by Scott Boras. And his personality is so effervescent that you believe any investment in him will be a sound one.
"I'm super-excited," Bryant was saying the other afternoon during a conversation in the home dugout at USD. "I've worked for this my whole life. It's weird that it's so close.
"I'm really trying to slow everything down. I'm trying to enjoy my time here. I'm excited, it's a good time in my life. And there's no more school."
He really does use terms like "super-excited." And he really does have the infectious enthusiasm of an entire class of fourth graders racing outside to begin summer vacation.
His attributes aren't just in his quick-twitch muscles and Louisville Slugger. He is smart, which surely is no small part of the reason his journey has led him to this moment.
The day before we spoke, he weaved his way through three final examinations: marketing, business law and financial management. He finished an English paper that was due.
A couple of key numbers on the Kris Bryant ledger: A 3.35 grade-point average as a finance major, and an NCAA-leading 31 home runs in 62 games this season.
"If I was going to compare him to somebody, he's like a more athletic Troy Glaus," one scout who watched -- and liked -- Bryant this season says. "Troy could really throw. Bryant can really throw. I think he'll be able to stay at third base. If not, he can play right field.
"He's got huge power. He's a pretty good runner once he's under way. And he hit more home runs than a lot of teams did."
As for his Home Runs into Cash program, don't worry, USD is squeaky clean here. Rather, that particular money-making venture started in Little League, when Bryant's grandfather was so thrilled over Kris' first home run that he handed the kid $100.
His grandpa continued to dole out $20 for each homer thereafter, until Bryant's freshman year in high school.
"Then I hit a bunch of them and he said, 'I can't afford this!'" Bryant says, chuckling.
No wonder. When grandpa first reached into his wallet in Little League, Bryant was "a little thing, maybe 4-foot-8."
He's grown into a big thing, at 6-foot-5, 215 pounds. And his grandparents didn't just reward home runs as he was growing up in Las Vegas: A straight A report card was worth $100, too. He collected there as well.
"I guess I'm good with incentives," Bryant quips.
Guaranteed, Mr. Boras already has noted that.
His home runs are legendary. There was the one early in the season at home against St. Louis University, when Bryant blasted a rainbow into a misty evening over the left-field light standard that nobody saw land. There was a rocket against the University of San Francisco that is said to have hit a light standard three-quarters of the way up. One scout saw him play against Loyola University two-thirds of the way through the season when Bryant had 20 homers and Loyola's entire team had … zero.
"The thing you always look for is power," one scout says. "Those bats they use in college now are horrible. They've really cut the numbers down, except for him. And, he doesn't play in altitude or in a small park. His numbers are legit."
Another key Bryant attribute: He is a patient hitter who refuses to fish outside of the strike zone. He walked 66 times this season, and because of that and how often he was getting pitched around, coach Rich Hill eventually moved him to leadoff hitter. He still wound up with 62 RBI and a 1.313 OPS in those 62 games.
Scouts from all 30 clubs came through San Diego to look at him last fall. The Rockies "are in love with him", says one, and Baseball America projects that Colorado will take him with the third overall pick. That is, if the Astros (No. 1) or the Cubs (No. 2) don't grab him first.
"When I was 12 years old in Little League, I broke the record for home runs with 19," Bryant says. "The old record was 18. I realized then that this game, I think I can go pretty far."
His father, Mike, who spent two seasons in Boston's farm system in the 1980s, recognized the same thing and, along with Kris' mother, Susie, and an uncle, installed a batting cage in the family's backyard when Kris was 5. Bryant still hits in that cage when he goes home for the summer.
He crossed paths with Bryce Harper a couple of times in high school and travel ball, but Kris is a year older and they don't know each other very well. It's been a couple of years since they've talked, Kris says.
He tracks Harper, and he cannot wait until they cross paths again, this time on a major-league field.
Whether that's at third base or right field, hard to say right now.
"Some guys think he's a third baseman," a scout says. "Some scouts think he could be a Gold Glove right fielder, like Jayson Werth. He's got that kind of body. And he can really throw."
Says Bryant: "It all comes down to what you think of yourself. I think that I can play third base. I want to play third base.
"If I have those thoughts in my head, I can do it. Third base is more of a premium position. I'd love to stay there."
Wherever he winds up, one thing is certain: The position he's currently occupying on the eve of the draft? Solid gold.
Neither Josh Donaldson nor Brian Dozier have talked about a new contract extension

Francisco leads the Dominican Winter League with seven home runs

Thome deserves enshrinement and here's why the case against him does not hold up
The Twins have already fortified the bullpen with Addison Reed, and now they want to address...

The Orioles likely want pitching, and the Indians have plenty of it

Halladay died in a November plane crash off the coast of Florida