Bullpen costs Tigers Game 2, and it could cost them a title
The Tigers' rotation took control of the ALCS. The Tiger bullpen gave it back. The rotation is good enough to win a title, but will the bullpen lose it first?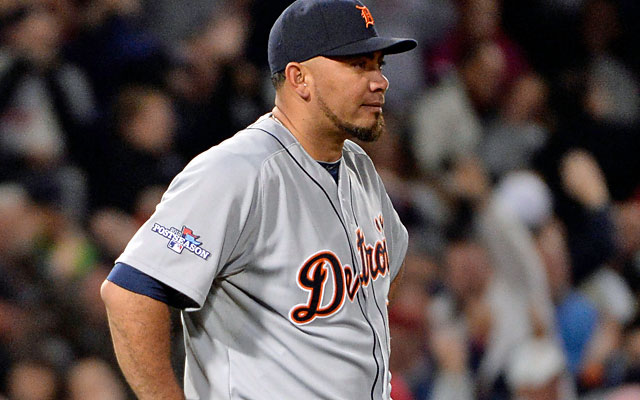 BOSTON -- The Tigers built a rotation to win a championship.
And a bullpen that may well lose it.
For two nights in Boston, their starting pitchers were so good that the American League Championship Series seemed over, before the Tigers ever hosted a game and before Justin Verlander even threw a pitch.
In one inning, their bullpen was so bad (and David Ortiz was so good) that both the Red Sox and the ALCS are very much alive.
The Tigers survived Jose Valverde's implosion last October, in large part because Phil Coke emerged as an emergency fill-in. They didn't survive the eighth inning Sunday night, in part because Coke was so bad this year that they could hardly rely on him.
Manager Jim Leyland chose four other pitchers to try to protect a four-run lead with six outs to go. He chose closer Joaquin Benoit to face Ortiz, and paid for it when Ortiz tied the game with a grand slam and the Red Sox won it in the ninth.
It was a "How can this happen?" ending, and even in the Tigers clubhouse there was grumbling over having Ortiz be the one who got the biggest hit.
"You just don't want David Ortiz to beat you," said Torii Hunter, still stunned and still hurting from the flip into the Red Sox bullpen after an unsuccessful try at a spectacular catch. "Everybody in the whole world knows he can beat you. And it happened."
Yes, it happened, and as Hunter said, there's a lesson to be learned.
His lesson:
"Not to touch a hot stove again," he said. "Your mom will let you touch it once and let you burn yourself, but you don't touch it again.
"The hot stove is David Ortiz."
The Tigers touched it, but the bigger question is why they did.
Don't blame Leyland for pulling excellent starter Max Scherzer after seven innings and 108 pitches. Scherzer said he was out of gas, telling reporters repeatedly "I was done."
Don't blame Leyland for allowing Benoit to face Ortiz, rather than bring in left-hander Phil Coke. Benoit has actually had decent success against Ortiz (six hits, none for extra bases, in 22 at-bats before Sunday), while Coke was so ineffective this season that the Tigers didn't even have him on the roster for the Division Series against the A's.
"Coke hadn't pitched in a game for quite a while," Leyland explained. "Benoit is our guy against the lefties, and we felt he gave us the best chance to get the out."
Should Leyland have saved lefty Drew Smyly for Ortiz, rather than burn him earlier in the inning against Jacoby Ellsbury? Perhaps, but Smyly's six-pitch walk doesn't exactly fill you with confidence that he would have done better against Ortiz.
Should the Tigers have pitched around Ortiz, even with the bases loaded? Perhaps, but that's a tough course to take when you have a four-run lead.
No, what they should have done was found a way to build a more dependable bullpen, which is easy to say now in part because so many have been saying it for so long.
Remember, the Tigers went to spring training hoping that rookie Bruce Rondon could be their closer, and they went there with no viable backup plan. They spent all spring and all of the first three months of the season trying to trade for late-inning help, only coming up with Jose Veras in a deal with the Astros.
Veras was the first of the four relievers Leyland tried in the eighth inning Sunday. He got Stephen Drew, but allowed a double to Will Middlebrooks.
Then Smyly walked Ellsbury, and then Al Alburquerque struck out Shane Victorino but allowed a Dustin Pedroia single.
By then, the Tigers were in trouble. The hot stove was at the plate, and the only remaining question was how David Ortiz would burn them.
"It's a tough spot," catcher Alex Avila admitted. "[Saturday] we had success making real quality pitches to get him out. [Sunday] we didn't. We left one just high enough so he could get a quality swing.
"Normally, Benoit's changeup goes down and away with good action. That one stayed up."
The pitch stayed up, and Ortiz sent it sailing towards the Red Sox bullpen. Hunter chased it and leaped, tumbling over the fence and landing in the bullpen himself.
"I hit my shoulder, my neck, my head, everything," Hunter said. "But this is postseason, you're not going to take me off that field."
He came to the Tigers hoping to finally make it to the World Series, believing this is the team that would take him there. His chances looked good after Game 1 and seven innings of Game 2.
His chances still don't look that bad. The Tigers have Verlander ready for Game 3, with Doug Fister in Game 4 and then Anibal Sanchez, Scherzer and Verlander to follow.
The rotation looks as formidable as ever, especially after Sanchez struck out 12 and didn't allow a hit in Game 1, and Scherzer struck out 13 and allowed just two hits in Game 2.
You can win a World Series with a rotation like that.
As long as your bullpen doesn't stop you from even getting there.
Where might the Orioles third baseman land?

Kinsler will slot in at second base for the Angels

The Marlins got a better return for Ozuna than Stanton or Gordon
The two teams are going about things in very different ways

The Marlins are indeed in teardown mode under new ownership

The Marlins still have more attractive pieces