Busy day for Cain does not include perfect encore against Angels
In his first outing since Wednesday's perfect game against the Astros, San Francisco's Matt Cain tapes Letterman, accepts Samurai sword and surrenders a hit to the first batter he faces. ...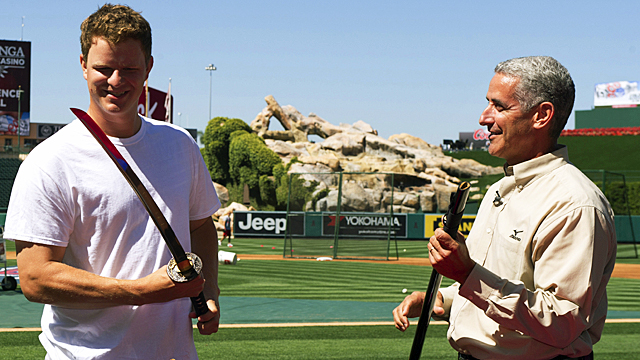 The only thing sharp about Cain on Monday was the sword he received for his perfect game.
(AP)


ANAHEIM, Calif. -- Cheesborger, cheesborger, no Coke ... Trout!

That, in a nutshell, was the encore for Matt Cain, Samurai pitcher.

Before becoming the latest man to swing and miss at Johnny Vander Meer's spectacularly incredible feat of throwing back-to-back no-hitters in 1938, he was on the field here at 3:30 p.m. accepting an honest-to-gosh Samurai sword from his glove company, Mizuno, as a reward for last Wednesday's perfect game.

"Is it very sharp?" Cain asked.


More on Giants-Angels
Related links
More MLB coverage
"Don't run your fingers along it," the Mizuno man warned.

The sword was a work of art and, as it turned out, much sharper than Cain, who nevertheless won his eighth consecutive decision in a 5-3 Giants win. All no-hit drama ended when the game's first hitter, Angels rookie Mike Trout, laced a single into left field on the third pitch he saw, a 1-1 count.

Meaning, alas, the only thing Cain would have in common with Vander Meer on this evening was:

Vander Meer fired the first of his consecutive no-hitters in '38 against the Boston Bees.

Cain lost his bid to match Vander Meer to Trout, who started this season with the Triple-A Salt Lake Bees.

Bzzzzzzzz.

"Gutty effort," manager Bruce Bochy said. "He wasn't quite on, which is not surprising with everything he put into the last game."

"Probably a little amped up from it still," said Cain, who said he felt no fatigue. "I tried to keep it going, in a way, trying to do it against a good ballclub. These guys have a good lineup."

Float like a butterfly, sting like a bee, you never know in this game. All eyes were on Cain, for obvious reasons, after his 125-pitch, 14-strikeout masterpiece against the Astros -- the first perfect game in the Giants' 130-year franchise history, and by consensus one of the greatest games ever pitched by anyone.

Cain threw a normal between-starts bullpen, said before the game that he felt great, and being that the normal routine for starting pitchers is to not speak on the day they pitch, the fact that Cain was out doing so only confirmed the fact that he was jitters-free. The sword was like something out of an old Saturday Night Live skit.

"Matt's got a great way about him," Bochy said before the game. "He's even-keel. Even when he had the perfect game, he was talking more than anybody else. Even before the game, he hit a golf ball 340 feet."

There were no long-drive contests at Angel Stadium on Monday. Only the ceremony to award Cain the sword, and if that wasn't among the most strange sights you'll ever see at the ballyard ... even his taping a Top 10 list for David Letterman just prior looked wholly normal compared to that.

The no-hit drama ended immediately. Trout singled, stole second, moved to third on Torii Hunter's fly ball to center and then scored on Albert Pujols' fly to right.

Bryce Harper West, er, Trout instantly snapped another impressive Cain streak with that hit: The Giants right-hander had retired 32 consecutive batters into Monday. Former Giant Jim Barr owns both the club and the National League record of 41 hitters retired consecutively, from Aug. 23-29, 1972.

Mark Buehrle owns the major-league record with 45 consecutive batters retired from July 18-28, 2009, with the White Sox.

Trout also smacked a comebacker in the fourth that smashed into the underside of Cain's left wrist. Catcher Buster Posey came out for a chat afterward and gasped, looking at the mark. Except, that wasn't the right mark. What was visible was a leftover burn from a waffle maker a few days ago.

"I was reaching for something else and I found out pretty quick the waffle iron was hot," Cain said.

Perfect, he wasn't -- from the kitchen earlier in the week to the mound on Monday. But Cain battled, all evening. He walked four, surrendered six hits and it took him 100 pitches to push through five innings. But he left the Giants with a 5-3 lead after five.

"It was definitely a grind-it-out day," Cain said.

"He's unflappable," Bochy said, noting his never-give-an-inch demeanor, and ain't that the truth. He's been criminally unsupported over the years by the Giants' lineup, a fact I noted following his perfect game last week: One of the most astounding statistics in all of baseball is that over his career, in games in which he's received at least three runs, Cain is 65-9.

Since 2006, Cain has received the worst run support of any starting pitcher in the majors.

Yet even when Tim Lincecum was dominating, Cain in many ways was the backbone of the rotation.

"He's handled it," Bochy said of Cain's buzzard's luck. "He never complains. He never points a finger. He never gives one-word answers [to post-game media questions].

"He goes out and tries to win a ballgame. It's not easy. He's never showed frustration. It's really amazing, because he's has fairly consistent tough luck."

That luck has been turning lately. He hasn't lost since May 1. The Giants are 11-3 in his 14 starts this season. He's now 9-2 with a 2.34 ERA.

And Johnny Vander Meer lives another day.

"Amazing, isn't it?" Bochy said. "It's incredible."


Does the Jackson signing mean the Giants are out on Lorenzo Cain?

Acuna edged out Shohei Ohtani and Vladimir Guerrero Jr.

There's no reason to run over the cases for and against Bonds, so let's have fun instead
The coveted right-hander would certainly be a fit in Milwaukee

We rate the best mustaches from random baseball cards because, why not?

Colon wants to break a Dennis Martinez record