Byrd has trade value for Phils, but even he has contract drawback
Word is, Marlon Byrd would like his 2016 option picked up to waive his no-trade rights to some teams.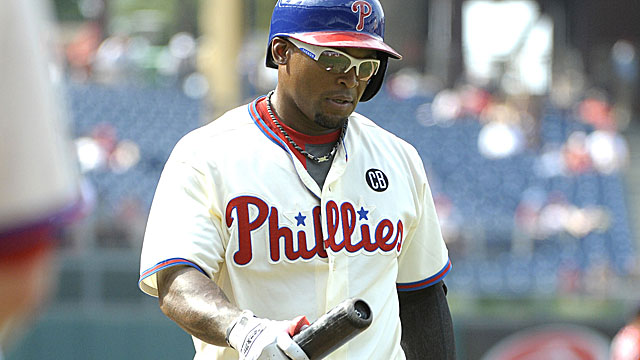 Marlon Byrd, one Philly player with a tradeable contract, has suggested to some folks he might like to have his $8 million team option picked up now to approve trades to some interested teams. Byrd has every right to make that request in the case of the four teams on his no-trade list, but it may put a drag on his value.
Coincidentally, the Mariners and Royals, two teams that could use a little more offensive pop, are on Byrd's limited no-trade list that includes only four teams. It seems that at least one of those teams is believed cool to a request that the option be picked up.
So the Phillies, who obviously have contract issues in trading Ryan Howard (that's an extreme one there), Cliff Lee (the best-paid player in terms of guarantee through next year) and Jimmy Rollins (no trade, and his option just vested), even would appear now to have at least a complication in the case of Byrd.
The Mariners seemed more likely for Byrd earlier, though it's uncerain if the '16 option cooled things for them. The Royals seem less interested in Byrd, perhaps due partly to that option.
Alex Rios would be another right-handed hitting option for those teams.
The Yankees have been suggested in the media as a possible landing spot, but while Byrd has played well in Philly and Queens, some friends question whether he's the right personality for the Yankees.
Byrd, who has 19 home runs and 55 RBI and is hitting .270, at least is producting at a rate commensurate with his salary. He would also seem to have a decent market considering the short list of available middle-of-the-order hitters -- though some may give at least pause over his drug suspension a couple years ago, as well.
Harrison has a thing for ending no-hit bids

Hill was close to perfect across regulation but it turned out to be all for nothing in the...

Plus Hank Aaron weighs in on Colin Kaepernick, Trevor Rosenthal hits the DL, and more
Davis should help fortify the Red Sox outfield

Whether or not Mike Matheny will adjust is to be seen

Hammerin' Hank wants to see Kaepernick get another shot in the NFL