Cabrera returns, and Tigers have no plan to force him to sit
Unless Miguel Cabrera gets hurt again, the Tigers don't plan to force time off on him before the end of the season.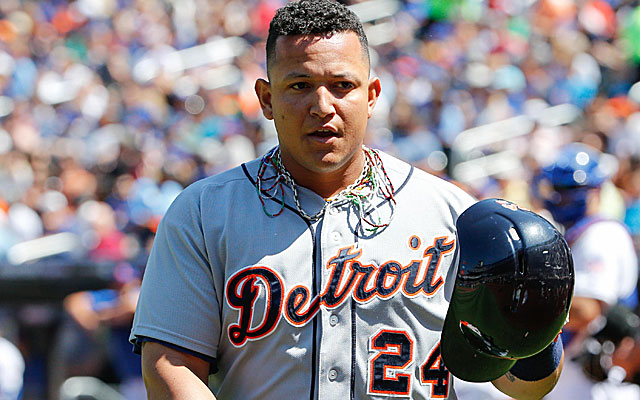 BOSTON -- Miguel Cabrera returned to the Tigers lineup Tuesday.
Health permitting, he's not coming out again anytime soon.
While there has been some speculation that the Tigers could impose some time off on Cabrera before the postseason if they get a big enough lead in the AL Central, that's not the plan. If Cabrera is healthy, manager Jim Leyland plans to keep playing him.
Cabrera has been dealing with a hip issue for more than a month now, and a groin problem forced him out of the game last Friday and caused him to miss the next three games, as well. Leyland was prepared to give Cabrera another day off Tuesday, but after the team's medical staff cleared him to play, Cabrera went to Leyland himself and said he was ready to return.
Cabrera has been one of the most durable players in the game throughout his career. He's the only player in the major leagues who has played 150 or more games each of the last nine seasons. Even this year, he has missed just 11 games and hasn't been on the disabled list.
And despite sometimes looking like he was playing on one leg, Cabrera's performance hasn't suffered. His 11 home runs and 31 RBI in August were both tied with Alfonso Soriano for the most in the majors.
He has given himself a shot at becoming the first player to win a second straight Triple Crown. Cabrera entered play Tuesday with a large lead in the American League batting race, also led in RBI and was four home runs behind league leader Chris Davis.
"With what he's had the last 3-4 weeks, he's hit as good as he did when he was totally healthy," Leyland said. "It's mind-boggling, really. I'm not one who oohs and aahs, but last season and this season, I can't believe what I'm seeing."
Leyland has come to trust Cabrera to be honest about when he's healthy enough to play. When Cabrera says he can play (and the medical staff agrees), he has been in the lineup -- and Leyland expects to follow that same path through the rest of the season.
The Tigers have actually gone 10-2 in the 12 games Cabrera hasn't started, but it's almost too obvious to point out that they have a much more imposing lineup when he plays. But while they can't risk losing him for a longer time, the determination has been that he's not taking a great risk by playing.
If he's healthy enough to play, he's going to play.
The Yankees trailed by four going to the bottom of the seventh and still won

The Yankees rookie was caught stealing vs. the Astros in Game 4 of the ALCS, but he took the...
The Cubs are facing a right-handed starter for the first time in the NLCS

The Red Sox should probably just lay low on Twitter for a while

The Yankees have lacked production out of the DH spot so far in the postseason