Cabrera's toughness inspired Max Scherzer during Game 4 relief outing
Tigers right-hander Max Scherzer says he was inspired by watching Miguel Cabrera play hurt during his Game 4 relief appearance in the ALDS.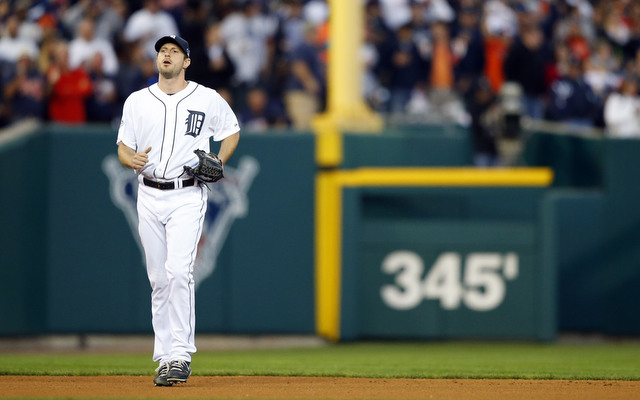 More ALCS: Peralta not worried about Green Monster defensively | Who has the edge?
BOSTON -- The Tigers are playing in the ALCS for the third straight season, but that doesn't mean getting here was easy. They had to win two elimination games in the ALDS against the Athletics earlier this week, including Game 4 after being down three runs early. Detroit was on the brink of going home.
In that Game 4, manager Jim Leyland used Game 1 starter Max Scherzer out of the bullpen to bridge the gap between starter Doug Fister and closer Joaquin Benoit. Scherzer did allow a run in two innings of work, but he also managed to escape a bases loaded, no outs jam without allowing a run in the eighth. That inning helped save the Tigers season.
The 29-year-old Scherzer wound up throwing 47 pitches in the two-inning stint, most of which were high-stress. It was reasonable to think he'd emptied the tank and was done for the afternoon regardless of the score, but Scherzer said he would have continued pitching thanks, in part, to watching Miguel Cabrera play hurt at the end of the season.
"If the team needed it, I would have gone as far as possible," said Scherzer on Friday. "When you see Miggy going out there with his injuries -- battling as hard as he can -- it makes you want to do anything for the team. If they would have asked me to keep going, I would have."
Cabrera played through numerous injuries from about mid August through the end of the season, including abdominal and groin strains as well as a hip flexor. He missed only four games in early September, after the club had a comfortable lead in the AL Central. For the 10th straight year, Cabrera played in at least 148 games. His excellence at the plate overshadows his toughness and durability.
That willingness to play hurt and battle while feeling less than 100-percent physically has trickled down and inspired Cabrera's teammates to do whatever needed to help the club win. If that means Scherzer being the setup man du jour or Jhonny Peralta playing left field, so be it. Everyone is doing their part and more. It's leadership by example.
* * *
As for his scheduled ALCS Game 2 start, Scherzer said he didn't have to alter his usual between-starts routine after coming out of the bullpen. He'll be on regular rest when he gets the ball Sunday night.
"I just treated it like another start," he said when asked about maintaining his routine. "Obviously it was different, but I'm preparing as I normally so for [my next start]. It's still the same."