Can Blue Jays' starting rotation overcome question marks?
After a red-hot stretch, the Blue Jays are 4.5 games back of a playoff spot. Moving forward, they have several questions to answer regarding the starting rotation.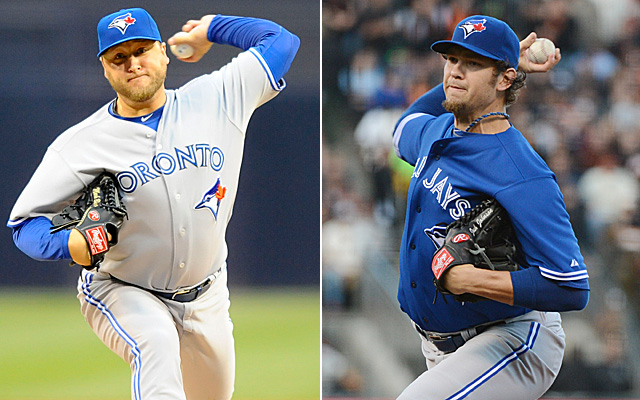 More MLB: Scoreboard | Standings | Probable Pitchers | Sortable Stats | Odds
The Toronto Blue Jays have now won seven straight and 10 of their last 12. They're within two games of .500 and just 4.5 games out of the second wild card.
Basically, they're now contenders, just as many of us thought they would be heading into the season.
The offense is going to produce, especially once a healthy Jose Reyes returns. The bullpen has been good, too, leaving the starting rotation as the most prominent question mark moving forward.
Two members right now appear poised to live up to expectations.
Josh Johnson had a dreadful beginning to the season and then hit the DL. But he's back now and last outing (7.1 IP, 5 H, 0 ER, 10 K, 2 BB) he looked like the dominant Johnson we've seen in the recent past. He has a 1.86 ERA and 20 strikeouts in 19 1/3 innings since returning from the disabled list.
Mark Buehrle also had an awful start to the season, which ran through mid-May. In his last five starts, however, Buehrle has a 1.91 ERA in 33 innings. This past outing (7 IP, 4 H, 0 ER, 7 K, 1 BB) was his best of the season. Even though he's no longer a frontline guy, he's settled in enough and it's reasonable to believe he can pitch like a No. 3 starter the rest of the way.
Given the track records of the two, the only real worry moving forward would be Johnson's health. Otherwise the Jays are looking at two reliable starters.
And then there's R.A. Dickey. He's been maddeningly inconsistent. Every time it looks like he's getting it going, he goes out and gets shelled. But even if he's not Dickey from 2012, what if he's Dickey from 2011? He had a 3.28 ERA in 208 2/3 innings that year. The year before he had a 2.84 ERA in 174 1/3 innings. Even if we lower expectations a bit, it's reasonable to believe Dickey can perform as a three or four starter the rest of the way.
Injured Brandon Morrow has shown flashes of brilliance throughout his career, but he also has been inconsistent and now he's suffered a setback on the disabled list.
From there, the questions continue:
Including what we've seen from Dickey and the health concerns with Johnson, that's a rotation with question mark after question mark.
The Blue Jays appear to have righted the ship after the catastrophic beginning to the 2013 season -- one they entered with sky-high expectations. Whether or not they continue on that path will be largely dependent upon the state of the starting rotation.
There's no reason to run over the cases for and against Bonds, so let's have fun instead

The coveted right-hander would certainly be a fit in Milwaukee

We rate the best mustaches from random baseball cards because, why not?
Colon wants to break a Dennis Martinez record

The Twins have been rumored to be interested in Darvish all winter

Rolen is one of the best third basemen of all time, but you wouldn't know it based on this...