Can Bonderman make it back? His pitching coach says yes
The numbers on the stat sheet aren't great, but Jeremy Bonderman has already hit 93 mph on the radar gun, and Mariners pitching coach Carl Willis said he has no doubt Bonderman will succeed in his comeback attempt. Still open is the question of whether he can make it into the Mariners rotation.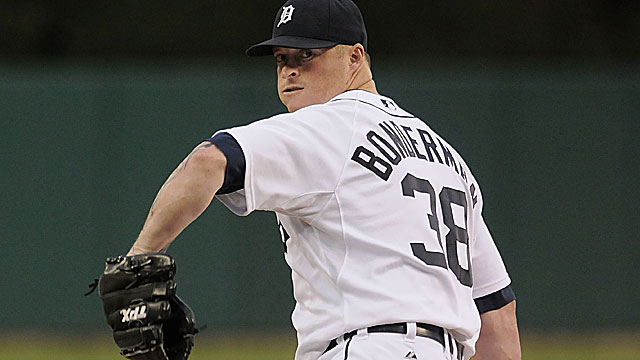 PEORIA, Ariz. -- The early numbers on the stat sheet don't tell you that Jeremy Bonderman's comeback attempt will work out.
The numbers on the radar gun tell you a little more. The words of his pitching coach tell you a lot more.
"I have no doubt he's going to get back," Mariners pitching coach Carl Willis said Wednesday morning. "His velocity is back. The sinking action on his fastball is there. He has the slider. It's just about commanding both sides of the plate.
"I can't tell you when it will be. I can't tell you if it will be April. But he's going to get back."
For now, Bonderman is competing for one of a couple of open spots in the Mariner rotation, behind Felix Hernandez, Hisashi Iwakuma and Joe Saunders. Bonderman said he hasn't yet decided whether he'd agree to go to Triple-A if the Mariners ask him to, but it seems likely he would if it's a short-term thing.
Bonderman hit 93 mph on the radar gun in his last spring start. He's scheduled for four innings Friday against the Angels.
In six spring innings so far, Bonderman has allowed six runs on eight hits.
"The thing I've been most impressed with is his mental toughness," Willis said. "He just had Tommy John last April, but I've seen no hesitation at all. He's letting the ball go. Normally, with guys coming back, you see some apprehension."
Bonderman hasn't pitched in the major leagues since 2010, the last of his eight seasons with the Tigers. He hasn't really pitched successfully since 2006, when he won 14 games and had a 4.08 ERA for a Tigers team that went to the World Series.
After hurting his elbow in 2010, Bonderman had Tommy John surgery last April, and decided to try a comeback. He's still just 30 years old.
Willis was the Indians pitching coach through most of Bonderman's career in Detroit, so he knows what Bonderman can look like at his best.
He thinks he'll see it again.
Sabathia will reportedly spend a 10th season in the Bronx

Fowler suffered a knee injury at Chicago's Guaranteed Rate Field

The lefty starter is coming off a terrible season
After acquiring Ian Kinsler and Zack Cozart in recent days, the Angels are trending upward

Cozart's coming off a big season as the Reds' shortstop

The veteran slugger spent the last eight seasons with Cleveland