Can Miguel Cabrera pass Pujols as best hitter of his generation?
Looking at the career of Miguel Cabrera compared to Albert Pujols through age 30, Cabrera is behind, but he's closing the gap and may end up looking better.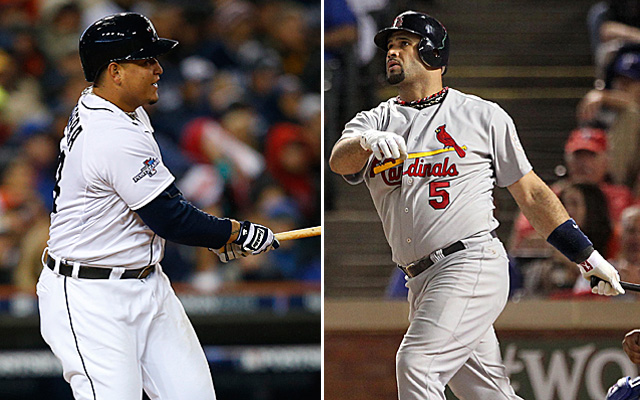 News: Miguel Cabrera named 2013 AL MVP
Tigers slugger Miguel Cabrera has won his second consecutive MVP due mostly to a blinding offensive line, leading the majors in the three traditional rate stats (batting average, on-base percentage and slugging percentage) along with 44 home runs and 137 RBI.
Cabrera has now finished in the top five of MVP voting seven times in 10 full seasons, including each of the past five seasons.
Overall, he's building a gaudy resume that should one day land him in Cooperstown. Given my penchant to always try and big picture everything, I'm wondering right now if Cabrera will go down in history as the greatest hitter of his generation.
That is, can he unseat Albert Pujols?
The easy, thoughtless, superficial answer right now might be "yes." I mean, we're a what-have-you-done-for-me-lately society in judgments among current players, so why stray? In looking at the career numbers, though, Cabrera is still firmly behind Pujols for this informal "title." We can't forget what a force Pujols was for a decade.
Take a look for yourself.
Cabrera just finished his age-30 season. He's had 7,126 plate appearances. Through Pujols' age-30 season, he had 6,782 PA. So while Cabrera has been to the plate a bit more often, the figure is close enough to measure the two against each other.
Through age-30 seasons, here's how the two stack up. 
Pujols: .331/.426/.624, 1900 H, 426 2B, 408 HR, 1230 RBI, 172 OPS+
Cabrera: .321/.399/.568, 1995 H, 412 2B, 365 HR, 1260 RBI, 154 OPS+
Even if you want to say it's close, Pujols is pretty clearly the better hitter with the above lines. He won three MVPs and finished second four times, too.
But here's the snag. Pujols is losing steam.
In the three years since his age-30 season, Pujols has hit .283/.348/.505 with a 137 OPS+. That means his current career line of .321/.410/.599 is much closer to Cabrera's .321/.399/.568, even if still slightly superior.
Pujols is also coming off a season in which he dealt with plantar fasciitis in his left foot, following offseason knee surgery. He'll be 34 next season, so both age and injury concerns are starting to mount.
On the flip-side, Cabrera is actually getting better. In the past four seasons, Miggy has kicked things into overdrive with the bat, hitting .337/.425/.612 with a 177 OPS+ while averaging 39 homers and 127 RBI per season.
If he keeps that up for another three or four years while Pujols doesn't bounce back to at least 2011 form, we may end up looking back at the post-Barry Bonds generation and saying that Miguel Cabrera was the best hitter.
Of course, a fully healthy Pujols is probably capable of a couple more years in vintage Pujols form -- not to mention that Cabrera himself battled injuries down the stretch in 2013, severely hampering his power. Now that he's north of 30, that might be a concern moving forward, especially with him playing third base instead of first or DH. We have no idea how this will end up, thus, it's a fascinating faux-race to follow for those who love sportsbar-type baseball arguments from the historical point of view.
For now, if we're saying "best hitter of his generation," Albert Pujols is still the leader in the clubhouse. But back-to-back AL MVP Miguel Cabrera is rapidly closing the gap and could well pass Pujols if the trend of these past few years continues.
Granderson heads north of the border for his age-37 season

What did the Pirates get in return for their franchise player?

Rivero could remain in Pittsburgh for some time to come
The White Sox, Angels, Athletics, Orioles and Marlins are the holdouts after Blue Jays fol...

The Pirates have several attractive trade chips if they decide to go into a full rebuild

Gerrit Cole was traded over the weekend and now McCutchen is on the move