Can Ryan Dempster win in the American League? Scouts are skeptical
The Rangers wanted Cole Hamels or Zack Greinke or Cliff Lee. They ended up with Ryan Dempster, who had the second best ERA in the National League but still hasn't convinced many scouts that he can succeed in the American League. The Rangers will find out, starting with Dempster's debut for them, Thursday night against the Angels.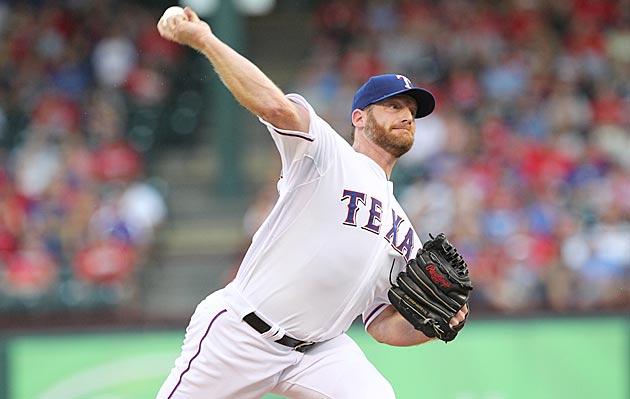 Ryan Dempster, a career-long NL man until Thursday, might have a rough adjustment to the AL. (US Presswire)
It's a little much to say that the Rangers are in trouble, even if one scout who watched the first two games of this week's series against the Angels tried to convince me exactly that.
"They might finish third in that division," the scout told me, citing the Rangers' suddenly shaky rotation.

A few minutes after that, the Rangers traded for the starting pitcher with the National League's second lowest ERA.

Good move?


Great move ... if the Rangers played in the National League ... which they don't. Still a good move ... if Ryan Dempster's NL success this year can translate into success in the American League, and in a ballpark that favors hitters.

Perhaps it will, although Thursday night's initial results weren't encouraging. Dempster needed 103 pitches to record just 14 outs against the Angels in his Ranger debut, and he needed a lift from the bullpen to keep him from allowing more than just eight runs.

Fortunately for him, the Rangers can really hit, as they proved for the second straight night in another wild win. Unfortunately for him, the Rangers are really counting on him, after Colby Lewis and Neftali Feliz were lost with season-ending injuries, and Roy Oswalt was declared a failure in his NL-to-AL transition.

What can the Rangers expect from Dempster?

"To me, he's a fourth or fifth starter in the National League," said one scout (not the same one cited earlier) who works for an NL team. "I don't care what his ERA [with the Cubs] is.

"It's going to be very difficult for him to pitch in Texas."

Dempster did face three American League teams in interleague play this year, and did well. He lost to the White Sox, but beat the Twins and Red Sox by pitching a combined 15 shutout innings.

For his career, though, Dempster now has a 4.85 ERA in 51 games against AL teams, as opposed to a 4.27 ERA against NL opposition.

The scout who works for the AL team thinks the 4.85 is probably about right.

"Forget about this stretch," the scout said. "His ERA translates to being in the high 4's in the American League. If you come to the conclusion that he's like [Zack] Greinke, you're losing your mind.

"Either he has to pitch in a bigger park, or he's going to give up four or five runs every game."

To be fair to the Rangers, Dempster was never their first choice -- or their second, or their third. He only entered the picture because others departed (Cole Hamels re-signed with the Phillies, Greinke was traded to the Angels, Cliff Lee was too expensive) and because the Rangers' need for a starter became more acute.

Hamels, of course, is another career National Leaguer, but his stuff is so good that scouts have little doubt that he would have succeeded in the AL. The difference in the two leagues might hurt Dempster a lot more, a risk the Rangers were well aware of.
The Rangers decided he was worth the risk, because they liked his makeup. Also, there just wasn't much else available. The Rangers even considered acquiring a reliever and moving Alexi Ogando to the rotation, but the relief market was even worse than the starting pitching market.

Oswalt, who was still good enough to have a 3.69 ERA in 23 starts for the Phillies last year, had a 6.49 in six starts for the Rangers. And scouts and coaches who saw him said he was lucky that the ERA wasn't even worse.

"In the AL, you're facing lineups that basically have two cleanup hitters," one of the scouts said. "In the NL, you can always pitch around someone to get to the 8-9 hitters. In the AL, there's no one to pitch around."

Still, the Rangers needed help. Their rotation ERA, under 4.00 when Lewis got hurt, is 5.49 in the 12 games since them.

They're 5-7 in those 12 games, and they've lost two games off what was then a six-game lead in the AL West.

It's a little much to say they're in trouble ... but not too much to say they're counting on Ryan Dempster's NL-to-AL transition to go well.
There's no reason to run over the cases for and against Bonds, so let's have fun instead

The coveted right-hander would certainly be a fit in Milwaukee

We rate the best mustaches from random baseball cards because, why not?
Colon wants to break a Dennis Martinez record

The Twins have been rumored to be interested in Darvish all winter

Rolen is one of the best third basemen of all time, but you wouldn't know it based on this...