Cano, Encarnacion among sluggers still seeking first home run
The season is a little more than two weeks old and some big name sluggers are still looking for their first home run of 2014. What gives?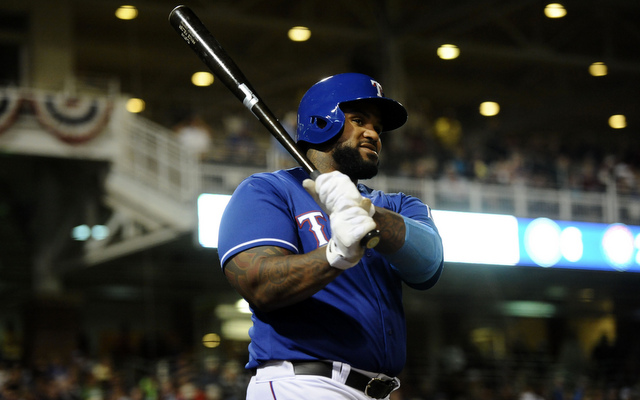 More MLB: Power Rankings | Expert Picks | Latest news & notes | Fantasy news
The 2014 baseball season is well underway now. Every team has had their home opener, most are finishing up their third full turn through the rotation, and stats are starting to look a little more normal. Only six qualified hitters are still hitting .400+, for instance.
Most players have gotten their "firsts" out of the way. First hit of the year, first win of the year, first save of the year, etc. Others are still looking up at a big fat zero on the scoreboard. Example: Max Scherzer still doesn't have a win. I suspect that will change soon enough.
Several big name sluggers have managed to go more than two full weeks without a home run to start the season. I don't mean guys like Jacoby Ellsbury and Jose Altuve either. They're big names but not sluggers. Reigning NL MVP Andrew McCutchen still hasn't gone deep, for example. Here are some others waiting or the first homer.
Robinson Cano
Cano, 31, comes into Tuesday's action with a .326/.396/.370 batting line through the first 12 games of his new 10-year contract with the Mariners. Only once before has he topped 30 homers (33 in 2012), but he has homered at least 25 times every year from 2009-13. It is kinda odd that he has yet to go deep in 2014.
The weird thing about Cano is that if you go back to last season, he has hit only six home runs in his last 81 games. That's exactly half-a-season. The Yankees were running a pretty terrible lineup out there late last year, so teams weren't giving Cano the opportunity to beat them, but it's still weird to see him go a full half-season with only six homers. Is that a cause for concern given his massive contract? Not yet, but don't forget about it either. Longest into a season without a homer: 17 games (2007)
Edwin Encarnacion
Two years ago, Encarnacion emerged as one of the game's top power hitters by swatting 42 homers with a 153 OPS+. Last season he hit 36 homers in 142 games with the Blue Jays, compiling more walks (82) and extra-base hits (66) than strikeouts (62). That is a sure sign of an elite hitter.
This season though, the 31-year-old Encarnacion is hitting only .220/.291/.340 (78 OPS+) with four doubles. Chalk it up to small sample size if you want, but I can't ignore that he had offseason surgery on his left wrist. As a right-handed hitter, the left arm is the power arm, and if one link in that chain is compromised (like the wrist), he won't be able to drive the ball like he usually does. This is something to keep an eye on. Longest into a season without a homer: 37 games (2011)
Update: Fielder hit a home run in his first at bat Tuesday against the Mariners.
There was some concern that last season -- a career year for most players, remember -- was the sign of Fielder's impending decline. He hit .279/.362/.457 (122 OPS+) with 25 home runs, his lowest full season homer total. The Tigers shipped the 29-year-old to the Rangers for Ian Kinsler over the winter.
Through his first 13 games of 2014, Fielder has mustered a weak .176/.263/.235 (42 OPS+) batting line with three doubles. He won't hit that poorly all year, at least I think he won't, but you can be sure Texas was hoping for a better start. For what it's worth, Fielder told Richard Durrett of ESPN Dallas that he is not worried about his slow start and that a homer "should be coming soon." Longest into a season without a homer: 14 games (2010)
Kansas City Royals
Yes, the Royals have hit a home run, but just one. Alex Gordon did the honors last Wednesday, taking Jake Odorizzi deep in Kansas City's eighth game of the year. But that's it, just the one home run. In fact, it barely counted as a homer. According to ESPN's Home Run Tracker, the ball gained an extra 46 feet due to wind and would have been a home run in zero MLB ballparks in perfect conditions. Crazy.
If it sounds like I'm picking on the Royals, it's because I am. They were a trendy pick coming into the season and I thought they were going to jump into contention, but instead they come into Wednesday with the worst record (4-7) and fewest runs scored (32) in the league. Sure, it's early and they could turn it around in a heartbeat, but man. This is not the start the team was looking for, not in the standings or the home run department.