Cano offers ideas to aid Mariners in quest to round out roster
Robinson Cano, the Mariners' big winter import, speaks out, making the suggestion of a couple more big imports.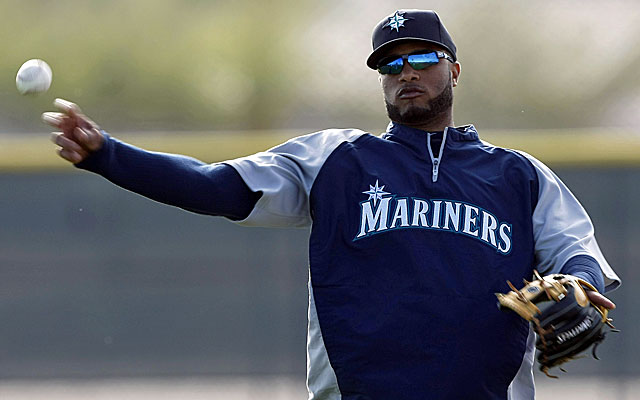 MORE: Spring Training | FA tracker: position players | FA tracker: pitchers
PEORIA, Ariz. -- The Seattle Mariners made some big improvements this winter but appear to have left themselves with some obvious holes as well. The biggest enhancement, of course, was signing superstar second baseman Robinson Cano, who brings the middle-of-the-order impact bat the team craved, and also maybe just a few more opinions and a little more assertiveness than is recalled from his many years in New York.
Cano, by all accounts, is thoroughly enjoying his first days inside a lively new clubhouse with new teammates, and his characteristically broad smile seems to confirm that from his position at the head of the beautified clubhouse here. But Cano looks around and sees those very real issues and wonders if there could be a move or two more coming from the Mariners.
General manager Jack Zduriencik appears either willing to wait before diving into the next impact move or is finally and simply short of cash (two sources suggest the Mariners have little or no loot left to spend, something Zduriencik won't confirm). Before hearing Cano's very specific ideas about how to improve the team, Zduriencik observed that he's learned over the winter just how "perceptive" his new megastar is.
Cano happily blended into the background on a team of veteran stars even as the best player in New York, but he doesn't hesitate when it comes to his thoughts on the Mariners, as the obvious burgeoning positional leader of a very young team.
"I'm not going to lie. We need an extra bat, especially a right-handed bat," Cano told CBSSports.com. "We have many left-handed hitters. We need at least one more righty. You don't want to face a lefty pitcher with a lineup of seven left-handed hitters."
 Zduriencik doesn't necessarily disagree. How can he? Not after the Mariners posted an MLB-low .657 OPS vs. left-handers last year, then added two more lefty hitters in Cano and Logan Morrison as two of its three main offensive pieces while losing the righty-swinging Michael Morse and switch-hitting Kendrys Morales.
"We are a little left-handed, and we know it," Zduriencik said.
Cano -- whose $240 million, 10-year deal with Seattle is tied for the third richest in MLB history -- offers a solution, and it's the obvious one; bring back Morales, who remains a free agent working out for weeks at the Scott Boras Training Institute in Miami Gardens, Fla.
"He's a switch hitter who's got power," Cano noted. Not only that, but Morales possesses power proven to work at Safeco Field, as he posted 23 homers and 80 RBI in his inaugural season in Seattle.
Zduriencik may have no choice in the matter if he is indeed low on funds. In any case, his immediate idea appears to be to hope for the best from what's before him. Citing the lone two right-handed hitters in the projected lineup, Zduriencik said, "It'd be great if Corey Hart has a really nice year, and it'd be great if Mike Zunino has a really good year." (Justin Smoak is a switch hitter but he's considered far better from the left side.)
The Mariners have some seriously talented players, but there as many variables as fish in Puget Sound. They are counting on a lot of young players in their lineup, and almost as many in their rotation. This isn't a division where there's much room for error, either.
Regardless, Zdurienik's first hope is for the team to stay healthy (or get in healthy, as the case may be; early injuries to pitchers Hisashi Iwakuma and Taijuan Walker bring more early worries). The other imperative is for the young talents like Dustin Ackley, Smoak, Brad Miller, James Paxton and others to "become the players they should become," in Zduriencik's words.
In this division, that's a fair amount of hoping. Cano's first choice would bring much more certainty, provided it's actually financially possible.
The other thing Morales would provide is a proven cleanup hitter. This may be a practical matter to Cano hmself; without a cleanup man, there is serious question as to whether Cano will get many pitches to hit. The Mariners have a few good major-league hitters, such as Kyle Seager and Hart (assuming he remains healthy, and he looks boffo so far, especially in his old outfield stomping grounds). But neither profiles as a cleanup hitter, and word is, someone suggested to Zduriencik that having Cano without someone to bat behind him is like "having a Rembrandt on the floor with no lighting" to illuminate it.
Cano said he was thrilled when the Mariners added closer Fernando Rodney late, but he still has more suggestions. He'd like to see free agent starting pitcher Ervin Santana in Seattle, as well.
"He's great," Cano said. "The guy's always pitching; he never gets hurt."
Likewise, Zduriencik is said to also possess admiration for both Morales and Santana, which explains why he has been in contact, off and on, with both players most of the winter. But Zduriencik also has no offers out for either player at the moment, and there's no sense one is coming soon. There's no suggestion, in fact, he's ever made an official offer for either player, beyond the $14.1-million qualifying offer that was extended to Morales following his fine season in Seattle.
"There are still some pieces out there, so who knows?" Zduriencik said. "We're open to talking about anything. We'll see. You never know. I would never close the door to anything."
But of course that doesn't mean the door is about to be opened, either. There's a sense the Mariners spent many months talking to Nelson Cruz, and there's no proof yet an offer was ever made. Some Seattle folks wondered about Cruz's PED suspension and his ability to translate power from Arlington, Texas, to Safeco -- though there's also evidence Cruz never really wanted to go to Seattle, his well-known friendship with Cano notwithstanding.
As for the remaining free agents, there's a sense that a difference of opinion has existed over the values of the two free agents, no matter how much Zduriencik liked them. There's also a question whether the Rodney signing financially limited their chances at making yet another big splash.
Zduriencik is practiced at being noncommittal, but the focus doesn't appear to be on those two top free agents, at least at the moment.
"They're not here," Zduriencik said. "This is our ballclub right now. Our concern is what's in front of us."
Zduriencik made some obvious improvements, even beyond the Cano blockbuster, also importing his old friend Hart plus young power hitter Morrison. Besides the Yankees, no one spent more than Seattle.
But the reality is, they had a very long way to go following their fourth straight losing season and a lot of issues going in to this one. And they have more concerns since camp started, now that Iwakuma, their second rotation star beyond King Felix, and the young hard-throwing phenom Walker, who was quietly being penciled into the rotation, are both out and unlikely to be able to start the season with the team.
"A couple weeks in, they should be ready to go," Zduriencik said.
They're hoping for mid-April for Iwakuma (finger), and they understand, too, that Walker (shoulder) won't have enough innings built up to go north with the team.
Add those two disappointments to outfielder Franklin Gutierrez declaring at the start of spring that he isn't recovered enough to accept a paycheck and hitter Jesus Montero admitting that he spent winter ball doing nothing but eating (he has been relegated to the 5 a.m. "group" of two overweight players, and appears already to be slimming down from a robust 270 pounds), and they've had as rough a beginning to spring as anyone.
There's at the very least an extremely pleasant vibe with lots of terrific personalities, not just the eternally upbeat Cano but also confident new manager Lloyd McLendon, an accomplished and varied coaching staff with interesting folks like Andy Van Slyke, plus the perpetually pleasant Hart and John Buck and the humorous Morrison, who adds comic relief.
But there's nothing funny about what's going on now. Zduriencik said he went into the winter looking to add five things: 1) an impact player, 2) a backup infielder, 3) a starting pitcher, 4) a right-handed bat and 5) bullpen help. Cano, Willie Bloomquist, Hart and Rodney provided aid in four of those five areas, with the extra rotation help still the glaring need. The problem is that the one area that got the least attention, the rotation, has become weakened already.
While there's hope for veteran non-roster pickup Scott Baker, it's hard to see how Zduriencik can make up for the early loss of Iwakuma and Walker with internal answers. As it is, they will count on talented youngster Paxton, and may need to hope that yet another kid, perhaps Brandon Maurer or Erasmo Ramirez, fill in the gap.
The Mariners have by May 7 no less than 10 games with the A's, a nemesis they have yet to prove they can beat, leading one Mariners person to say, "If Walker and Iwakuma miss the month of April, with our schedule that month it could get ugly."
Zduriencik praises McClendon's energy, the early teachings of the veteran coaching staff and the overall attitude around camp, and all of that is fair and good. But there are concerns here, and they are very real.
Cano isn't alone in his beliefs.
"Santana would be perfect," added another veteran Mariners player.
But ultimately, Cano also doesn't want to make waves, or add to any angst around camp over the injured pitchers.
"If it was up to me, we'd have Santana, [Nelson] Cruz and Ubaldo [Jimenez], too," Cano said. "That's really more for the front office."
The Mariners made a lot of tough choices, and they may be at their dollar limit -- at least at the moment. Of course they added Rodney after folks thought they were tapped out, too.
Zduriencik rules nothing out, though that may also be more about his noncommittal public style/stance than anything else.
"It's possible," he said. "You never know what will happen."
That shouldn't necessarily be taken to mean either Morales or Santana is especially likely. But if they want to contend in a stacked division, they would be wise to listen to Cano's two suggestions.
CBS Sports HQ Daily Newsletter
Get the best highlights and stories - yeah, just the good stuff handpicked by our team to start your day.
Please check the opt-in box to acknowledge that you would like to subscribe.
Thanks for signing up!
Keep an eye on your inbox for the latest sports news.
Sorry!
There was an error processing your subscription.
Plus Ronald Acuna Jr. suffered a scary injury and everything you need to know about Sunday's...

Allen's second career home run was a 14th inning walk-off against the defending World Series...

San Diego lands the veteran pitcher along with a draft pick attached
Our advanced computer model simulated Sunday's Yankees vs. Angels game 10,000 times

Plus Dustin Pedroia made his 2018 debut. Here is everything you need to know about Saturday's...

Trout set new career bests in hits and total bases, among other things