Cano, Puig, Pujols and Adam Jones heading to Japan for All-Star series
Robinson Cano, Adam Jones, Albert Pujols and Yasiel Puig are among the MLB stars heading to Japan for a five-game All-Star series after the season.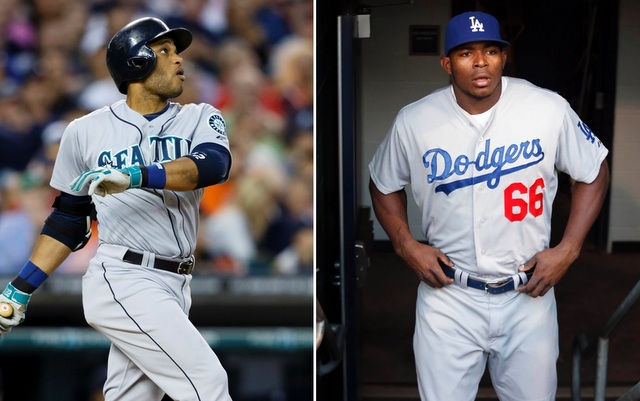 Major League Baseball has announced that Robinson Cano of the Mariners, Albert Pujols of the Angels, Yasiel Puig of the Dodgers and Adam Jones of the Orioles will headline a team of MLB players heading to Japan for a five-game exhibition series in November. Rangers manager Ron Washington will skipper the team.
The series will be played against Japan's National Team ("Samaurai Japan") in what is being called the "All-Star Series 2014." Here's some more info from the press release:
The 2014 renewal of the event will mark the 11th All-Star Series and the 36th time overall that a team of Major Leaguers has toured Japan for exhibition games, dating back to 1908.  The current five-game format was first played in 2006, which was the last time the MLB All-Stars faced off against the Japan All-Stars.  MLB's 2006 roster – which included All-Stars such as Bronson Arroyo, Ryan Howard, John Lackey, Joe Mauer, Joe Nathan, Jose Reyes, David Wright and Chase Utley – went 5-0 in the All-Star Series. 
The All-Star Series games will be played in Osaka (Kyocera Dome), Tokyo (Tokyo Dome) and Sapporo (Sapporo Dome). There will be two exhibition games in addition to the five-game series. The exhibitions will be played in Osaka (Koshien Stadium) and Okinawa (Okinawa Cellular Stadium).
The rest of the roster will be released at a later date. Player, and especially pitcher availability will likely depend on the postseason.
Scoring on Houston in 2018 is difficult -- historically difficult

Plus the D-Backs keep plummeting and the Red Sox make history. Keep it here for all of Sunday's...

You've probably never seen anyone like the hard-throwing Jordan Hicks
Guerrero Jr. has made a case for promotion

Bautista didn't do much with his limited opportunity

Soto has eight games of experience at Double-A, but he's coming to The Show