Cano says he 'didn't feel respect' from Yankees during free agency
During his introductory press conference with the Mariners on Thursday, Robinson Cano said he "didn't feel respect" from the Yankees during negotiations.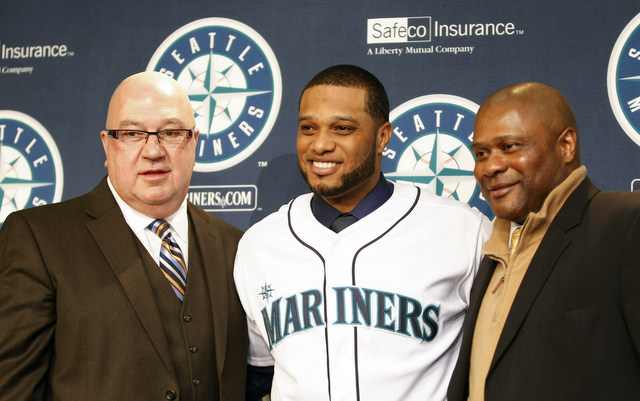 MORE: FA tracker: position players | FA tracker: pitchers | Winter Meetings updates
The Mariners introduced their new $240 million man at a press conference on Thursday afternoon. Robinson Cano's ten-year contract was made official and he spoke to the media alongside GM Jack Zduriencik and manager Lloyd McClendon at Safeco Field.
The majority of the press conference was the usual stuff -- I'm excited to be here, can't wait to get started, etc. -- but there was one answer that really stuck out:
Asked if he felt #Yankees wanted him back: "Honestly, I'd have to say no," said Cano. "I didn't feel respect."

— Greg Johns (@GregJohnsMLB) December 12, 2013
The Yankees' best offer to Cano was a seven-year, $175 million contract, a whopping $65 million shy of Seattle's offer. New York reportedly held a hard line during negotations and increased their offer only $10 million or so throughout the entire the process.
Given the Yankees' spending this winter and over the last 50 years or so, I guess I can understand why Cano felt disrespected. He's been their best player for several years and now they decided to get tough during negotations? It sounds silly to say a $175 million contract offer is disrespectful, but I kind of understand it. The Yankees held a hard line with Cano at a time when they don't hold many hard lines in general.
Charlie Morton will start either Game 3 or 4

Granderson, Verlander, Beltran and more are looking to reach the top of the MLB world

Houston's top relievers have been shaky this postseason
Our experts have a unanimous World Series pick

Otani's rare ability to hit and pitch will need to be accounted for in realms beyond real...

Kenny White has won 8 of his last 10 MLB Over-Under picks and has a strong play for Game 1