Can't blame Yankees for trying, but adding Soriano isn't enough
The Yankees, as Brian Cashman said, are within striking distance of the playoffs. But adding Alfonso Soriano isn't enough.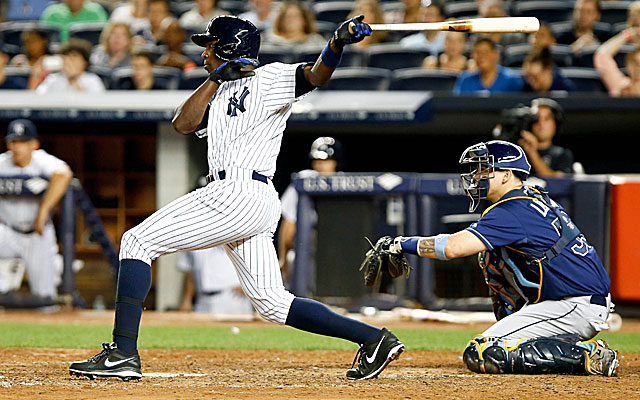 NEW YORK -- To celebrate the return of Alfonso Soriano, the Yankees played clips from the 2001 World Series on the video board.
He's not that guy anymore. And they're not that team.
You can't blame Yankees general manager Brian Cashman for pulling the trigger on Friday's trade for Soriano, not when his pieced-together team has somehow remained over .500.
"We are within striking distance of a playoff spot," Cashman said.
Technically, he's right. The Yankees were 2 1/2 games out of the second wild-card spot when play began Friday. They're still only 3 1/2 games behind the Orioles after Friday night's ugly 10-6 loss to the Rays.
The problem is that it feels like this Yankee team has overachieved, not underachieved, to get to the point where they're five games over .500 in late July.
"It's amazing what they're doing," one scout who watches the Yankees frequently said Friday.
The lineup is weak, even with Soriano, and even if they let Derek Jeter return from the disabled list on Sunday, Soriano has more home runs this month than the entire Yankee team, and the Yankees are tied with the Giants for the fewest July home runs in the majors.
Meanwhile, the guy who is supposed to be their ace just became the third pitcher in Yankee history to allow seven runs or more in three consecutive starts. CC Sabathia is having the worst season of his career, and it's not really even close.
Now they add another 37-year-old outfielder, another guy on the downside of his career.
"Is he really that much better than Vernon Wells?" one scout asked.
Well, yes, he is. Wells hasn't hit a home run -- or much of anything else -- since the middle of May. Soriano was tied for the major-league lead in home runs this month (with eight) when the Cubs traded him away.
The problem is that just as with Wells, the Yankees are hoping for a lightning strike here.
Wells gave the Yankees about six good weeks, with nine home runs and an .875 OPS in his first 36 games. Since then he's been one of the worst players in the majors.
And Soriano?
"He's a bad outfielder," said one scout who watches the Cubs often. "When he's hot, I don't know why anyone throws a strike to him. When he's not, you can throw him anything and he doesn't have a chance.
"No matter what happens, the Cubs did great by getting rid of him."
Soriano said Friday night that he was thrilled to be back with the Yankees. The Yankees said they were thrilled to have him.
"Great addition," Mark Teixeira said. "One of my favorite teammates of all time. I love the move. We need a right-handed bat, obviously."
When they made the trade, the Yankees hadn't had a home run from a right-handed hitter since late June. They still haven't, as Soriano went 0 for 5 in his Yankee re-debut.
Eventually, Jeter will have a re-debut. And Curtis Granderson. Perhaps Alex Rodriguez will, too.
The idea since April has been to hang around until they get healthy. The idea for the last month has been to hit the trade market hard to try to find hitters to help them stay around.
"By far, [Soriano] is the best available bat, to date," Cashman said. "This market is thin on offense."
Cashman deserves plenty of credit for trying, just as he has all through what has been an unusually trying season for the Yankees. Somehow, he has pieced this together enough that the Yankees are, by the numbers, still within striking distance, enough that he could justify spending money and a mid-level prospect (good arm, bad command) for Soriano.
But on another night when the Yankees most certainly did not look like a playoff team, you really have to wonder whether it's worth it.
Boston wants to add two big bats to their lineup, not just one

Even more relievers signed on the final day of the Winter Meetings

Keep tabs on the top 50 free agents right here
The league is not happy Ohtani's medical information leaked

Kansas City and Baltimore were quite busy at the Rule 5 Draft

Piscotty's mother was diagnosed with ALS earlier this year