Capps and Barajas are the latest retention bonus casualties
Matt Capps and Rod Barajas are the latest players to be released in advance of the retention bonus deadline.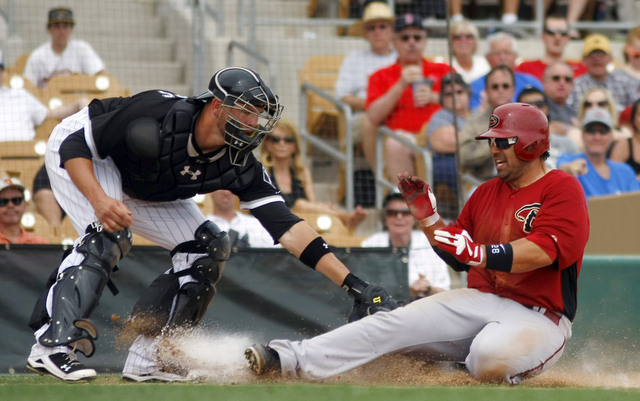 The Indians and Diamondbacks released right-hander Matt Capps and catcher Rod Barajas, respectively, on Monday. Both players in camp were on minor-league contracts, but neither played well enough to beat out other players for a big-league job. That isn't the only reason they were released, however.
Surely Cleveland and Arizona would have liked to stash their players in Triple-A for depth, but Capps and Barajas qualify as Article XX(B) free agents. What in the world is an Article XX(B) free agent? Matt Eddy of Baseball America explains:
Beginning with last year's class, any Article XX(B) major league free agent who accepts a minor league deal is entitled to three automatic contract clauses: 1) he must be told five days prior to Opening Day—that's March 26 this year—whether or not he will make the 25-man active roster, 2) if he does not ask for his release and consents to open the season in Triple-A, then he will receive a $100,000 "retention bonus," and 3) if he's still in Triple-A on June 1, then he can opt out of his minor league contract so that he can sign with another organization.

Article XX(B) free agents may sign within 10 days of Opening Day—March 21 this year—and still receive guaranteed opt-out dates and retention bonuses in their minor league contracts.
So, in other words, Capps and Barajas were released so their teams wouldn't have to pay them $100,000 on Tuesday. Coincidentally, both teams are reportedly looking to re-sign the players to new minor-league contracts, just like the Angels are looking to re-sign Bill Hall.
More than the six-figure payout, the retention bonus forces the team's hand sooner rather than later. Capps and Barajas now have a week to look for new jobs rather than a day or two, which was the timetable under the old system. The problem is that the retention bonus rule is very easy to circumvent -- releasing the player and re-signing him to a new contract avoids the $100,000 payout. The Yankees did just that with Russell Branyan last year.
Is that a problem worth fixing? Probably not, but baseball tends to spend a lot of time fixing things that aren't broken (cough worldwidedraft cough). It seems like the players' union should be pushing for these release-and-re-sign players to get their hundred grand regardless. It's not often you see a rule this easy to dance around in MLB.
Harrison has a thing for ending no-hit bids

Hill was close to perfect across regulation but it turned out to be all for nothing in the...

Plus Hank Aaron weighs in on Colin Kaepernick, Trevor Rosenthal hits the DL, and more
Davis should help fortify the Red Sox outfield

Whether or not Mike Matheny will adjust is to be seen

Hammerin' Hank wants to see Kaepernick get another shot in the NFL