Cardinals add pitching but still lack offense after trade deadline
The Cardinals addressed their pitching needs at the trade deadline, but they are still coming up short at the plate.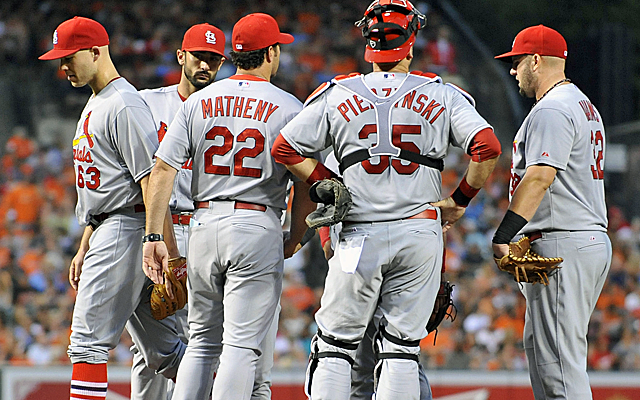 More MLB: Power Rankings | Expert Picks | Latest news & notes | Fantasy news
It's hard to believe that, given their farm system and all the young arms on their staff, that the Cardinals would need to go out and trade for not one, but two established veteran starters at the trade deadline. That's exactly what they did last week by acquiring Justin Masterson and John Lackey.
Masterson made his second start for St. Louis on Friday night and he got absolutely shelled by the Orioles, giving up five runs on seven hits while walking three in only two innings. He also allowed two home runs, which is the last thing you want to see from a guy with a bowling-ball sinker.
Masterson's struggles this year date back to his time with the Indians, and while he will be a concern going forward, he was far from the team's only problem Friday. St. Louis scored only two runs en route to losing 12-2 (box score). The Cardinals scored 35 runs total in their 10 previous games, including more than three runs in a game only four times. Two runs is more of the same.
St. Louis came into Friday averaging only 3.70 runs per game, the second worst in baseball ahead of only the Padres (3.21). Obviously that rate went down on Friday. The Cardinals rank middle of the pack in batting average (.251) and on-base percentage (.317), but they have no power -- they have the sixth lowest team slugging percentage (.373) and their 75 homers are the second fewest to the Royals' 67.
En route to winning the NL pennant last season, the Cardinals averaged 4.83 runs per game despite hitting only 125 homers, the fourth fewest in baseball. Their unreal -- and unsustainable -- success with runners in scoring position drove the offense. They hit a historic .330/.402/.463 in those situations. Here is a look at how the Cardinals' lineup this year compares to last year's squad, based on who has received the most playing time at each position
Yadier Molina is currently on the disabled list with a thumb injury and won't return until next month. He's been replaced by the far inferior A.J. Pierzynski. Allen Craig, who hasn't hit since hurting his foot late last year, was just traded to the Red Sox. He has been replaced by uberprospect Oscar Taveras, who has been up and down. Otherwise the Cardinals are receiving better production at shortstop and third base this year, equal production at first and center, and worse production everywhere else. (Matt Carpenter changed positions but has not repeated last year's success.)
Realistically, the only places the team could have upgraded at the trade deadline were second base (or third with Carpenter moving back to second), right field and center field. Upgrades at second and/or right would have meant putting Kolten Wong and/or Taveras on the back burner, respectively. I suppose they could have dug up a better replacement catcher than Pierzynski, but quality catchers are very hard to find. Their options were very limited.
More than anything, the Cardinals need a few of the players they already have to start performing better, most notably Matt Holliday. He's on pace for only 17 home runs, which would be his lowest total since his rookie season in 2004. Holliday is the veteran anchor in the middle of the lineup with Molina hurt and both Carlos Beltran and Craig elsewhere. He's got to drive the offense. It won't take much for Taveras to be better than Craig was, but he's yet to do it.
Friday's loss dropped the Cardinals into third place in the NL Central, but they're only 1.5 games behind the Brewers and a half-game back of the Pirates. Their lack of offense has yet to take them out of the race, but they do have an uphill battle. No lineup help was brought in at the deadline, so the crew manager Mike Matheny has in front of him will have to be the guys to get the job done.
The free-agent market has been slow and one player is bracing for an even longer wait

The Mets didn't want to trade a young outfielder for an older one

Josh Harrison doesn't sound pleased Gerrit Cole and Andrew McCutchen have been traded away
The team's media contracts expire following the 2019 season

San Francisco could use more help in the outfield and at the back of the rotation

The White Sox, Athletics, Orioles and Marlins are the holdouts after the Blue Jays and Angels...