Cardinals aren't making major-league outfield depth work for them
The Cardinals may tap into their outfield depth leading up to the trade deadline. Maybe that's a good thing.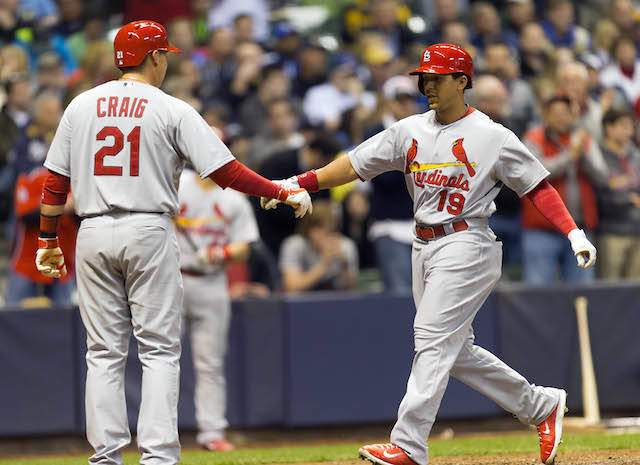 More MLB: Power Rankings | Expert Picks | Latest news & notes | Fantasy news
Coming into the 2014 season, the Cardinals were poised to benefit from a deep and useful outfield corps. Almost four months into the current campaign, that corps is indeed deep -- inasmuch as a lot of usable outfielders are on the active roster -- but it hasn't been especially useful.
Wednesday's deal for Justin Masterson reflected that depth, in that minor-league fly-catcher James Ramsey was sent to the Indians in return. However, the glut of outfielders at the big-league level is still in place, and that may be a problem for the Cardinals. If, post-Masterson, they're done dealing from that particular pool, then Mike Matheny is going to need to correct what to date has been faulty deployment of his outfield resources. 
Specifically, Matheny is all too attached to Jon Jay. Jay, as laid bare last postseason and readily apparent long before that, is not a defensively adequate center fielder. One look at his circuitous and confused routes on fly balls will tell you that much. Those defensive shortcomings become even more of a problem once you consider that whoever's manning center for the Cards is typically flanked by the range-challenged likes of Matt Holliday and Allen Craig. 
What Matheny and the Cardinals should be doing is starting Peter Bourjos in center as often as possible. Bourjos is a better base-runner than Jay, and he's a vastly better defender -- one of the best defensive center fielders in baseball on a rate basis, in fact. Jay is outhitting Bourjos this season, but bear in mind that Bourjos has a career Weighted Runs Created+ (wRC+) of 94, which means he's hardly a complete sinkhole at the plate, especially by up-the-middle standards. 
Moving forward, the ZiPS forecasting system tabs Bourjos to bat .250/.307/.404 over the remainder of 2014, while Jay is projected for a line of .276/.341/.373. Thanks to Jay's OBP-skewed line, you can argue he's the (very modestly) better hitter in the near-term, but Bourjos' substantial advantages in the other phases of the game easily make him the more valuable contributor. As well, there's the very plausible notion that Bourjos would hit more in line with expectations if Matheny would ever give him consistent playing time (Bourjos has made just two starts this month, and he's averaging just 2.7 plate appearances per game played).
Speaking of inconsistent playing time, we have phenom Oscar Taveras. Taveras, since his "creation myth" home run on May 31, has struggled badly and even wound up back in Triple-A for a spell. He's one of the top hitting prospects in all of baseball, but even the highly regarded require an adjustment period. On top of that, Taveras is playing erratically. It's hard enough transitioning to the highest level as a ballyhooed 22-year-old; start-and-stop duty doesn't help matters. It suggests a lack of confidence on the part of management, and it prevents Taveras from being able to learn and adjust with any sense of rhythm. One could easily argue that his future and present would be better served by being back in Memphis. 
It's also worth noting that Taveras' part-time status is in deference to Craig, who looks adrift at the plate (he's helpless against breaking stuff off the plate these days) and seems to have lost his ability to drive the ball. Craig's raw power numbers have been methodically declining since his standout 2011-12 seasons, and here's what's become of the right-handed Craig this season ... 
Source: FanGraphs
This looks like a player who has completely lost his pull-field power. In fact, this season Craig is slugging just .294 on pulled balls, and when he pulls the ball he's lugging around an unthinkable groundball/fly-ball ratio of 13.5 (!). Maybe it's mechanical, but something's off with Craig and has been for some time. So in essence Taveras is mostly sitting around so as to apprentice under a one-dimensional outfielder who has lost his power.
One could of course argue that Taveras and Bourjos wouldn't hit even if granted regular duty, but we can't know that. We can't know that because Matheny seems to prefer a demonstrably inferior player to Bourjos and a declining player with limited upside to Taveras. Excessive pine time for players who are accustomed to being fixtures in the lineup exacts a price on their ability to play their way into regular duty. 
You see, depth is good, except when it isn't. If the Masterson trade was GM John Mozeliak's last major move before Thursday's non-waiver deadline, then that "problematic" outfield depth will remain in place. At that point, it's on Matheny to rethink his decisions. 
L.A. manager Dave Roberts indicated that Puig's benching was related to more than one inci...

Manager Torey Lovullo said so on Monday
Let's see how SportsLine forecasts the race for MLB's 10 playoff spots

Monday kicks off the final week of MLB action. Let's take a look at everything that went d...

No other rookie in baseball history has hit more home runs than Judge has this year