Cardinals beat Red Sox in World Series Game 3: Quick hits
The Cardinals beat the Red Sox in Game 3 of the World Series, taking a 2-1 lead in the best of seven series. Let's get to the quick hits portion of our programming.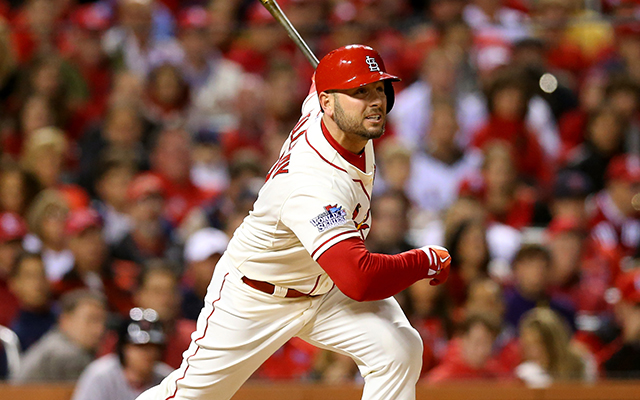 ST. LOUIS - The St. Louis Cardinals have taken a 2-1 lead over the Boston Red Sox in the World Series after winning Game 3 by the count of 5-4. The ending was as dramatic as I've seen, with obstruction being called and plating Allen Craig to win the game.
Onto the hits.
Hero: Matt Holliday. The burly left fielder got the scoring started with an RBI single in the first inning and would come around to score the second run of the inning. Then, in the bottom of the seventh against tough right-hander Junichi Tazawa, Holliday delivered a two-RBI double to put the Cardinals on top, 4-2. So Holliday was a part of every Cardinals run until the game-winner, driving home three and scoring the other, in his 2-for-4 performance.
Goat: Red Sox manager John Farrell. Not only did pulling Stephen Drew help lead to a costly defensive miscue that jumpstarted the seventh-inning rally. Then he failed to pinch hit for relief pitcher Brandon Workman with power hitter Mike Napoli available on his bench. So he started the ninth inning against the heart of the Cardinals order with his fourth-best reliever in the game and his best reliever in the bullpen. And after one baserunner, he went to Koji Uehara. It was odd, to say the least.
Turning point: Craig's pinch-hit double in the bottom of the ninth. The Cardinals then had the winning run just 90 feet away and another runner at second base -- and he'd end up being pretty important, as he'd score the winning run.
It was over when: Unbelievably, a defensive player was called for obstruction to end the game. I don't say unbelievable because it was a bad call. Craig was held back on the play -- even if unintentional -- and the third-base umpire immediately pointed to home plate, effectively ending the game. It was unbelievable because awarding a free base is what ended a World Series game. Will we ever see that again?
Next: We'll do it again Sunday night in Game 4, same time (8:07 p.m. ET/7:07 local time). The pitching matchup is Clay Buchholz (likely with a short leash and Ryan Dempster piggybacking) against Lance Lynn.
Charlie Morton will start either Game 3 or 4

Granderson, Verlander, Beltran and more are looking to reach the top of the MLB world

Houston's top relievers have been shaky this postseason
Our experts have a unanimous World Series pick

Otani's rare ability to hit and pitch will need to be accounted for in realms beyond real...

Kenny White has won 8 of his last 10 MLB Over-Under picks and has a strong play for Game 1