Cardinals choose Wacha (again), and he gets them to Game 5
The Cardinals chose Michael Wacha with the draft pick they got from the Angels for Albert Pujols. They chose him again (over Adam Wainwright on short rest) for Monday's Game 4. And Wacha delivered.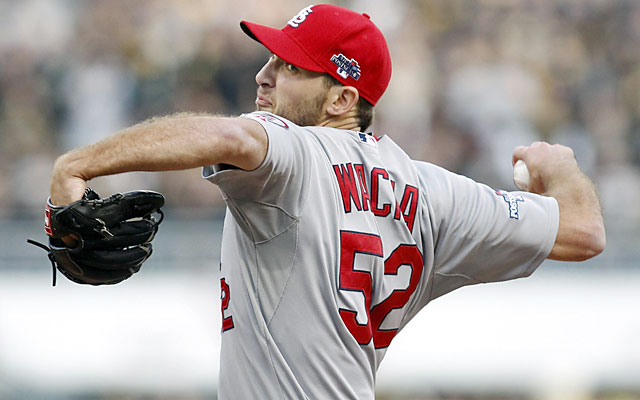 PITTSBURGH -- The Cardinals could have started Adam Wainwright.
Their season was on the line. Their ace was ready.
Those who favor short-rest starts in the postseason definitely would have approved.
But don't you think the Cardinals are pretty happy right now that they stuck with their plan and started 22-year-old Michael Wacha instead? Almost as happy as they are with the decision to let Albert Pujols leave as a free agent . . . which is how they got Michael Wacha in the first place.
The Cardinals took Wacha with the Pujols pick, the 19th overall pick they got from the Angels. And if you're wondering what those 18 teams that bypassed Wacha are thinking now, imagine how the pitching-poor Angels feel.
Not that it matters to the Cardinals, who sent Wacha to the mound Monday in a must-win game in front of a must-scream crowd. They watched him nearly make history (taking a perfect game into the sixth and a no-hitter into the eighth), and they watched him keep their season going (with a 2-1 win over the Pirates).
They watched, and they smiled, because instead of chancing Adam Wainwright on short rest, the Cardinals were seeing the next Adam Wainwright, or the next Chris Carpenter.
"He reminds me a lot of myself," Carpenter was saying. "He's not scared. He's not scared to take the ball. An environment like today . . . it was so much fun to watch him. You saw the fire in him today."
And now the Cardinals get to see Wainwright -- the original Wainwright -- on normal rest in Wednesday's Game 5.
This is all working out quite well, although in this series where young pitching has been such a big deal, you wonder if it's all set up now for 23-year-old Pirates rookie Gerrit Cole to beat Wainwright on Wednesday.
Cole is one big reason the Pirates won't have another 20-year wait between postseason appearances. Wacha and Joe Kelly and Shelby Miller and Carlos Martinez and Trevor Rosenthal are all reasons that the the Cardinals can keep playing these huge October games, year after year.
"A bright, fresh, dymanic group of young arms," general manager John Mozeliak said. "It certainly bodes well for our future."
It bodes well for their present, too. The Cardinals made sure not to face a Strasburg situation, holding down the innings for their brightest kids during the summer, so that they'd still be available and fresh in the fall.
They wanted Wacha available for games like Monday's -- even though they considered not starting him on Monday.
All through the series, after Wainwright won Game 1, the Cardinals told him to be ready for Game 4, just in case. He hadn't ever pitched on three days' rest, but he told them he could.
Mozeliak and manager Mike Matheny admit they discussed it, although Mozeliak said they were never leaning towards using Wainwright on Monday.
"We felt we had other good options, and we felt Adam would be best on regular rest," Mozeliak said. "I'm glad we get the opportunity to see that."
They were all glad they got the opportunity to watch Wacha, the kid who nearly no-hit the Nationals in the final days of the regular season. That was good, but this was better, as he nearly threw a playoff no-hitter in an elimination game.
Wacha didn't allow a baserunner until Russell Martin walked in the sixth, and the only hit he allowed was a Pedro Alvarez home run in the eighth.
And when it was mentioned to Wainwright that Mozeliak compared Wacha to him, the Cardinals ace smiled and said: "I take it as a compliment. The guy's flirting with a no-hitter every time out."
Wacha impressed the Cardinal veterans when they saw him this spring. He impressed opposing scouts, too. You couldn't go anywhere in spring training without hearing about him.
The Cardinals never thought about keeping him on their opening day roster, and they only called him up in May because they had too many injuries. But they always thought he would help them at some point in the season.
I'm not sure that plan ever included starting him in a game they had to win.
"I mean, the kid was in college last year," injured closer Jason Motte said.
Motte watched Wacha in his pre-start press conference on Sunday, and was amazed by how cool the kid looked.
"That could have been an interview before a game in April or June," he said.
He watched again Monday, as Wacha looked just as cool when he took the mound against the Pirates. He struck out five of the first seven batters he faced, and he showed off a fine breaking ball that had been missing from his repertoire earlier in the season.
"Maybe that was a shock to their system," Wainwright said.
Wacha spoke afterwards about how much fun it will be for him to watch Wainwright pitch on Wednesday. But what was completely obvious in the Cardinals clubhouse Monday was how much fun Wainwright and Carpenter are having watching the Cardinals' kid pitchers.
"He went out and made pitch after pitch after pitch," Wainwright said.
"You can't get a bigger game for him, and he pitched like normal," Carpenter said. "I was saying, 'This guy doesn't want to give up any hits.'"
We've seen Carpenter pitch like that before in these big October games. We've seen Wainwright do it, too.
We've seen it enough, and they've seen it enough, that it was perfectly understandable that the Cardinals thought about handing Monday's start to their ace, even on short rest.
"I've kind of been on call," Wainwright said. "If they needed me, I was there, but I had all the confidence in the world in Mike."
It all worked out for the Cardinals. And then it was Pirates manager Clint Hurdle who was left with the kid/veteran decision, choosing Cole over A.J. Burnett for Wednesday.
The Cardinals don't need to choose. They have Wainwright ready for Game 5.
They had Michael Wacha for Game 4.
And it worked out just fine.
It's part of commissioner Rob Manfred's ongoing effort to improve pace of play

But one other team is prominently in the mix for the Marlins' slugger

Morgan went into the Hall in 1990 and has some strong words for PED users
Mark Appel was one of the players being moved about on Monday night

Garrett Cooper is the answer to a trivia question

We still don't know if Ohtani will be jumping to the majors yet