Cardinals clinch NL Central championship
In beating the Cubs Friday night, the St. Louis Cardinals are now the sixth and final division champion of the 2013 season.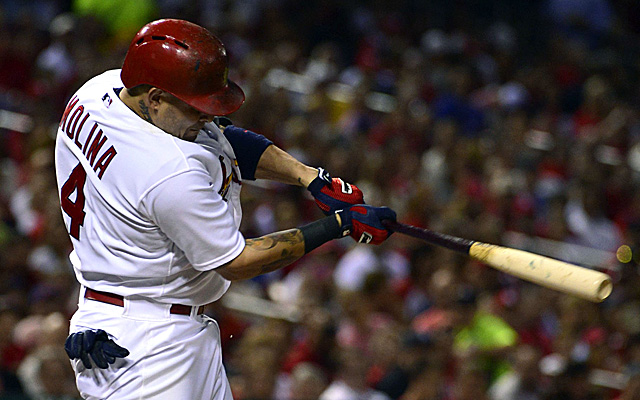 With a 7-0 win over the Chicago Cubs on Friday night at Busch Stadium, the Cardinals have clinched the NL Central championship, meaning all six division champions -- Red Sox, Tigers, Athletics, Braves, Cardinals and Dodgers -- have now been crowned and will be headed to the divisional round of the playoffs.
The Cardinals had to outlast the two NL wild-card teams in the Central, the Reds and Pirates. It was the only division in baseball this season with three 90-plus win teams.
Though they've gone to the playoffs twice since then -- winning the 2011 World Series -- this marks the first NL Central title for the Cardinals since 2009, when they were swept in the divisional series by the Dodgers. This is the eighth NL Central division title -- out of a possible 19 -- for St. Louis. It's also the third-straight year going to the postseason.
These Cardinals did it with a great top-to-bottom batting order. They rank in the top two in the NL in hits, runs, doubles, home runs -- though no one has more than 24 -- average, on-base percentage and slugging percentage. Every regular except the maligned Pete Kozma has at least a 100 OPS+ and -- including both Matt Adams and Allen Craig -- the Cardinals have six guys with an OPS+ of over 125. That is, adjusted for ballpark, six Cardinals have an OPS (on-base percentage plus slugging percentage) sitting at least 25 percent better than the league average.
So, yeah, they can hit. But they make it timely as well. They lead the majors in all three rate stats (AVG, OBP, SLG) in hitting with runners in scoring position and with runners in scoring position and two outs.
The Cardinals aren't all offense, either. Ace Adam Wainwright heads up a good rotation and the bullpen has several good-to-great arms.
Advanced metrics show the Cardinals as a poor defensive team in terms of range, but they rank fifth in fielding percentage, so they don't often beat themselves with errors. Plus, the offense is so good and the pitching staff is good enough that the poor range doesn't bury them.
Overall, the Cardinals are going to head to October as one of baseball's best teams. In a reversal of the past two seasons, they aren't an underdog but instead will be hosting division-round action. They are tied with the Braves right now for the best record in the NL, so with two games left, they have something to play for.
Still, Friday night's win is worthy of celebration. The Cardinals won the only division in baseball with three playoff teams.
The Red Sox and Cardinals are expected to make trade offers next

The free agent first baseman may be a fit in St. Louis

The front office changes in Atlanta continue
The Marlins are more likely than you think on our list

Judge finished a distant second in the balloting and he paid respect to the winner

Stanton just won the 2017 NL MVP award but could wind up being dealt this offseason