Cardinals-Dodgers Game 3 starting lineups: Hanley, Ethier in
Here are the Game 3 lineups for the NLCS between the Cardinals and Dodgers. Notable is that both Dodgers questionable players are in the lineup.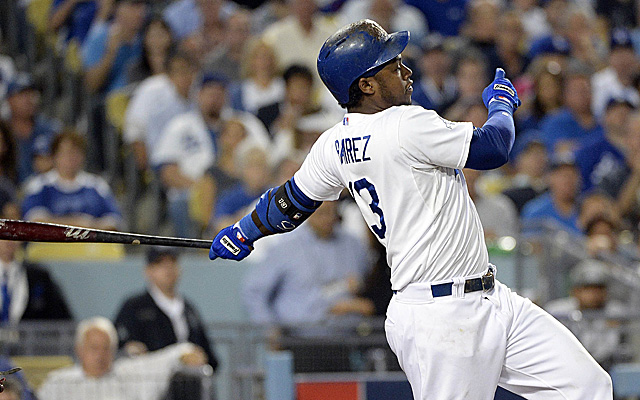 Game 3 Pitching preview: Wainwright vs. Ryu
Game 3 of the National League Championship Series is set for 8:07 p.m. ET/5:07 PT in Los Angeles. The Cardinals lead the best-of-seven series, two games to none. Here are the lineups for Game 3.
Road Cardinals
1. Matt Carpenter, 2B
2. Carlos Beltran, RF
3. Matt Holliday, LF
4. Yadier Molina, C
5. David Freese, 3B
6. Matt Adams, 1B
7. Jon Jay, CF
8. Pete Kozma, SS
9. Adam Wainwright, SP
1. Carl Crawford, LF
2. Mark Ellis, 2B
3. Hanley Ramirez, SS
4. Adrian Gonzalez, 1B
5. Andre Ethier, CF
6. Yasiel Puig, RF
7. Juan Uribe, 3B
8. A.J. Ellis, C
9. Hyun-jin Ryu, SP
Does the Jackson signing mean the Giants are out on Lorenzo Cain?

Acuna edged out Shohei Ohtani and Vladimir Guerrero Jr.

There's no reason to run over the cases for and against Bonds, so let's have fun instead
The coveted right-hander would certainly be a fit in Milwaukee

We rate the best mustaches from random baseball cards because, why not?

Colon wants to break a Dennis Martinez record