Cardinals-Dodgers NLCS Game 4 preview: Lynn vs. Nolasco
Game 4 of the NLCS in Dodger Stadium is mere hours away, so let's take a look at the pitching match-ups.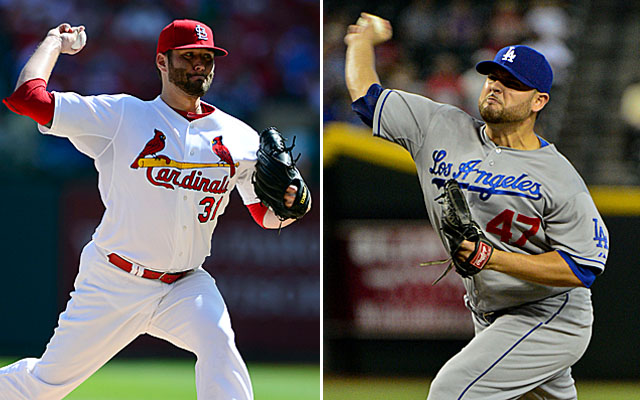 MORE: Game 3 quick hits | Game 3 grades
Los Angeles -- After the Dodgers' 3-0 win over the Cardinals in Game 3 of the NLCS, we have a series again. For Tuesday's Game 4, the visiting Cardinals will trot out right-hander Lance Lynn (201 2/3 IP, 3.97 ERA, 91 ERA+, 1.31 WHIP, 2.61 K/BB) to oppose Dodgers right-hander Ricky Nolasco (199 1/3 IP, 3.70 ERA, 101 ERA+, 1.21 WHIP, 3.59 K/BB).
Now let's take a closer look at this match-up …
Lynn vs. Dodgers
Lynn faced the Dodgers once this season, in a road start way back yonder on May 24. In that outing, he was dominant: 6 IP, 2 H, 0 R, 9 K, 1 BB. Lynn, of course, had a rough go of it in his NLDS start against the Pirates (five runs in 4 1/3 innings), but he's otherwise coming off a strong September (lowest ERA, highest K/BB of any month this season).
While there's a tendency to think of Lynn as having a habit of fading late in the season, the real problem is consistency. Take, for instance, his career month-to-month ERAs: April - 2.25, May - 3.09, June - 4.93, July - 3.89, August - 5.75, September - 2.44. Damned if there's any kind of pattern there. 
Fatigue stemming from a career-high workload last time out? Possibly, but Lynn's fastball in the NLDS averaged almost 95 mph versus a season-long average of 93.4 mph. Again, you don't know what you're going to get with the 26-year-old right-hander. 
As for other relevant trends, the Dodgers this season ranked second in the NL in in weight runs created+ (wRC+) against right-handers and fifth in wRC+ at home. Current Dodger hitters have combined to hit just .148/.230/.185, albeit across a tiny sample of just 63 plate appearances. 
Nolasco vs. Cardinals
Nolasco this season faced the Cardinals twice, once as a Marlin on June 16 and once as a Dodger on Aug. 7. Across those two starts, Nolasco was very impressive: 12 IP, 1 ER, 9 K, 2 BB (he did, however, allow three unearned runs). Hitters presently on the Cardinal roster have teamed up to pretty much pound Nolaso across their careers: .340/.387/.458 in 157 plate appearances. The usual sample size caveats apply, but Carlos Beltran and Matt Holliday in particular have had their way with Nolasco. 
In related matters, the Cardinals this season ranked tops in the NL in terms of wRC+ against RHPs, and they ranked second in wRC+ on the road. 
Also meriting consideration is that Nolasco will be seeing game action for the first time since Sept. 29 and making his first start since Sept. 25. That, to say the least, is a substantial layoff. On that front, Nolaso has made 24 career starts on six or more days of rest, and he's posted a 4.79 ERA in those outings. 
First pitch for Game 4 is slated for 8:07 pm EST.