Cardinals edge Dodgers in NLCS Game 2 pitcher's duel: Quick hits
The Cardinals have taken a 2-0 lead in the NLCS by blanking the Dodgers on Saturday. Let's have a closer look.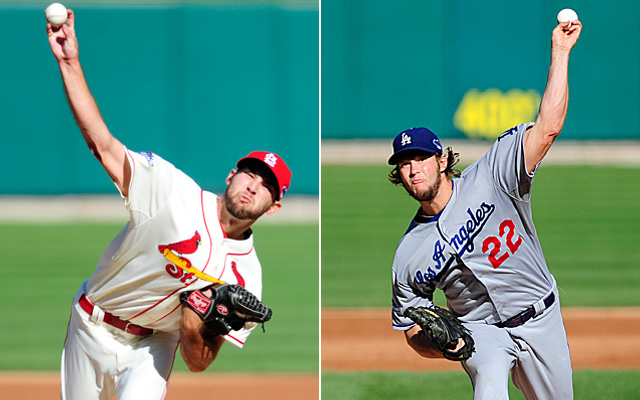 MORE: Game 2 box score
ST. LOUIS -- On Saturday in Busch Stadium, the Cardinals topped the Dodgers 1-0 thanks to some suffocating pitching. Now, the Dodgers will head home down two games to none in this best-of-seven NLCS. But before we get ahead of ourselves, let's have a closer look at Game 2 ... 
Hero: Clayton Kershaw and Michael Wacha. Yes, both of them. We expected a hurler's game, and that's precisely what we got. The lefty and the righty combined for 12 2/3 innings of work, zero earned runs on seven hits, 13 strikeouts and only one unintentional walk. They also teamed up for 14 ground-outs, and of their 184 pitches, 117 went for strikes. Also impressive is how Kershaw and Wacha each pitched out of the rare trouble spots they encountered. Neither offense recorded a hit with runners in scoring position.
Goat: Yasiel Puig. Once again he failed to come through in big spots at the plate. On the day, Puig was 0 for 4 with four strikeouts and four runners left on base. He looked all but lost against Trevor Rosenthal in the ninth. 
Turning point: While David Freese's double and subsequent run scored was certainly a turning point, I'm going with Wacha's "pitching in a pinch." In the Dodger sixth, Kershaw led off with an infield hit, and then Carl Crawford followed with one of his own. Matt Carpenter flung the throw wide on Crawford's ball, and the Dodgers had runners on second and third with no outs. Then Wacha induced an infield pop-up from Mark Ellis, intentionally walked Adrian Gonzalez and then whiffed Yasiel Puig and Juan Uribe back-to-back. Threat over. It also felt like the Dodgers' first and only chance was over.
It was over when: The final score was 1-0, so it wasn't over until Rosenthal struck out the side in the ninth. Given the depths of the Dodger offense, though, it felt over much earlier. 
Next: Sunday is a travel day, and these two teams will resume hostilities at Dodger Stadium on Monday. Game 3, which pits Adam Wainwright against a Dodger to be determined, will begin at 7:07 pm EST.