Cardinals edge Red Sox in World Series Game 2: Grades
The Cardinals mounted a late-inning comeback in Boston, and now it's time to pass judgment.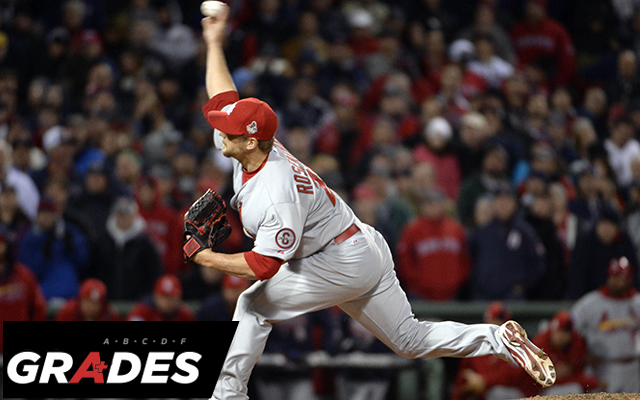 MORE: | Game 2 boxscore
The Cardinals prevailed over the Red Sox by a score of 4-2 in Game 2 of the World Series. Before the series shifts to St. Louis, let's hand out some report cards for Thursday night's action ... 
Team
Grade
Analysis
A+
The Cardinals' bullpen, to be specific. Carlos Martinez and Trevor Rosenthal combined for three innings, six strikeouts, one hit and no runs. Combined, 28 of their 35 pitches went for strikes. Martinez worked two high-leverage frames, and Rosenthal whiffed the side in the ninth. At 23, Rosenthal is the oldest of the two.
A

David Ortiz

certainly did his part, what with his clutch, sixth-inning, opposite-field homer and an eighth-inning infield single that brought the potential go-ahead run to the plate. He was the only Boston starter not to leave a runner on base in Game 2.
A-
Michael Wacha. It wasn't a flawless night, but facing the Red Sox in Fenway, where they averaged more than 5.0 runs per game in the regular season, Wacha limited the opposition to two runs over six innings of work. He wasn't as crisp as he had been in his prior three postseason starts (four walks in Game 2), but he blanked Boston until the Ortiz home run mentioned above. In a vacuum, it wasn't quite an "A" outing, but considering the competition and considering that Wacha is a 22-year-old rookie, well …
B
John Lackey. Only one run scored while he was on the mound, he struck out six, showed excellent command of his curve and spotted 71 of his 95 pitches for strikes. He deserved better than the Boston bullpen and defense gave him after he was lifted with one out in the seventh. 
F
The script got flipped on Craig Breslow's watch. After relieving Lackey in the seventh, he permitted a double steal, walked Daniel Descalso despite having the platoon advantage (Descalso drew exactly three walks off lefties in the 2013 regular season), gave up a sac fly, brought home another run on a throwing error, and then gave up a two-out RBI single to Carlos Beltran. By the time he was done, Breslow had helped turn a 2-1 lead into a 4-2 deficit, which would stand.  
Despite an awful month, the Dodgers are again NL West champions

The record of 38 previously belonged to Hall of Famer Frank Robinson

The report also says that Jeter had outgoing president David Samson do the firing
This wasn't a traditional hidden ball trick, but the Blue Jays pulled it off

The Tigers essentially fired Brad Ausmus on Friday, but things are going to be ugly for a...

The club made the announcement on Friday