Cardinals eye end of era without Chris Carpenter
The Cardinals did everything but officially announce Chris Carpenter's retirement during a Tuesday afternoon news conference. But judging from the somber faces, the suit jackets and the memories, you don't need to work in the scoreboard room to know the score.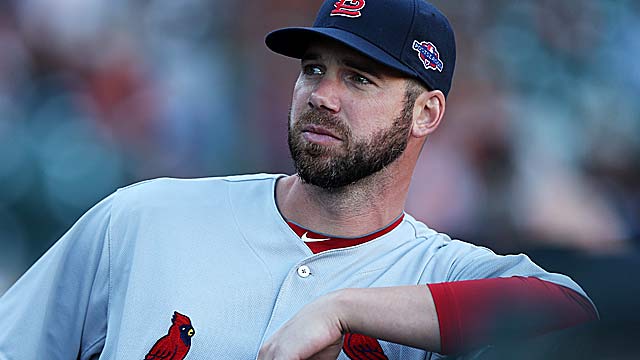 Oft-injured Chris Carpenter hasn't announced his retirement, but it's likely coming.
(Getty Images)
The Cardinals did everything but officially announce Chris Carpenter's retirement during a Tuesday afternoon news conference. But judging from the somber faces, the suit jackets and the memories, you don't need to work in the scoreboard room to know the score.
End of an era.
If you closed your eyes hard enough while general manager John Mozeliak and manager Mike Matheny spoke, you could almost see the birds on the bats across the clubhouse-hung jerseys raising their wings to wipe away tears.
In a nutshell, one of the greatest St. Louis pitchers in a couple of generations up-shifted his throwing program in preparation for spring training, the discomfort and numbness from last season returned to his shoulder and no matter how hard he looked, doctors couldn't give him any good news.
"I don't know if I've ever witnessed a better competitor than Chris Carpenter," Matheny said. "And also, leader."As we head into spring, there's a void there."
The retirement is not official yet because, as Mozeliak noted, "there are financial implications when you use that word." There also, presumably, are insurance implications. Carpenter is due $12.5 million in 2013, the final year of his contract.
So he will open the season on the disabled list and, as Mozeliak said so poetically, "at some point start reflecting on the next chapter of his life."
Meantime, the Cardinals have no choice but to begin reflecting on the next chapter of THEIR baseball lives. And all we know for certain is this: Whatever it is, it will be a much more arduous task without Carpenter.
More than anybody over the past decade, this guy picked 'em up by the scruffs of their necks and dragged them forward, sometimes advancing them much further than they ever should have gone.
Albert Pujols, Yadier Molina, Adam Wainwright, Scott Rolen, David Eckstein … name your October Redbird heroes. None of them meant more to this organization than Carpenter.
"When I look back over the last 10 or 15 years, he was a model of our success," Mozeliak said. "Because he left nothing to chance."
The most striking example of that is not found only on that bump 60-feet, 6-inches from home plate, it was readily apparent last summer when Carpenter couldn't pitch.
As they clawed their way toward the stretch run last summer, the Cards asked Carpenter to travel with them in August even though he wasn't on the active roster. When I was with the Cards in Los Angeles in mid-September just before he made a surprise return to the rotation (from this same shoulder issue), it became clear just how valuable his presence was.
"The past month or so, he started coming on road trips," closer Jason Motte told me then. "He's like, 'All right, let's go.' He brings that attitude.
"If we need to get yelled at or if we need a boot in the rear end, he'd be the one to do it. People respect and listen to him."
It is impossible to over-emphasize how important that is, and how rare it is for a starting pitcher. Often, the guys who take the ball every five days only lead on that fifth day. Because, really, how much influence can a guy have on the four days he's sitting in the dugout?
Carpenter was different, and that's why, while everyone knew this day was closer than anybody wanted (he will, after all, turn 38 in May), it still makes it hellaciously difficult on the Cardinals.
It's not just that Lance Lynn, or Shelby Miller, or Joe Kelly or Trevor Rosenthal, is going to have to step up and take his rotation spot. That alone is close to unfair to ask of anybody. As colleague Danny Knobler notes here, when Carpenter pitched, the Cardinals usually won.
But it goes far beyond that for Carpenter, a true Cardinal. Beyond the innings, the Cards must replace the inspiration, professionalism, work ethic and willpower that Carpenter provided.
Maybe he'll fool us all again. The guy wasn't even supposed to pitch at all last year because of this same shoulder issue, yet he fought back and made it to the mound for a few September starts. Given his competitiveness, you know he will continue to search for that one doctor who will allow him to go all Dumb and Dumber and say, "So you're saying there's a CHANCE."
So no, nobody is quite using the R word yet.
But it's clear where things are headed.
And man, are the Cardinals ever going to miss him.
"When I look back at his career … he probably was one of the most competitive players I've ever been around," Mozeliak said. "He truly willed himself to win."
His team, too.
Those are the guys you really, really miss.
CBS Sports HQ Daily Newsletter
Get the best highlights and stories - yeah, just the good stuff handpicked by our team to start your day.
Please check the opt-in box to acknowledge that you would like to subscribe.
Thanks for signing up!
Keep an eye on your inbox for the latest sports news.
Sorry!
There was an error processing your subscription.
Keep up with all the latest trade rumors around Major League Baseball

Keep it right here for all of Friday's MLB action

Machado will suit up with the Dodgers on Friday night
Carpenter has been quite the leadoff hitter for the Cardinals this year and in his career

Servais benefited from the Mariners' hot play in one-run games

Martinez doesn't have a starting spot in St. Louis, and probably won't find one anywhere else,...