Cardinals hacking case a huge test for first-year MLB commish Manfred
With the FBI investigation into the Cardinals allegedly hacking into Astros internal computer database, the commissioner is about to be under the spotlight.
A bombshell was dropped in the world of Major League Baseball Tuesday, as we learned the Cardinals front office is being investigated for hacking into the Astros internal database by the FBI and Justice Department.
If that sounds like a big deal, it's because it is. Sorry, Cardinals fans, it's a huge deal.
Right out of the gate, we have to deal with why the government would be involved and that's an easy one. Hacking into anyone else's personal database is an illegal breach. With large companies, it's an even worse situation and is, again, illegal. If we allowed this, we wouldn't have a free country nor any hope for privacy. That's why the government is involved.
The next step for me, though, is thinking about how big a test this is for MLB commissioner Rob Manfred. Commissioner can be a thankless job, at least in terms of public relations. Situations like this never offer up an answer that will satisfy everyone -- probably not even a majority. When groups of fans are mad, they blame the commissioner for being so ineffectual, in their collective opinion. Even if a majority of fans agree with any decision made, we're bound to see millions of complaints from fans who either think any punishment was too steep or not steep enough.
That will be the case here. It's a polarizing situation unlikely to elicit an indifferent reaction from any fan. Even if one's sentiment is, "Who cares?" that means there's a strong belief no punishment should be handed down.
We don't yet know how high or low in the organization this runs -- or if the accusations are definitely true -- thus, it would be irresponsible to start speculating about what should be done and to whom.
I don't think, however, that it's going too far to say that if the allegations are true, someone needs to go down. Anyone either directly involved or with knowledge of these actions needs to be harshly punished.
Why?
It's a slippery slope to head down this path without telling teams it will not be tolerated. What could be found? Well, minor stuff like how the organization intends to strategize against opponents (advanced scouting reports include things such as where they want to pitch certain hitters) to major stuff such like which players are held in higher regard in trade talks. Knowing this information versus not knowing it is a huge advantage in the trade market, which is just about to get ramped up with both the Astros and Cardinals in contention. Think of someone knowing what another player at the poker table has while no one else does.
So, yes, something needs to be done if wrongdoing is found, if only to set the precedent that it will absolutely not be tolerated.
Once the government investigation is concluded, Manfred will have the information available and then be tasked with levying out any needed punishments for the first scandal of its kind in Major League Baseball and, really, major professional sports.
With no precedent or guideline in place, whatever decision is made is bound to appear arbitrary to some and anger legions of people on both sides of the fence. That's a tall order.
Good luck, Mr. Manfred. This is a gigantic test in your first year on the job. Time to earn that hefty paycheck.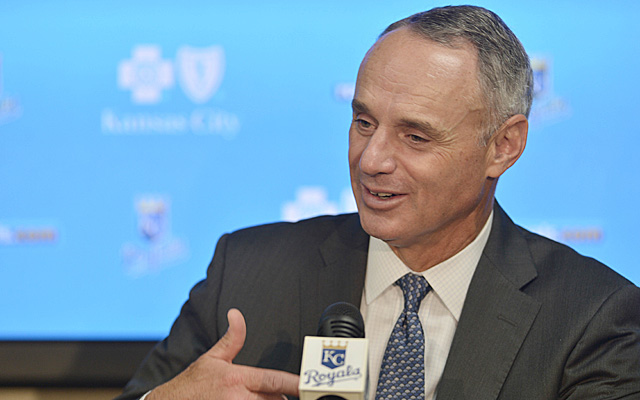 CBS Sports HQ Daily Newsletter
Get the best highlights and stories - yeah, just the good stuff handpicked by our team to start your day.
Please check the opt-in box to acknowledge that you would like to subscribe.
Thanks for signing up!
Keep an eye on your inbox for the latest sports news.
Sorry!
There was an error processing your subscription.
The Rockies slugger and first-time All-Star cut his strikeout rate quite a bit in 2018

Folty is one of many first-time All-Stars in D.C.

The former part-timer is now a force at second base for the Reds
Machado is expected to be traded before the deadline, and perhaps before the All-Star Break...

Treinen played parts of four seasons with the Nationals before being traded away last year

Haniger is a true student of the game