Cardinals insist they didn't have jitters, but should we believe them?
The Cardinals came into Fenway Park a little wide-eyed, and they stumbled out of the first two innings already up against it in the World Series.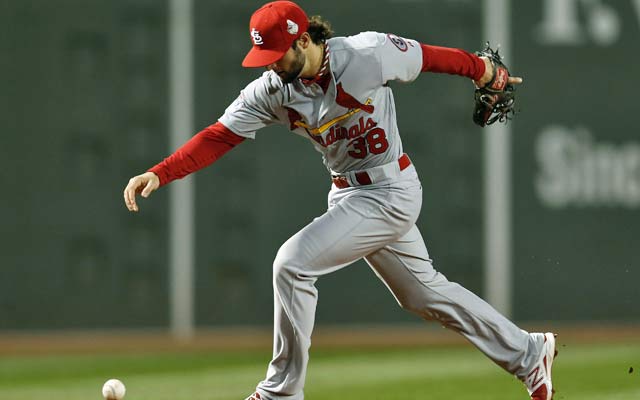 BOSTON -- The first inning was bad and the second inning was worse.
The Cardinals walked into Fenway Park this week feeling like wide-eyed little kids, and two innings into Game 1 they were looking at a horror show. They were down, they were hurt, and yes, they were a little shocked.
"It's not the club we are," Matt Carpenter said, after the 8-1 loss to the Red Sox was over.
They called it uncharacteristic and they called it strange, and they said it had nothing to do with the setting or the stage or anything like that. No jitters here, they said, and because they've been so good on so many big October stages, you wanted to believe them.
But you wondered.
You wondered because this is the third straight World Series the Red Sox have begun with a big inning, the third straight team that has walked into Fenway Park for Game 1 and stumbled out of Inning 1 already up against it.
The 2004 Cardinals were down 4-0 after one, on the way to a four-game sweep. The 2007 Rockies were down 3-0 after one, on the way to a four-game sweep.
The 2013 Cardinals were down 3-0 after one and 5-0 after two, and their best player was on the way to the hospital.
And while previous results are no guarantee of future failure, it's hard to find a way that this looks good right now for the Cardinals.
The best news they had Wednesday was that Carlos Beltran's ribs are bruised, not broken, after his outstanding catch that turned a David Ortiz grand slam into a sacrifice fly. But while Beltran may return (general manager John Mozeliak said he'd be a game-time decision for Thursday), you've got to wonder if the injury will compromise him for the rest of the series.
And you've got to wonder if the first two innings Wednesday set a tone for the series that the Cardinals will have trouble changing.
Starting pitcher Adam Wainwright stood to one side of the clubhouse Wednesday night and took the blame for this one, over and over. He blamed himself for walking Jacoby Ellsbury to start the first, blamed himself for the three-run Mike Napoli double that soon followed, blamed himself for the Stephen Drew popup that dropped between him and catcher Yadier Molina, setting up the two-run second.
"Next time will be different," Wainwright vowed. "The good thing is I didn't show them anything I had. Everything I threw was pretty much garbage."
Wainwright has thrown the final pitch of a World Series and has won huge October games. There's no way anyone was going to say it was Fenway that got to him.
But there was no way he was going to accept that it was Fenway that got to anyone.
"Nobody in here had any more jitters than normal," he said. "Our starting pitcher was terrible."
Their starting pitcher wasn't good, but their starting pitcher also didn't get much help. Before any of those runs scored, there was a David Ortiz ground ball that should have become an inning-ending double play.
It didn't, because shortstop Pete Kozma couldn't catch second baseman Matt Carpenter's feed, and because after second-base umpire Dana DeMuth incorrectly called the runner out, the rest of the umpires all told him that his initial call was wrong.
To their credit, the Cardinals didn't blame the overturned call, and the ones who had seen the television replay agreed that the final call was the correct one.
"I just missed it," Kozma said.
He admitted that everything seemed to happen real fast from that point on, that a scoreless game became 3-0 and then 5-0 before the Cardinals had a chance to catch their breath.
"It's one of those things where afterwards, you're thinking, 'Wow, how did that happen?'"
The Cardinals were a 97-win team, a team that won the World Series in 2011 and went to Game 7 of the NLCS a year ago. They're a team accustomed to winning, a team accustomed to playing well in the biggest of games.
They had a bunch of guys who had never been to Boston before, a bunch of guys who hadn't seen Fenway Park. But they saw that as a good thing, as an exciting new experience, certainly not as something to fear.
Other teams have come to Fenway and looked intimidated, but there was no reason to think that the Cardinals were going to be one of those teams.
Still, you wonder what effect it has to work so hard to get to this point and then have everything crashing down around you in the first two innings.
There aren't many examples, because there haven't been all that many three-run first innings in World Series Game 1 history. The Red Sox had that four-run inning in 2004 and the three-run first in 2007, but before that you have to go all the way back to 1979, when the Orioles opened the World Series with a five-run first against the Pirates.
The Pirates won that World Series.
And really, is it any worse to be down 5-0 after two innings than it is to lose Game 1, 10-0. The 1982 Cardinals did that, and there's a World Series banner hanging at Busch Stadium that proves that World Series turned out just fine for St. Louis.
This one could, too, no matter how bad it begun, and how quickly it began to come apart.
The problems began early, in the first inning or even before it. Wainwright was coming out of the dugout when he hit his head on the low ceiling.
"It may have knocked the sense out of me," he said with a forced smile. "But that had absolutely nothing to do with what happened."
What happened was that a very good team had two very bad innings at a very bad time. Blame it on Fenway. Blame it on whatever you want.
The Cardinals didn't play like the Cardinals.
"We had a wake-up call," manager Mike Matheny said. "That is not the kind of team that we've been all season. And they're frustrated, I'm sure embarrassed to a point."
The Cardinals told us that it can change, and that it will change. It never did for the last two teams that came into Fenway Park for the World Series and began it with one really bad inning.
The Cardinals have a few more games to prove that they're different.
The Yankees are undefeated at home this postseason and the fans are very much into it

How you gonna do The Kid like that?

The Dodgers have a chance to close out the series in Chicago on Wednesday
Only a slight change to the order for the Yankees against a lefty

The Yankees have come back from a 2-0 hole for the second time this postseason

McCullers was outstanding after battling back problems for most of the second half