Cardinals make upgrades without sacrificing prospects or draft picks
The Cardinals made two significant deals in the last few days and managed to do so without dipping into their prospect base.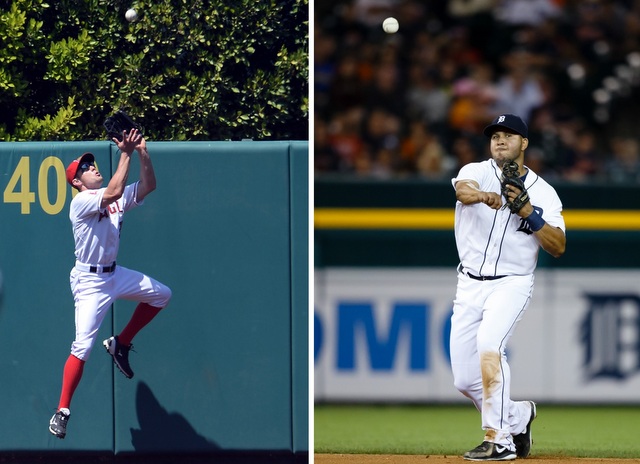 More Cardinals: Swap Freese for Bourjos, improve defense at two spots | Agree with Peralta
Over the last 72 hours or so, the Cardinals have remade their lineup with two significant moves. On Friday they shipped David Freese (and a reliever) to the Angels for Peter Bourjos (and a prospect) before agreeing to sign Jhonny Peralta on Sunday. It's reportedly a four-year contract worth a bit more than $52 million.
While talking to reporters following the Freese trade, GM John Mozeliak made it clear the team was planning to shift Matt Carpenter to third base with youngster Kolten Wong taking over at second. Allen Craig would shift from first base to right field to replace free agent Carlos Beltran while Matt Adams steps in at first. Add in Peralta at short and St. Louis will have different starters at five positions on opening day 2014 than they did on opening day 2013.
Mozeliak managed to improve his team by swinging the Freese and Peralta deals without touching his prized farm system, the consensus best in baseball. Not only did he not trade any prospects to make these upgrades, he also didn't sacrifice a draft pick as free agent compensation. The Tigers did not tender a qualifying offer to Peralta, so St. Louis will keep its first round pick. The only cost was one Major League player (Freese), a spare up-and-down reliever (Fernando Salas) and money.
The Cardinals are deservedly praised for their homegrown players, but it's easy to forget their roster is not cheap. They have four players slated to make $13 million or more in 2014 (Peralta, Adam Wainwright, Matt Holliday, Yadier Molina) and their payroll has hovered around "only" $110 million or so the last three years. St. Louis needs those young homegrown players to offset the cost of the expensive veterans. It sounds obvious but it very hard to pull off. Every club is trying to find that balance.
Very few teams in baseball are as well-run as the Cardinals, who have won two pennants and been to the postseason four times in their six years under Mozeliak. The free agent third base market is a disaster (Juan Uribe is the best available player at the hot corner) and they took advantage by turning a good but flawed player in Freese into a young center fielder. Some of the cash savings will go to Peralta to shore up their biggest weakness. New center fielder, new shortstop, new second baseman, new third baseman, and they did all that without dipping into their prospect or draft pool base. Pretty impressive.
After acquiring Ian Kinsler and Zack Cozart in recent days, the Angels are trending upward

Cozart's coming off a big season as the Reds' shortstop

The veteran slugger spent the last eight seasons with Cleveland
The Padres may be poised for an active winter

Yes, Bryce Harper is going to make a lot of money next winter

Outfield prospect Clint Frazier might be part of the talks