Cardinals manager Mike Matheny wants to ban home plate collisions
Cardinals manager Mike Matheny wants to ban collisions at home plate.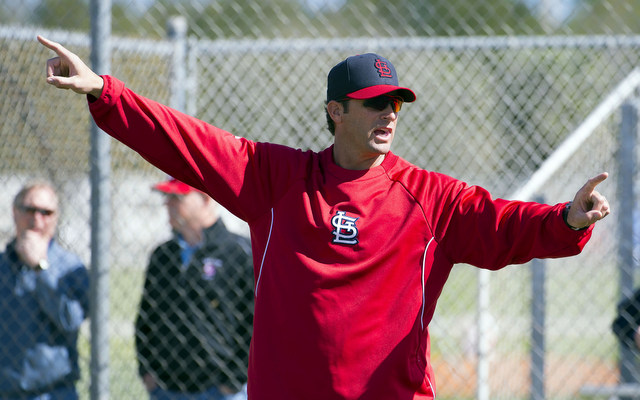 Cardinals manager Mike Matheny knows a thing or two about collisions at home plate. The 13-year big league veteran played nearly 1,300 games at catcher and was surely involved in countless collisions. His career ended in 2006 due to continued concussion problems.
Seven years later, Matheny told MLB.com's Matthew Leach he wants baseball to completely ban collisions at home plate. He has requested a meeting with Joe Torre, MLB's executive vice president of baseball operations and a former big league catcher himself, to discuss the matter.
"I know the league wants to do the right thing and I know Joe does a great job," Matheny said. "So that's my prelude, but I do believe that this game will get to the point where there will no longer be a collision at the plate. And I am 100 percent in support of that ... This isn't a collision sport. There's enough of a physical grind with guys being out there for 162 games. We've got the physical aspect of this game. It doesn't need to include that one spot."
The injury risks with these collisions are obvious. In addition to concussion issues we've seen players like Buster Posey and Carlos Santana suffer serious leg injuries in recent years that cost them most of the season. In fact, Giants manager Bruce Bochy told Posey not to bother to block the plate last season in an effort to stay healthy. Mets manager Terry Collins confirmed to John Harper of the New York Daily News that the organization told top prospect Travis d'Arnaud not to block the plate in Triple-A this summer.
I am personally on the fence about blocking the plate. There are obvious safety concerns worth addressing, but at the same time, the play has a strategic value. They're similar to stolen bases in a way -- they are more valuable in the late innings of a close game than they are in blowouts. I do agree with Matheny though, it's only a matter of time before MLB declares them illegal. I don't believe that time is imminent, however.
RELATED: CBSChicago.com senior columnist Dan Bernstein says it's time to ban blocking
For more baseball news, rumors and analysis, follow @EyeOnBaseball on Twitter, subscribe to the RSS feed and "like" us on Facebook. Also, individually interact with us on Twitter: @MattSnyder27, @daynperry and @mikeaxisa.