Cardinals not ruling out using Adam Wainwright on short rest in Game 4
Following their Game 1 loss to the Red Sox, the Cardinals are considering using ace Adam Wainwright on short rest later in the series.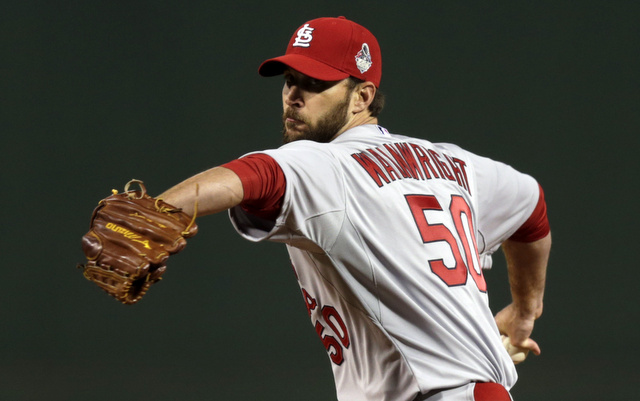 More World Series Game 1: Box score | Quick hits | Grades
The Red Sox knocked Cardinals ace Adam Wainwright out of World Series Game 1 after only five innings, and afterwards St. Louis skipper Mike Matheny said the team may bring the big right-hander back on short rest later in the series.
"We got him out pretty early still," said Matheny. "We're not ruling anything out."
The 32-year-old Wainwright threw 95 pitches in those five innings, an average of 19.0 pitches per inning. He averaged 14.6 pitches per inning and 103.9 pitches per start during the regular season. There's an argument to made they should have lifted him an inning or two earlier in Game 1 if they were seriously considering using him on short rest.
Wainwright led baseball with 241 2/3 innings this season and has made four postseason starts, raising his 2013 total to 269 2/3 innings. He's a horse, but that's a ton of innings, especially for a guy who missed all of 2011 due to elbow surgery. It's unclear if Wainwright is even able to pitch effectively on three days' rest -- which would line him up for Game 4 rather than Game 5 -- at this point.
Then again, if the Cardinals are trailing in the series, Wainwright at 75 percent or so might be better than Lance Lynn at full strength in Game 4. Using him in Game 4 would also allow the team to bring him back for a potential Game 7, albeit on three days' rest again.
Colon wants to break a Dennis Martinez record

The Twins have been rumored to be interested in Darvish all winter

Rolen is one of the best third basemen of all time, but you wouldn't know it based on this...
Neither Josh Donaldson nor Brian Dozier have talked about a new contract extension

Francisco leads the Dominican Winter League with seven home runs

Thome deserves enshrinement and here's why the case against him does not hold up