Cardinals' Oscar Taveras is adjusting; next come the adjustments to him
Cardinals rookie phenom Oscar Taveras has been faring much better at the plate lately. This won't be lost on pitchers, though.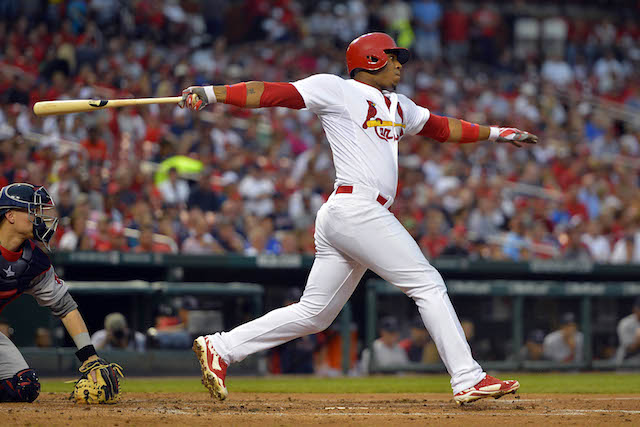 Cardinals rookie outfielder Oscar Taveras has become a core contributor after the John Lackey deadline trade that sent Allen Craig to Boston. Finally given regular duty at the highest level, Taveras initially continued to struggle, but then he adjusted. Here's what manager Mike Matheny told Rick Hummel of the St. Louis Post-Dispatch regarding the changes Taveras has made at the plate ... 
"Huge adjustments.

"He's really worked hard in the cage with John and David (hitting coaches John Mabry and David Bell) on his approach and shortening his swing a bit. Even his outs (Sunday) were pretty loud.

"He's definitely taking steps in the right direction."
That's a positive thing. The point has been made countless times before, but even the most accomplished players are constantly tinkering and making almost imperceptible changes to the way they swing the bat or deliver the ball. The large-scale adjustments may cease at some point, but the tweaking at the margins never does. Some, like Cal Ripken Jr., cobble together a Hall of Fame career while rebuilding the swing on an almost annual basis. 
So this early adjustment seems to be working for Taveras. Since Aug. 15, for example, he's batting .343/.378/.400. That's not ideal by any means (very little raw power over that span), but it's improvement. Of course, we should be careful not to put too much weight on such a small sample and not to make causation-correlation errors. All that said, the Cardinals say he's made changes -- it looks to me like a simple tightening up of his follow-through -- and the short-run improvement is there, especially relative to his early scrambling. 
If he keeps it up, though, pitchers will do some adjusting of their own. For instance, to date Taveras has seen 63.1 percent fastballs -- i.e., four-seamers and two-seamers. By way of comparison, the average hitter in 2014 has seen 57.3 percent fastballs. If Taveras were a qualifier, then his figure would tie him for the 12th highest fastball percentage in MLB this season. 
That's to be expected. Taveras is a young player who, however accomplished in the minors, hasn't yet proved himself at the highest level. He's also striking out about three times as much as he's walking, and he's putting the majority of his batted balls on the ground. Why wouldn't you pump fastballs at him? He's also seeing a below-average percentage of pitches in the strike zone. Why wouldn't you stay away from a young hitter who offers at a high percentage of pitches outside the zone? 
However, if Taveras continues to maintain his recent gains, then he's going to see more major-league breaking and off-speed stuff. He already makes a high rate of contact on pitches outside the strike zone, and if he's further teased out of his wheelhouse by secondary offerings, then you could see a greater propensity for weak contact. This is where Taveras's low walk percentage (5.3 percent versus a league average mark of 7.7) will hurt him further. If you can put the bat on pitches off the plate and drive them like Vladimir Guerrero, then by all means do so. However, if you just roll them over into and easy 6-3, then you'd do better to take a few such pitches. 
That's the road ahead for the 22-year-old supernova -- to learn his hitting zone at the big-league level and to force pitchers work within it by being more selective. Doing so will challenge his pitch-recognition skills and perhaps force him to redefine his preferred locations.
On that point, it's worth noting that Taveras is showing a bit of an outside drift when it comes to the pitches at which he swings ...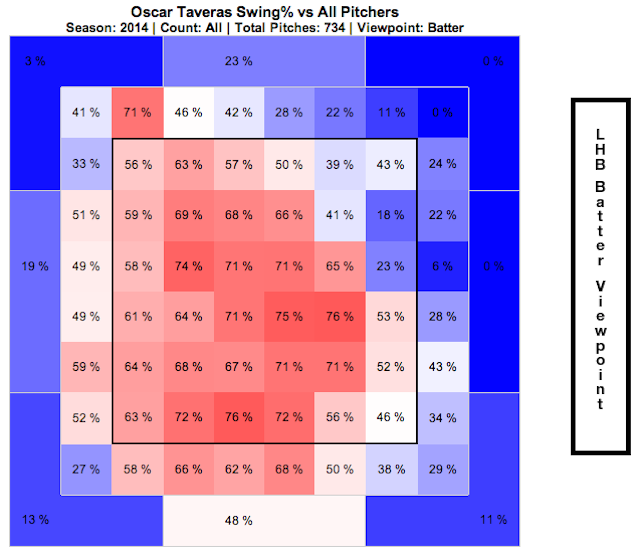 However, he's getting better production when he sticks to middle-in ...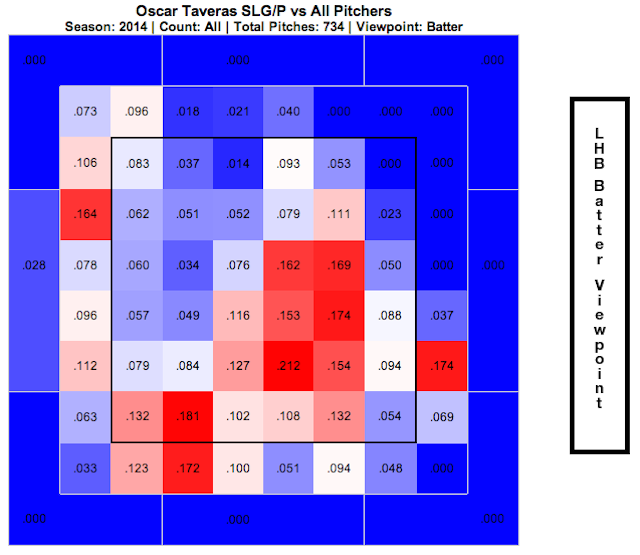 It's old advice, but the best way to get pitchers to aim over the plate is by working your way into hitter's counts or by making them too desirous of a first-pitch strike over the heart. Something to watch is how Taveras starts treating those outside pitches just off the plate -- the ones that he's been swinging at but not hitting with too much authority. If his tweaked swing doesn't afford harder contact to the opposite field, then more patience will be the prescription. That may be where Taveras's "next step" is taken, especially now that he may be in for more glove-side stuff from lefties and back-door stuff from right-handers. 
This initial adjusment is a good thing, but there's nothing static about facing the best pitchers in the world on a daily basis. 
Data will be collected and then used to determine whether humidors are necessary in 2019

Spring training play began on Friday, and the Stoneman Douglas tragedy was on the mind of MLB...

Baseball players forced to take pictures usually lead to fun for all of us
One of the most celebrated programs in baseball is looking to continue its run

A closer look at the teams in the Cactus League and Grapefruit League

Spring training baseball gets underway Friday