Cardinals-Pirates NLDS Game 4 preview: Wacha vs. Morton
It's Michael Wacha for the Cardinals and Charlie Morton for the Pirates in Game 4 of the NLDS in Pittsburgh. Let's break it down.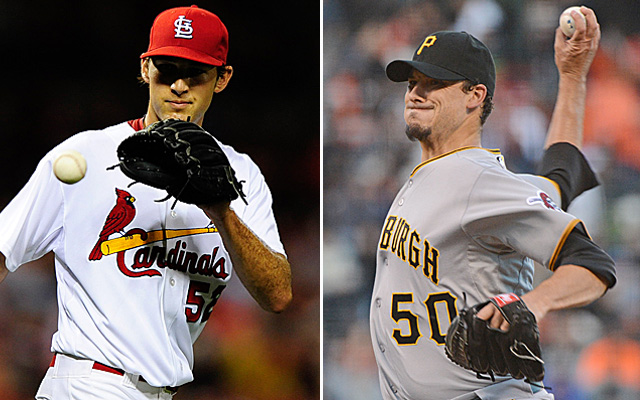 With the Pirates sporting a 2-1 lead in the best-of-five NLDS against the Cardinals, they head into Monday's Game 4 looking to close things down. The first pitch in PNC Park is set for 3:07 p.m. ET and the weather appears to be cooperating (weather.com hourly forecast says very low chance of rain during the game and high-50s temperatures).
The pitching matchup pits Michael Wacha (4-1, 2.78 ERA in regular season) of the Cardinals against Charlie Morton (7-4, 3.26) of the Pirates. Let's break it down.
Wacha vs. Pirates
The rookie has only appeared in 15 games, so much of his stats are small samples. Still, what we've seen is that he's more comfortable at home. He has a 2.15 home ERA compared to 4.34 on the road. His home WHIP is 0.91 while his road WHIP is 1.55. Of course, he only threw 18 2/3 innings on the road while compiling 46 at home.
Wacha has appeared in two games against the Pirates and dominated. He showed up in relief on Aug. 14, retiring all six batters he faced with four strikeouts. On Sept. 8 he started against the Pirates, working seven shutout innings and allowing only two hits.
As far as individual matchups, no one on the Pirates has seen Wacha more than six times, so we'll ignore. That data isn't even remotely useful. The team is collectively hitting .107/.188/.143 against him, though.
Morton vs. Cardinals
He's better at home (2.85 ERA) than on the road (3.61), so that's a plus. On the flip-side, Morton was carved up by the Cardinals this season, going 0-2 with a 7.90 ERA and 2.05 WHIP in three starts.
On Aug. 1 in Pittsburgh, Morton was tagged for 10 hits and five runs in six innings, taking the loss. He bounced back against the Cardinals Aug. 13, giving up two earned runs in six innings, but on Sept. 8, disaster struck. The Cardinals disposed of Morton in just 1 2/3 innings, as he allowed five runs on six hits and two walks.
In terms of individual matchups, current Cardinals are hitting .341/.413/.459 against Morton. Though the samples are obviously small, several of the Cardinals utterly own Morton.
Matt Holliday is hitting .320/.346/.480 with a double and homer in 26 plate appearances. Carlos Beltran is hitting .400/.500/.467 in 22 plate appearances. Jon Jay has seen Morton 21 times and come away with a .500/.579/.625 line. Yadier Molina (421/.421/.632, 19 PA), David Freese (.294/.368/.471, 19 PA) and Matt Carpenter (.375/.545/.500, 12 PA) also have had success against him.
Needless to say, the numbers show the pitching matchup favors the Cardinals Monday.