Cardinals-Pirates NLDS Game 4 starting lineups
Game 4 of the NLDS between the Pirates and Cardinals is set for 3:07 p.m. ET. Here are the starting lineups.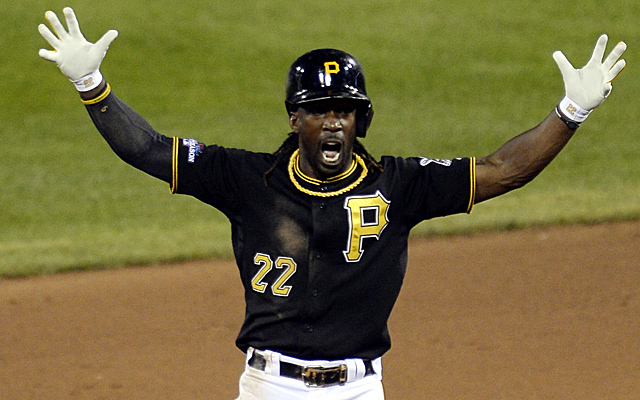 Pirates-Cardinals NLDS Game 4 pitching preview
The Pittsburgh Pirates head into Monday looking to close out the Cardinals in Game 4 of the NLDS best-of-five series, with the Pirates holding a 2-1 advantage. Game time is 3:07 p.m. ET/2:07 p.m. CT. Here are the starting lineups.
Road Cardinals
1. Matt Carpenter, 2B
2. Carlos Beltran, RF
3. Matt Holliday, LF
4. Matt Adams, 1B
5. Yadier Molina, C
6. Jon Jay, CF
7. David Freese, 3B
8. Pete Kozma, SS
9. Michael Wacha, SP
Home Pirates
1. Starling Marte, LF
2. Neil Walker, 2B
3. Andrew McCutchen, CF
4. Justin Morneau, 1B
5. Marlon Byrd, RF
6. Pedro Alvarez, 3B
7. Russell Martin, C
8. Clint Barmes, SS
9. Charlie Morton, SP
It's almost that time of the year again, time for the Tebow madness to return

Walker was a tremendous all-around player, but Coors Field undoubtedly inflated his career...

A beardless Wilson says that he tried to outrun the police on the second day he had his driver's...
The Diamondbacks outfielder was not impaired, he was just going way too fast

MLB can unilaterally implement rule changes, which will also include limits on mound visit...

If the MLBPA wants to repair MLB's salary structure, it should push for more money for young...