Cardinals-Pirates NLDS Game 5 preview: Wainwright vs. Cole
The NLDS will come to an end one way or the other on Wednesday night. Adam Wainwright (Cardinals) and Gerrit Cole (Pirates) will be on the mound.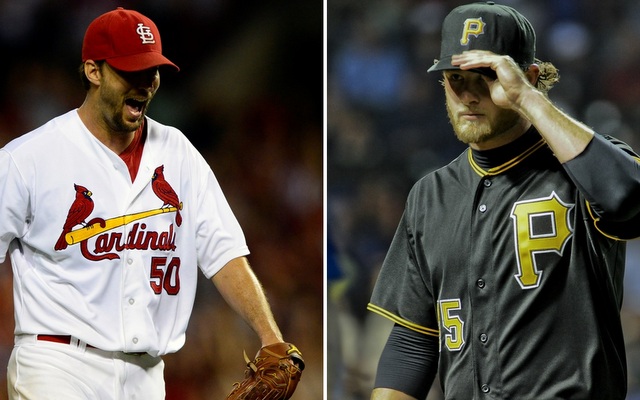 More NLDS: Game 4 quick hits | Who has the edge?
Later tonight, the Pirates and Cardinals will meet in a winner-take-all Game 5 to determine who advances to play the Dodgers in the NLCS. The final NLDS game, which will be played at Busch Stadium in St. Louis, is scheduled to begin at 8:07pm ET (7:07pm local time).
The Cardinals are giving the ball to staff ace Adam Wainwright (19-9, 2.94 ERA, 1.07 WHIP in 240 1/3 innings), who struck out nine and allowed just one run on three hits across seven innings in his Game 1 start. He is exactly the guy they want on the mound.
The Pirates, meanwhile, are giving the ball to rookie right-hander Gerrit Cole (10-7, 3.22 ERA, 1.17 WHIP in 117 1/3 innings) after his dominant Game 2 showing. He allowed just one run on two hits and a walk in six innings of work. Cole is getting the ball (on regular rest because of off-days) instead of the veteran A.J. Burnett, who surrendered seven runs in just two innings in Game 1.
The weather.com hourly forecast for the game is flawless -- cool (temperatures in the 60s) but zero clouds and no threat of rain. Pretty much perfect playoff baseball weather. Let's break down the Game 5 pitching matchup.
Wainwright vs. Pirates
As I said, Wainwright carved up the Buccos in Game 1. He did it largely thanks to his curveball, which he threw 33 times out of 105 total pitches. Twenty-seven (!) of those 33 were strikes (11 swings and misses), which is just insane. Something he may not be able to repeat in Game 5. Fifteen swings and misses overall was his second highest total of the season and third highest since 2011.
Wainwright pitched considerably better at home (2.53 ERA and 0.94 WHIP) than on the road this season (3.36 ERA and 1.19 WHIP), not that he was bad away from Busch Stadium. He was quite a bit better during the day (2.39 ERA and 1.00 WHIP) than at night (3.25 ERA and 1.10 WHIP), however.
Given their status as division rivals, it's no surprise the Pirates and the veteran Wainwright have plenty of history. Players currently on the Pittsburgh roster have hit .282/.342/.449 against him in 258 total plate appearances, which is a bunch for pitcher vs. team matchups. There certainly will be no surprises for either side tonight.
Likely NL MVP Andrew McCutchen has had a ton of success against Wainwright, going 13-for-31 (.419) with four doubles and a homer (1.151 OPS) against the big right-hander in his career. Russell Martin has also had success (10-for-27, .913 OPS) against him, but others like Marlon Byrd (4-for-20, .450 OPS) have not.
Including Game 1, Wainwright has allowed just eight runs (2.57 ERA) and 24 base-runners (0.86 WHIP) in 28 innings across four starts against the Pirates in 2013.
Cole vs. Cardinals
The Cardinals had never seen Cole before Game 2 and it showed. Hitters were consistently late on his mid-90s fastball and couldn't lay off his slider. Manager Clint Hurdle pulled Cole after only 86 pitches even though it was clear he had more in the tank. It'll be interesting to see how long he lets him go in Game 5.
Cole only made 19 regular season starts after being called up, but he was substantially better on the road (2.38 ERA and 0.95 WHIP) and at night (2.68 ERA and 1.07 WHIP) than at home (3.75 ERA and 1.31 WHIP) and during the day (4.28 ERA and 1.35 WHIP). He's got that going for him, if nothing else.
The only time the Cardinals hitters have seen Cole was in Game 2, so there's very little history. There is some though, and that's better than none. It's worth noting that in his last nine starts, Cole has a 2.20 ERA and 1.13 WHIP in 57 1/3 innings. He's been dynamite of late.
This would undoubtedly be the worst trade in Miami Marlins history

The Pirates recently shipped Gerrit Cole and Andrew McCutchen to Houston and San Francisco,...

Surely, Martinez and his agent are holding out for more
The reliever had a very good 2017 season with the NL Central champs

We don't need to discuss Chipper's Hall of Fame case, so let's have fun instead

Dioner Navarro still hopes to return someday