Cardinals-Red Sox World Series Game 1: Wainwright vs. Lester
Time for Game 1 of the Cardinals vs. Red Sox World Series. Our pitching matchup is Jon Lester vs. Adam Wainwright. Let's preview it.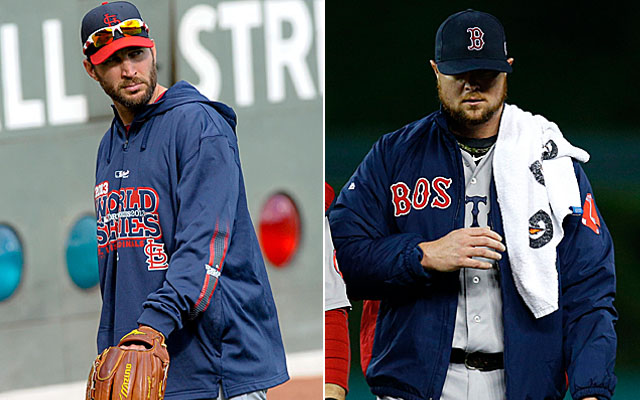 BOSTON - It's here people. It is Oct. 23, 2013, or as it should be known, the day of Game 1 of the World Series. We're set to see battle between the two best teams from the 2013 regular season and postseason -- the St. Louis Cardinals and Boston Red Sox -- a rarity these days.
On the hill, it'll be Adam Wainwright for the Cardinals against Jon Lester of the Red Sox. Let's break it down.
Lester vs. road Cardinals
He comes in throwing real well, having posted a 2.19 ERA in his last 10 regular-season starts and a 2.33 mark in his three postseason starts. While he hasn't been dominant in the playoffs -- allowing 16 hits and seven walks in 19 1/3 innings -- the Red Sox have won two of Lester's three starts. The one loss was a 1-0 defeat where they were nearly no-hit. Hard to put that on Lester.
The 29-year-old left-hander is much better at home than on the road. This regular season he was 7-1 with a 3.09 ERA and 1.15 WHIP at home, compared to 8-7, 4.21, 1.39 on the road. His worst postseason start came on the road, too.
Lester has faced the Cardinals only once in his career and was real good, but that was 2008 so I'm gonna ignore that.
In terms of individual matchups, he's faced Matt Holliday six times. He's seen Carlos Beltran and Yadier Molina three times each. And that's it. So, again, this data is rather meaningless. It's like an old-time World Series where there's a lot of unknown.
Wainwright vs. home Red Sox
The 6-foot-7 right-hander had a Cy Young-caliber season and the playoffs have been no different. In three starts this postseason, he has a 1.57 ERA with 20 strikeouts against only one walk. The Cardinals won two of his three starts, and the loss was more due to poor offense and defense than Wainwright's pitching.
Wainwright is worse on the road than at home, but the split isn't significant. He had a 3.36 ERA and 1.19 WHIP on the road this season.
He has never pitched in Fenway Park nor ever faced the Red Sox.
In terms of individual matchups, he has seen both Shane Victorino and Stephen Drew more than 20 times. Neither has fared well. In 23 plate appearances, Victorino is hitting .227/.261/.409. Drew is hitting .105/.190/.158 against Wainwright in 21 plate appearances. Otherwise, the majority of the Red Sox regulars have little-to-no experience against the Cardinals ace.
Perhaps of most intrigue here is the Red Sox offense and its patience squaring off against the strike-throwing machine that is Wainwright. In both the regular season and postseason combined, Wainwright has issued only 34 unintentional walks in 264 2/3 innings.
Even more relievers signed on the final day of the Winter Meetings

Keep tabs on the top 50 free agents right here

The league is not happy Ohtani's medical information leaked
Kansas City and Baltimore were quite busy at the Rule 5 Draft

Piscotty's mother was diagnosed with ALS earlier this year

From the rebuilding Marlins to the aggressive Angels, here's how the most active teams made...