Cardinals-Red Sox World Series Game 6 lineups: Victorino back
Game 6 of the World Series between the Red Sox and Cardinals is set for Wednesday night. Here are the lineups, including a return of Shane Victorino -- and David Ortiz and Allen Craig returning to DH spots.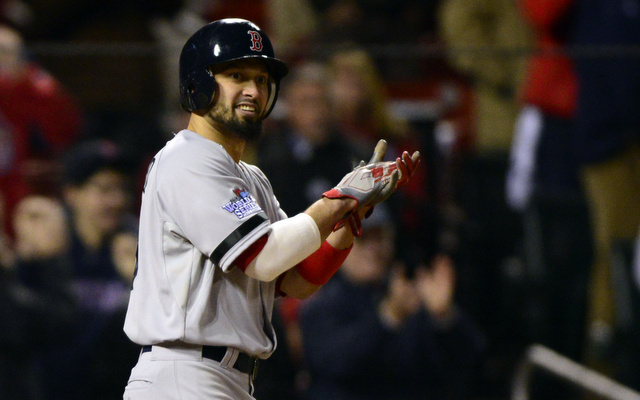 World Series Game 6: Pitching breakdown | Weather
BOSTON - Game 6 of the 2013 World Series is set for 8:07 p.m. ET Wednesday night in Fenway Park. The Red Sox will look to close out the Cardinals, sporting a 3-2 series lead and needing only one win in two games at home. Pulling it off would mean the Red Sox have won three World Series in the last decade. It would also mean the first time since 1918 they'd clinch a World Series in Fenway Park.
Here are the lineups for Game 6.
1. Matt Carpenter, 2B
2. Carlos Beltran, RF
3. Matt Holliday, LF
4. Allen Craig, DH
5. Yadier Molina, C
6. Matt Adams, 1B
7. David Freese, 3B
8. Jon Jay, CF
9. Daniel Descalso, SS
SP: Michael Wacha
1. Jacoby Ellsbury, CF
2. Dustin Pedroia, 2B
3. David Ortiz, DH
4. Mike Napoli, 1B
5. Jonny Gomes, LF
6. Shane Victorino, RF
7. Xander Bogaerts, 3B
8. Stephen Drew, SS
9. David Ross, C
SP: John Lackey
The owners need to ratify on the new system in place, but the takeaway here is Ohtani is coming...

A preliminary report National Transportation Safety Board has shined some light on details...

John Coppolella was placed on the permanently ineligible list by MLB on Tuesday
Among other sanctions, Atlanta lost the player who was deemed the No. 1 international signing...

Among other penalties, No. 1 international prospect Kevin Maitan is now a free agent

Judge underwent the arthroscopic procedure on his left shoulder on Monday