Cardinals-Red Sox World Series Game 6 preview: Wacha vs. Lackey
After an off day for travel, the Cardinals and Red Sox will pick things back up Wednesday in Boston for Game 6 of the World Series. The pitching matchup is the same as Game 2: Michael Wacha vs. John Lackey.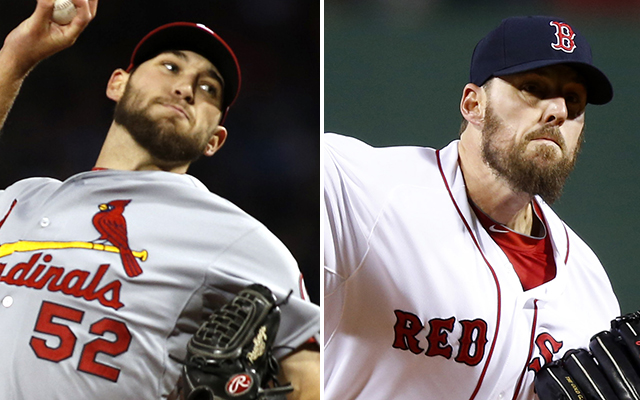 ST. LOUIS -- The three World Series games in St. Louis have concluded, so it's back to Boston for Game 6 (and maybe even a Game 7 in what has already been an outstanding series). The first pitch is set, once again, for 8:07 p.m. ET in Fenway Park on Wednesday, Oct. 30.
The pitching matchup is the same as it was in Game 2, with Michael Wacha taking on John Lackey. Last time out, both pitchers were good. Let's take a quick glance.
Last start, Lackey went 6 1/3 innings, allowing five hits and three earned runs while striking out six. Two of those runs, however, scored after Lackey had departed the game. In fact, at the time I wrote that his teammates had let him down. He very easily could have come away with the victory.
Lackey's had a shot to face the Cardinals since then, too, as he worked a scoreless eighth inning in Game 4. Will that impact his Game 6 start? That's the real question here.
Something to keep in mind is that Monday was Lackey's throw day. That is, starting pitchers always throw a bullpen session in between starts to stay fresh and the day of Game 6 was Lackey's time. He didn't throw all day until getting up in the bullpen and then during the game.
The bullpen sessions are usually low stress, though, and this was the eighth inning of a must-win game for the Red Sox.
We'll soon see if it had any impact. My hunch is it doesn't, but many will disagree.
In his last three outings, Lackey has a 1.93 ERA and is averaging a strikeout per inning while having only walked two guys in 14 innings.
Wacha vs. Red Sox
The youngster was superb last time around, his first-ever start in Fenway Park. The only issues were walks (four in six inning) and a two-run homer he coughed up to the scorching hot David Ortiz.
Wacha also only lasted six innings due to the Red Sox patient approach, which helped to drive up the pitch count. Still, he only allowed three hits and probably went back to the well one too many times with that changeup to Ortiz.
With Wacha, the question is how well he'll fare now that the Red Sox have seen him before. It was the third time through the order last time out that Ortiz got to him, and conventional wisdom says that's about the time hitters get more comfortable against a pitcher.
Now that they've seen him once, will they figure him out? It didn't work out too well for the Dodgers in the NLCS, as Wacha totally shut them down.
In fact, in four playoff starts, Michael Wacha is 4-0 with a 1.00 ERA, 0.70 WHIP and 28 strikeouts in 27 innings. He looks the part of the best pitcher in the league right now -- not to say he is, because he needs to prove that over a much longer period of time.
The Red Sox offense can be pretty powerful, though, especially at home. During the regular season, the Red Sox hit .269/.344/.429 on the road, but in the comfortable confines of Fenway Park, they hit .285/.354/.464.
The lefty starter is coming off a terrible season

After acquiring Ian Kinsler and Zack Cozart in recent days, the Angels are trending upward

Cozart's coming off a big season as the Reds' shortstop
The veteran slugger spent the last eight seasons with Cleveland

The Padres may be poised for an active winter

Yes, Bryce Harper is going to make a lot of money next winter