Cardinals-Red Sox World Series preview: Who has the edge?
We have our matchup set for the 2013 World Series. It's the St. Louis Cardinals against the Boston Red Sox. Who ya got?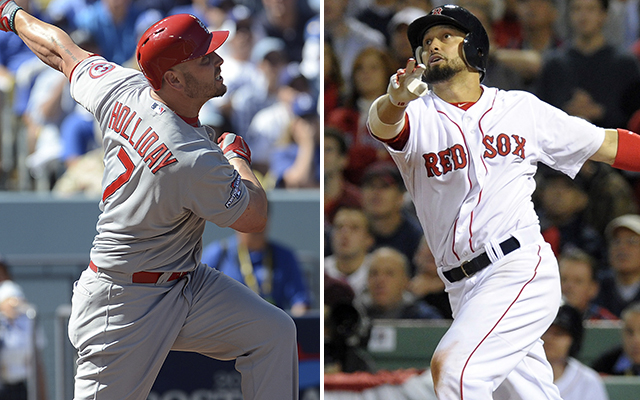 Red Sox beat Tigers in Game 6: Victorino grand slam leads the way
With the Red Sox having taken down the Tigers in six games to win the ALCS, the Cardinals now know who their opponent will be for the Fall Classic. It's going to be a rematch of the 2004 World Series, when the Red Sox swept the Cardinals and broke their so-called (and quite fake) "curse."
This time around? I really, really doubt we'll see a sweep. Then again, a sweep by the Giants over the Tigers last season seemed pretty unlikely and it happened. You never know.
Another layer of awesome here is that these were, by record, the two best teams in the regular season and sported the exact same record at 97-65. So this is truly a battle of the titans. Not only that, but the home/road records were only one game off, as the Red Sox were 53-28 on home and 44-37 on the road while the Cardinals were 54-27 and 43-38, respectively.
Coming from last season, though, there are vast differences. In 2012, the Red Sox finished in last place and underwent a bit of a roster overhaul, starting with unloading Adrian Gonzalez, Carl Crawford, Josh Beckett and Nick Punto in August. The Cardinals, on the other hand, came just one game shy of making their second straight World Series.
The storylines are aplenty.
For now, though, let's take a look at the "on paper" edge. Note that this is subjective and one of many ways upon which to judge the series. Going through and counting which team has more "edge" wins doesn't determine the actual better team and games aren't played on paper.
Catcher: Yadier Molina vs. Jarrod Saltalamacchia

Salty is a solid backstop. He hit .273/.338/.466 (118 OPS+) with a whopping 40 doubles and 14 homers in the regular season. He came through with a clutch, walkoff hit in Game 2 and calls a good game for his pitchers. Yadier Molina, however, is the gold standard behind the plate and a legitmate MVP candidate. It's not close.
First base: Matt Adams vs. Mike Napoli

The young Adams is an outstanding young power hitter while Napoli is a pretty damn good power hitter himself. Napoli comes in riding a hot ALCS -- at least from Games 3-5 on -- and has a nice track record in terms of postseason power. It's very close here on offense but Napoli is a bit better with the glove and I'll let experience count for a little something.
Second base: Matt Carpenter vs. Dustin Pedroia

Both are fringe MVP candidates, with Carpenter actually having a decent-sized edge with the bat this season. Check it out:
MC: .318/.392/.481, 143 OPS+, 55 2B, 7 3B, 11 HR, 78 RBI, 126 R
DP: .301/.372/.415, 116 OPS+, 42 2B, 2 3B, 9 HR, 84 RBI, 91 R
Pedroia is superior with the glove and on the basepaths, so we'll let that bring the needle back to the center. Due to reputation alone, many will think this favors the Red Sox, but I was honestly leaning toward Carpenter more than Pedrioa.
Shortstop: Pete Kozma vs. Stephen Drew

Kozma is an awful hitter. Anyone saying otherwise is likely a family member of his or a Cardinals fan who partakes in delusion. He's a better fielder than Drew, but Drew isn't bad at all. And with decent on-base ability and good power for a shortstop, Drew is the big winner here.
Third base: David Freese vs. Will Middlebrooks/Xander Bogaerts


Freese hasn't been great with the stick or the glove this season, but Middlebrooks had a bad season -- albeit much better once he returned from a minor-league stint. He's been terrible in the postseason, though, and Bogaerts has taken over. Freese has the reputation of playing postseason hero, due to 2011, but he's hitting poorly this postseason. Bogaerts will probably start most games from here on out, but it's hard telling what we'll get out of anyone here, so I'm just gonna call it even and move on.
Left field: Matt Holliday vs. Daniel Nava/Jonny Gomes


Nava had a much better regular season, but Gomes has been getting the starts most of the time of late. We'll focus on him. And against Matt Holliday, it's not close. Both are pretty sub-par with the glove, but at the plate, Holliday is far better across the board.
Center field: Jon Jay vs. Jacoby Ellsbury

Jay's been so bad lately -- both with the bat and the glove -- that he got benched in favor of Shane Robinson in Game 6 of the NLCS. Ellsbury comes in with a hot bat after having a very good 2013 season, is a terror on the bases (led the majors with 52 steals this year) and is a good defender. It's a blowout.
Right field: Carlos Beltran vs. Shane Victorino

I'm going to get caught up in the narrative here. In terms of all-around play, Victorino was better this year. He's far superior in WAR, close in the triple-slash batting stats, better on the basepaths and with the glove. Beltran, however, isn't terrible in right field and has a cannon, as we saw in Game 1. And due to him being one of the best hitters in the history of the postseason, I'm tilting the scale back toward Beltran. Right field is an offensive position that's a tradition source of power, after all -- Victorino's Game 6 slam notwithstanding.
Designated hitter: Allen Craig? vs. David Ortiz

It appears that Craig is going to be healthy enough to serve as the DH this series. That's a major, major plus for the Cardinals, because otherwise they're looking at the likes of Shane Robinson, Adron Chambers and Daniel Descalso from which to add to the order in Fenway Park.
Craig was great with the bat this season, hitting .315/.373/.457 with ungodly numbers in "clutch" situations. Ortiz hit .309/.395/.564, though, giving him the significant power edge. Also, there have to be concerns about Craig's health. If Craig can't go, this is a significant edge. If he can, I still like Big Papi.
Bench

Neither has a very imposing bench, but the Red Sox have quality bats in either Mike Carp or whoever doesn't start between Gomes and Nava. Middlebrooks has power, even if he's inconsistent and doesn't get on base. The Cardinals aren't very deep at all, especially if Craig is unable to play.
Starting pitching: Adam Wainwright, Michael Wacha, Joe Kelly, Lance Lynn vs. Jon Lester, John Lackey, Clay Buchholz, Jake Peavy

The Cardinals had the second-best rotation ERA in the majors during the regular season -- the Red Sox were 11th -- and that was with Wacha in the minors for a decent chunk of the season. At this point, he's worthy of being called an ace, at least headed to the World Series (we can revisit the term in the spring as for being worthy of "ace" status for a full season moving forward). Any concerns about Lynn are mitigated by Boston's concerns about Peavy. Wainwright is better than Lester, Wacha's well above Buchholz of late and Lackey probably gets a slight nod over Kelly. It's St. Louis here.
Relief pitching: Trevor Rosenthal, Seth Maness, Carlos Martinez, Kevin Siegrist et al vs. Koji Uehara, Junichi Tazawa, Craig Breslow, Ryan Dempster et al

In Uehara, Tazawa and Breslow, the Red Sox have a very reliable stable at the end of games, but the Cardinals' studly young fireballers are becoming a force. Though we've obviously seen a few slip-ups -- a very few -- it doesn't feel like either bullpen is going to cough up many runs in this series. Better get the lead early, because each back-end of these bullpens is incredible.
Defense

At the premium defensive positions -- catcher, second, short, center -- each team has an advantage at two spots (Molina, Pedroia, Kozma, Ellsbury). Defensive WAR says the Cardinals were the second worst team in baseball due to having significant deficiencies in range in several areas while the Red Sox ranked seventh. In defensive runs saved, the Red Sox were 13th and the Cardinals were 22nd. Fangraphs UZR shows the Red Sox in 10th and the Cardinals in 27th. In defensive efficiency, both teams are hovering around the league average. It's clear the Red Sox are better, but with the most important defensive positions it's a split, so I'm only going moderate here.
Prediction
The Cardinals have their starting pitching set up so that Adam Wainwright and Michael Wacha can go in Games 1, 2, 5 and 6 respectively. Now, the Red Sox overcame dominant starting pitching in the ALCS due to getting to the Tigers bullpen and having John Lackey shut down a Tigers offense that is weaker than the Cardinals. If the Red Sox struggle to score runs against dominant starting pitching this time around, they'll be met with a stellar bullpen and a better offense. The odds of them surviving woeful early-game performances in the batter's box are much, much lower this time around. Let us also keep in mind that either David Ortiz or Mike Napoli come out of the lineup in St. Louis.
I'm going Cardinals in six, winning their second title in the last three years.
Boston wants to add two big bats to their lineup, not just one

Even more relievers signed on the final day of the Winter Meetings

Keep tabs on the top 50 free agents right here
The league is not happy Ohtani's medical information leaked

Kansas City and Baltimore were quite busy at the Rule 5 Draft

Piscotty's mother was diagnosed with ALS earlier this year