Cardinals thriving in October despite another late-season closer change
For the third time in their last three World Series trips, the Cardinals are relying on a closer who didn't get the job until late in the regular season.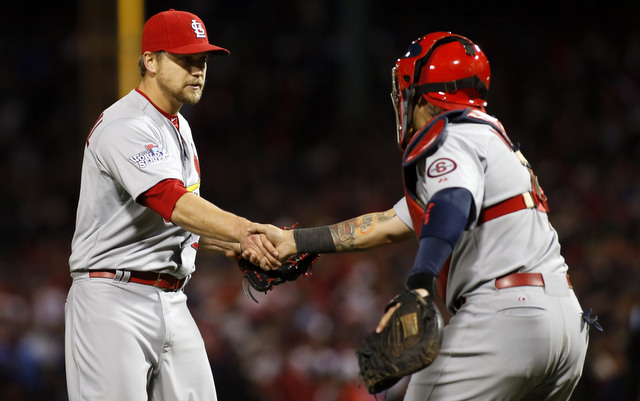 The Cardinals have become something of a regular in the World Series over the past decade. This is their fourth trip to the Fall Classic in the past 10 seasons and their third trip in the past eight. Sustaining that kind of success over that long a period of time is very rare.
Those past three trips to the World Series all have something in common. Each time, the Cardinals were forced to make a change at closer late in the season. Jason Isringhausen was their guy all throughout 2004, but injury or ineffectiveness necessitated a ninth inning change late in 2006, '11 and again this year. That's not ideal but it is what it is. Here are the team's closers for those three postseasons:
A hip injury caused Isringhausen to miss the entire 2006 postseason, pushing Wainwright into the ninth inning. The Cardinals had something of a revolving door at closer in 2011 -- eight pitchers recorded at least one save for them that year, including 24 by team leader Fernando Salas -- and Motte simply took advantage of a late opportunity. Edward Mujica's struggles in September landed Rosenthal in the closer's role this year.
If you ask any fan, manager or GM, I'm guessing they would all prefer to head into the postseason with an established, reliable closer. A Mariano Rivera or Craig Kimbrel type, the no-doubt guy. That's not always possible though, and frankly the idea of making a change in the ninth inning in the weeks leading up to the playoffs is kind of terrifying. And yet, the Cardinals have had to do it three times in the past eight years*. They've done it three times and won two World Series with a chance for a third. That's impressive.
As nice as it would be to have that established closer, I think the most important thing in October is simply having a deep bullpen. Get as many quality arms as possible and if push comes to shove, let the ninth inning figure itself out. That's much easier said than done, obviously, and it isn't guaranteed to work either. No one wants to make a closer change in September, but it is much easier to do when you have several quality arms to pick from instead of one or two. That's how the Cardinals have managed to thrive despite potential closer disasters these last few years.
* It's worth noting Red Sox closer Koji Uehara didn't become closer until Joel Hanrahan and Andrew Bailey got hurt this summer. Sergio Romo didn't take over as closer for the 2012 world champion Giants until the second half following Brian Wilson's injury. It's not just the Cardinals doing it -- other teams have succeeded despite midseason closer changes in recent years as well.
Keep tabs on the top 50 free agents right here

Your one-stop shop for all things MLB Winter Meetings-related

The Angels knew about the first-degree sprain and still wanted to sign the potential ace, of...
The run on relievers continues with two more signings

The Yankees added Giancarlo Stanton in a blockbuster trade, though they now have openings at...

Smyly is currently on the mend from Tommy John surgery