Cardinals to get Berkman back on road trip, but lose McClellan for season
Lance Berkman is going to return to the active roster at some point during the Cardinals' six-game road trip to open the second half of the season. On the flip-side, relief pitcher Kyle McClellan had surgery to repair a torn labrum in his shoulder Tuesday, and he's done for the 2012 season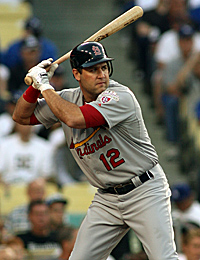 The return of Puma, coming soon. (Getty Images)
Cardinals fans, here comes some good news and bad news. First, Lance Berkman is going to return to the active roster at some point during the Cardinals' six-game road trip to open the second half of the season. On the flip-side, relief pitcher Kyle McClellan had surgery to repair a torn labrum in his shoulder Tuesday, and he's done for the 2012 season (St. Louis Post-Dispatch).
Berkman was able to convince the Cardinals he doesn't need a rehab assignment, and he'll instead go straight to the Cardinals roster during the road trip, reports the Post-Dispatch. It won't be Friday, but it will be within the next five games of the trip that he is activated.
"I'd rather work my way back in at this level," Berkman said (Post-Dispatch). "I shouldn't be playing ahead of any of the guys we have out there. We have that luxury."
Berkman, 36, is hitting .333/.429/.571 with a homer and four RBI in just 49 plate appearances this season. Berkman also told reporters his knee -- upon which he had surgery in May -- isn't an issue.
As for McClellan, he was on the comeback trail from an elbow injury when the shoulder injury popped up. The 28 year old was off to a rough start to the 2012 season, but back in 2010 he proved he could be a very reliable relief pitcher.
For more baseball news, rumors and analysis, follow @EyeOnBaseball on Twitter, subscribe to the RSS feed and "like" us on Facebook.