Cardinals top Red Sox in World Series Game 2: Quick hits
With a 4-2 victory in Game 2, the Cardinals have tied the Red Sox, 1-1, in the best-of-seven series.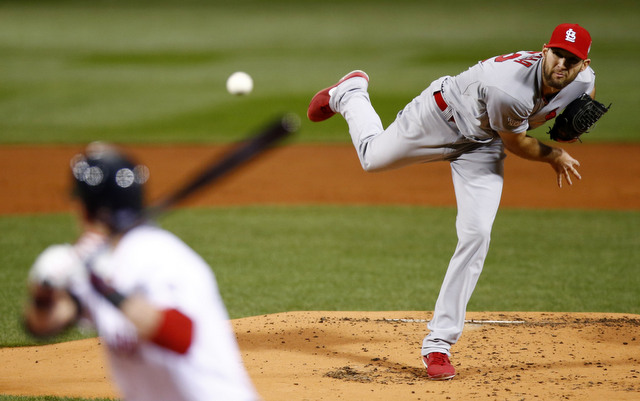 World Series Game 2: Gametracker with box score, recap
The St. Louis Cardinals evened the best-of-seven World Series at 1-1 with a dramatic 4-2 victory Thursday night in Game 2. Let's break it down.
Hero: The two-run homer notwithstanding, this is still Michael Wacha. A night after watching Adam Wainwright et al get knocked around the yard, the Cardinals were staring at a 2-0 deficit if the Red Sox were able to do that same against Wacha. And he delivered with five shutout innings to start the game. The bottom line is he gave his team a great chance to win, even if he didn't leave the game with the lead [NOTE: He was done after six and the Cardinals came back to earn him the win, but he was done no matter what]. And he now boasts a 1.00 ERA in four postseason starts. Not bad at all, rookie.
Goat: Craig Breslow entered the game with two on and one out with a one-run lead. That's a tough situation. Still, he's a put-out-the-fire reliever. His job is to get out of it. The runners were able to double steal as he paid too much attention to Daniel Descalso before walking Descalso to bring up the top of the order with the bases loaded. That's bad. Then Breslow compounded things with a throwing error that allowed the Cardinals to plate the go-ahead run. And then he allowed a Carlos Beltran single to make it a two-run lead. Rough night.
Turning point: Right after what I thought would end up being the turning point -- a go-ahead, two-run homer by David Ortiz in the bottom of the sixth -- the Cardinals produced one of their own, with a little help from the Red Sox. With the bases loaded and one out, Matt Carpenter hit a game-tying sacrifice fly, but two errors enabled the Cardinals to take the lead, one they wouldn't relinquish.
It was over when: Even with a dominant back-end of the Cardinals bullpen, anyone would be a fool to suggest that they out of a close game until the 27th out has been recorded.
Next: We're off to St. Louis, where there will be workouts Friday and then Game 3 Saturday night at 8:07 p.m. ET/7:07 local time. It'll be Jake Peavy on the mound for the Red Sox while the home Cardinals send Joe Kelly in a pivotal  matchup.
From 1 to 25, the L.A. Dodgers have the squad to overcome the pitfalls of October baseball

After Tuesday night's win over the Cubs, the Dodgers are now 6-0 in the 2017 playoffs

The 2017 World Series begins Oct. 24
Los Angeles beat Chicago once more in Game 3 of the NLCS in Chicago

The Astros will need Dallas Keuchel and Justin Verlander to take the pressure off in Games...

Judge and Sanchez played huge roles in the Game 4 comeback