Cardinals vs. Red Sox: Differences, tidbits and trivialities
Here's a look at some interesting World Series comparisons.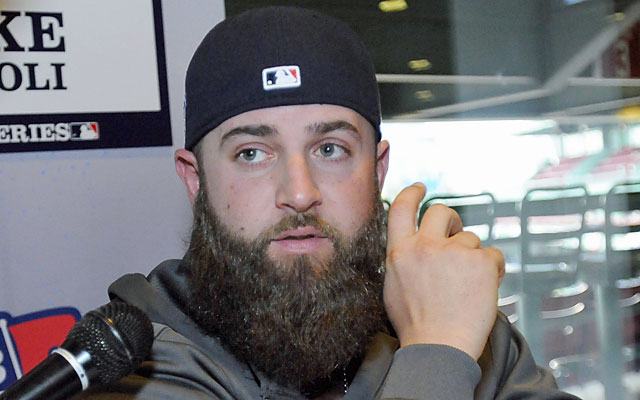 BOSTON -- These two great World Series teams aren't exactly the same, as they might have you believe.
Yes, they both won 97 games.
Yes, they both grind out at-bats (though the Boston Red Sox do a little more grinding, evidenced by the length of their games).
Yes, they both have excellent and deep rotations.
And yes, they both have ultra-talented shutdown relief corps that were formed midway through the season and haven't stopped getting outs since.
Still, there are a few differences. Such as the beards.
The St. Louis Cardinals are clean and shaven, the Red Sox mostly gross and unshaven. "Have you seen some of these beards?" Red Sox backup catcher David Ross  asked, claiming they have the ugliest collection of beards on the face of the planet (though he contended Clay Buchholz s is the ugliest of 'em all).
No one is arguing.
Here are some more items on some of the similarities, differences, difference-makers and tidbits regarding baseball's two very best teams …
Shane Victorino says all the HBPs aren't a trick. Really: He's been hit by pitch 24 times this year, six in the postseason (he'd been hit only 25 times the previous five years), so I asked him whether it was a skill, a knack or a trick. "It's just one of those things that happened," Victorino said. "I don't want to get hit. I can show you a bruise." I declined, but pressed forward, suggesting he doesn't exactly seem "disappointed" when hit. "Of course I'm not going to be disappointed," he said. "I'm trying to get on base."
One of these teams hits good pitching very, very well: SABR president Vince Gennaro, a consultant to teams, did an extensive survey on postseason teams and found the Cardinals hit by far the best against top pitching. This is important because this World Series has lots of top pitching. Your normal hitter has an average spread of 180 OPS points hitting against the top third of pitchers vs. the bottom third. But for many Cardinals, the difference is much less. Over the past four regular seasons, just-activated Allen Craig has a spread of only 26 points (.909 vs. bottom pitchers, .883 vs. top), Yadier Molina 97 (. 816 to .719) and Carlos Beltran 61 (.946 to .885). Mike Napoli was the lone Red Sox with an exceptionally small spread (69 points -- .882 to .813). Interestingly, among postseason players, two of the bigger spreads were Stephen Drew (330, .975 to .645) and Jacoby Ellsbury (316, .987 to .671). While Drew has struggled with the bat in the postseason, Ellsbury has been lights out.
These teams love each other, but more than that, they admire each other:  Jonny Gomes , the ex-Red, paid perhaps the nicest tribute to the Cardinals by telling teammates that watching the Cardinals is like watching a Tom Emanski video, perfect for fundamentals. Gomes seems to believe in the Cardinal Way as much as a Cardinal would.
The bullpens have been lights out, but the Cardinals may have the edge: The reason? They are only a rumor to most AL hitters since most of the key relievers are rookies. Ross gives this assessment: "They are young and they throw hard." That's true, but when asked to size up the relievers, he admitted he only really ever saw John Axford and Edward Mujica , neither of whom are part of the trio that comprises gas-throwing gang at the back end -- 98-mph lefty Kevin Siegrist and 100-mph righties Carlos Martinez and Trevor Rosenthal . It's impossible to top Red Sox closer Koji Uehara for sheer dominance. But Rosenthal can be near to unhittable, as well. Not bad for a 21st-round draft choice who is a converted infielder. "I was just happy to be drafted," Rosenthal said. "I was passionate about the game and ready to give it my all."
Uehara was the Red Sox's fourth choice as closer, but no one's been better: He had a ridiculous 0.57 WHIP during the regular season. And he's lowered it to 0.50 so far in the postseason, where he's been asked to get extra outs. Maybe I should reconsider whether the Cardinals have the bullpen edge. For the record, Boston's earlier closers were Joel Hanrahan , Andrew Bailey and Junichi Tazawa .
Michael Wacha was a great pick at No. 18 overall, too: Eighteen months after being selected 18th in the first round of the 2012 MLB Draft, he's the sudden star who could be the difference-maker (other '12 draftees to make it to the majors are pick No. 3 Mike Zunino and No. 4 Kevin Gausman ). Cards manager Mike Matheny on Tuesday made official what everyone figured, that Wacha would follow ace Adam Wainwright as the Game 2 starter. Matt Holliday predicted stardom for Wacha in spring training, noting that he had a much better breaking ball than advertised to go with an excellent fastball and all-time changeup. (The reason he lasted until No. 18 was that scouts doubted his breaking ball.) Well, Wacha was sent to Memphis at some point this year, where a scout, who also loved him this spring, said he wasn't the same. Wacha said he worked on refining his off-speed stuff while in the minors. The result is a second ace. He's thrown two games this postseason where he didn't even allow a run.
Speaking of the draft, these teams are good at it: But no one is better than the Cardinals. Siegrist was a 41st-rounder, Matt Carpenter a 13th-rounder. It's uncanny, really. You always hear about how great they are at "drafting and developing." So I asked Cardinals GM John Mozeliak what's the key: drafting or developing. "It's like the chicken and the egg," Mozeliak said. "Obviously, you have to have talent. And once you have the talent, you have to make it grow."
Shelby Miller grew to be a star; now he's mostly sitting: That's hard to believe. But Miller, who just threw a simulated game and is ready to go by all accounts, can't crack the postseason rotation. "I have no idea what happened," Miller said. "It's weird. If I pictured the postseason, it would be a lot different. I'd have thought I would have pitched more in the postseason. But right now we have four guys pitching really well. And we can be nothing but excited for ourselves." As near as anyone can figure it, Miller was omitted for Joe Kelly vs. the Pittsburgh Pirates in the NLDS because of the matchup (he was shelled when he faced the Pirates earlier), and the Cardinals decided to stay with the hot hand in Kelly.
Hot hand? Watch Jacoby Ellsbury: He's doing it again, just like he did in 2007. He has six stolen bases, three extra-base hits and an OPS of .992 through the AL derby. It looks like a great boost for his impending free agency. But Ellsbury said, "To be at the top of your game, you've got to focus on the task at hand, and that's the World Series. That's what everyone's goal has got to be." He's not thinking about free agency. But just in case anyone else is, a few candidates to sign him are his Red Sox plus the Seattle Mariners , Chicago Cubs , Cardinals (yes, maybe the Cardinals), Cincinnati Reds , Houston Astros and Los Angeles Dodgers  -- if they can really redo their outfield logjam.
In terms of time, they are opposites: The Cardinals breezed through plenty of sub-three-hour games, while the Red Sox are lucky to get through six innings in that amount of time. Buchholz is not only the grimiest beard wearer but also the slowest pitcher, and it paid off with only one -- count it, one -- loss in the regular season. Red Sox hitters are mostly slow, too. Mozeliak promises "Our pitchers will try to stay on their game." Regardless, he said, "Fast or slow. We're just happy to be here."
A few folks from the 2004 Series are still in uniform and active: Of course, there's David Ortiz . And there's Yadier Molina. There's also Cardinals coach John Mabry, a player at the time, and there's Cardinals manager Mike Matheny, who caught ahead of a young Molina and won a Gold Glove before Molina started winning them. The Red Sox swept. Matheny recalled a "knockdown, drag-out" fight between the Cardinals and Carlos Beltran's Astros in the NLCS, and said, "It was pretty much a whirlwind by the time we got to here to Boston. And next thing you know, we're down two games and didn't even know what happened." No one's expecting a repeat.
Just for the record, the Cardinals don't fear the beard: Matheny was asked whether his players could be intimidated by the bearded look, and he responded, "If they're intimidated by the beards, we're in trouble." Ross said he didn't figure that was possible, either. When folks see Ross and his gray beard, he said the response is, "Who's that old coach?"