Cards' GM on hypothetical Profar-Taveras deal: 'Have to think about it'
Cardinals GM John Mozeliak was asked during a radio interview on Wednesday about a hypothetical trade involving two of baseball's very best prospects.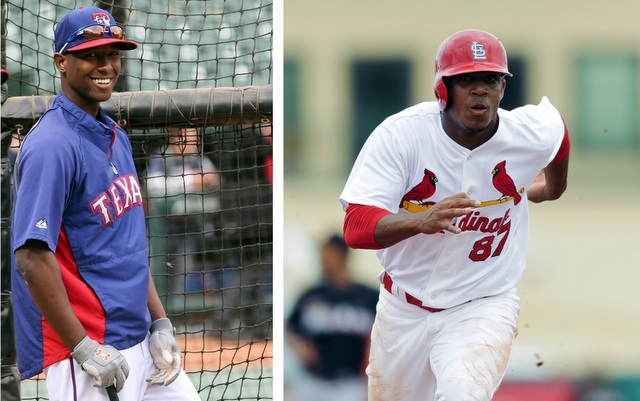 More MLB: Scoreboard | Standings | Probable Pitchers | Sortable Stats | Odds
The Rangers and shortstop Elvis Andrus recently agreed to a new eight-year contract extension, meaning the future of top prospect Jurickson Profar is now a bit of an open question.
Profar, 20, will open the season at shortstop with the team's Triple-A affiliate. He could eventually shift to second base (with Ian Kinsler moving to first or the outfield) or he could wind up as trade bait. There are 29 teams that would line up to take the guy Baseball America recently dubbed the best prospect in baseball off Texas' hands.
The Rangers need long-term outfield help since both David Murphy and Nelson Cruz will become free agents after the season, and that's where Cardinals top prospect Oscar Taveras comes in. St. Louis needs long-term middle infield help and has outfield depth to spare, so a Taveras -- Baseball America's No. 3 prospect -- for Profar trade seems like a match made in rumor heaven. Each team would be dealing from a position of depth to fill a need.
Former big-league GM Jim Bowden presented the idea of a Taveras for Profar trade to Cardinals GM John Mozeliak during an MLB Network Radio on SiriusXM interview on Wednesday, an idea that made Mozeliak laugh at first. The audio is here, his response is here:
"You're talking the right language I suppose. Yeah, I'd have to think about it in terms of what we would do. I'm really excited about what we saw out of Pete Kozma -- I'm not comparing the two -- but you look at these types of talents at the minor league level and they're elite players.

"For us, I think we're pretty well set in the outfield for years to come. We're not that strong up the middle, but having said that, what Pete has done is something that has opened up a lot of eyes and we certainly want to give him opportunities."
Mozeliak was put on the spot and gave the standard "it's an interesting idea but we like the guy we have" response. For what it's worth, Kozma has hit .305/.376/.526 in 44 big-league games over the last three years despite only hitting .223/.286/.324 in over 243 Triple-A games.
A Profar-for-Tavares trade would be a blockbuster even though the kids have a combined nine games of experience in the show (all by Profar). They're the two best position players in baseball, both are basically MLB ready, both teams would be trading a surplus for a need ... it fits so beautifully.
It won't happen, though. Prospects are like children -- every team loves their own more than everyone else's. The Rangers will figure out what to do with Profar just like the Cardinals will figure out a plan for Taveras. Both players are too good to be blocked at the big-league level. It makes sense on paper, but a trade like that feels unrealistic. Boy, would it be fun, though.
Despite an awful month, the Dodgers are again NL West champions

The record of 38 previously belonged to Hall of Famer Frank Robinson

The report also says that Jeter had outgoing president David Samson do the firing
This wasn't a traditional hidden ball trick, but the Blue Jays pulled it off

The Tigers essentially fired Brad Ausmus on Friday, but things are going to be ugly for a...

The club made the announcement on Friday