Cards-Red Sox: Historical franchises, rookie World Series managers
The days of legends like Joe Torre, Tony La Russa, Bobby Cox, Jim Leyland and, for now, even Terry Francona in the World Series dugouts are gone. Say hello to Boston's John Farrell and St. Louis' Mike Matheny, who will be making their Fall Classic debuts. ...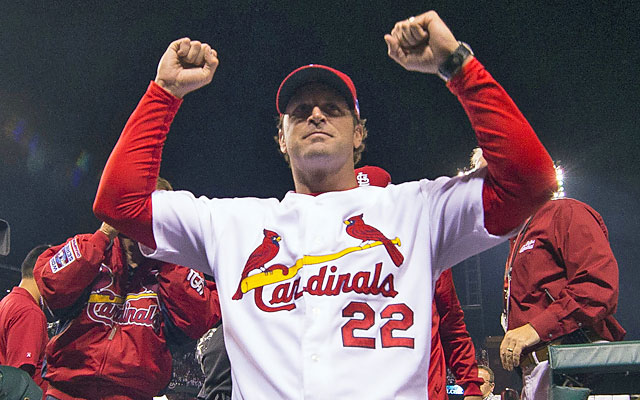 BOSTON -- Just a few hours after Jim Leyland said so long in Detroit, John Farrell ran his Red Sox through one of their final workouts here Monday before Fenway Park goes all October formal again.
Say this for the World Series: When prying television cameras zoom into the dugouts over the next several days for those managerial reaction shots, America will lean forward in its La-Z-Boy, reach for its eyeglasses, crinkle its forehead and mutter … who the hell is THAT guy?!
Two of the most tradition-steeped organizations in the sport will tangle in the 109th World Series beginning with Game 1 here Wednesday night. But Tony La Russa is no longer managing the St. Louis Cardinals, and Terry Francona is not pulling the levers for the Boston Red Sox (nor is Bobby Valentine, who I'm pretty sure is banned from coming within 2,000 miles of Fenway Park due to a restraining order, but I'll have to get back to you on that. It may be 3,000 miles).
Farrell's Red Sox and Mike Matheny's Cardinals each finished 97-65 this season, tied for the best record in the majors, and each man is quickly establishing a reputation as a talented, thorough, no-nonsense, respected and winning manager.
But the times, they are a-changing in the dugout. And in case you hadn't noticed, it will be emphasized on baseball's grandest stage.
Managers who have become as familiar and welcome as carved pumpkins and apple cider at this time of year have faded away. In fact, La Russa, Joe Torre and Bobby Cox all have become eligible for the Hall of Fame, likely to be voted in this December and inducted next July.
Dusty Baker was fired in Cincinnati a couple of weeks ago. Davey Johnson stepped down in Washington. Charlie Manuel left the Phillies in August. Lou Piniella is long gone.
Though the Cardinals and Red Sox have been racking up points in the Fall Classic Frequent Fliers program over the past decade -- this is St. Louis' fourth appearance in 10 years, and Boston's third -- Farrell and Matheny have combined for zero World Series games managed.
Turns out, Farrell's Red Sox helped push Leyland into an early retirement by dumping the Tigers in the American League Championship Series. Leyland informed Tigers general manager Dave Dombrowski on Sept. 7 of his plans, but this monumental decision stayed secret until Monday.
In fact, Farrell said he texted Leyland on Sunday morning congratulating him not only on having a great team, but a great season as well. A day later, Leyland's news came as a shocker to Farrell.
I'll tell you what's the shocker here: That a real, live World Series manager texts. Those grizzled old skippers with tobacco juice rolling down their jowls, back when men were men and pitchers batted, they didn't text. They cursed. And then they cursed some more. And then, when they were finished, they cursed one more time just to make sure they damn well were understood.
Farrell, 51, isn't sure what to make of the changing of the guard among his peers, how the demographic is beginning to skew younger.
"I don't know that the schedule is any different," he said following the Red Sox workout to a suggestion that the late nights and the relentless grind perhaps is making it a younger-man's game for managers. "I think dealing with the media is drastically different. And the social media, with players, and counseling some guys who are maybe getting on the fringe of that.
"It stresses the need to be in constant communication with them before you say anything publicly. I'll come out of the pregame meeting with the media, and the players already know what I've said from people tweeting it."
Farrell pitched for eight seasons with the Indians, Angels and Tigers, spent five seasons as director of player development for the Indians, served under Francona as Boston's pitching coach from 2007-2010 and managed the Blue Jays in 2011-2012 before replacing Valentine this season.
Matheny, 43, caught for 13 seasons with the Brewers, Blue Jays, Cardinals and Giants and, after retiring in 2006 at 35 -- hastened by post-concussion syndrome -- was hired by general manager John Mozeliak as a roving coach and special assistant.
A surprise choice to succeed La Russa -- Matheny had never before managed -- the second-year skipper nevertheless has led the Cardinals to 185 wins in two seasons and nearly two World Series appearances. Last year's Cardinals led San Francisco 3 games to 1 in the NLCS before coming up just short.
The fact that Matheny played under La Russa in St. Louis from 2000-2004 and was such a respected player mitigated the risk of naming him as manager, in Mozeliak's mind. And like his good friend Leyland, La Russa had informed his boss sooner, rather than later, of retirement plans during his final season. So Mozeliak had August, September and October of 2011 to, as he puts it, do his "due diligence." Matheny was named La Russa's successor shortly after St. Louis won the World Series in '11.
"I was really nervous about bringing in somebody that didn't understand the history or understand how that city reacted to baseball," Mozeliak says. "Because it is unique, and I don't think people understand how much St. Louis is a baseball town. They demand winning, so it can't be taken lightly."
Matheny unquestionably has had the more difficult challenge of the two simply because he followed a legend. Odds were pretty high that no matter what Matheny did, it would pale in comparison to La Russa's work.
Farrell would have had the same challenge, no doubt, had he succeeded Francona, who led the Red Sox to World Series titles in 2004 and 2007. But following last year's debacle under Valentine -- one year and out -- the bar was so low that the only way Farrell could have screwed it up would have been had he torched Fenway Park to the ground, or worn a Yankees uniform to work.
Make no mistake, however: Farrell has been magnificent in leading the Red Sox not only back to respectability following last season's 93-loss Whoopie cushion of a season, but to a return World Series trip.
"He's dispelled the feeling of Big Shoes Syndrome that people talk about," Farrell says of Matheny with respect.
As for how his job might have been different had he directly followed Francona, Farrell says there simply is no way to know.
"Honestly, I don't think anyone envisioned Tito leaving," Farrell said. "I think everyone envisioned his tenure to extend for an undetermined amount of time."
Matheny and Farrell do not know each other, but they have much in common.
"We haven't forgotten how hard the game is," Farrell says. "You're only as good as your players. I think it's important to keep them as the focal point."
"I think we've been fortunate to be in an organization that winning is a tradition, winning is an expectation," Matheny said of his St. Louis work following Game 6 of the NLCS. "We start talking early on about the history and the championships, the great players who have been through here and people who have made their mark on this organization and in the game."
Both men draw high praise from their players for their ability to communicate. Given the layout of today's game, that's at least as important a managerial skill as the various in-game strategic elements.
"I haven't had a manager do what [Farrell] has in batting practice since Bruce Bochy," says Jake Peavy, who came to Boston in a late July trade, of his former Padres manager -- and the man who has led the Giants to two World Series titles in the past three seasons. "Right after my first start here, I was shagging in center field and he was walking around, checking the pulse of everyone. He came to me asking how I came out of my start, how I felt about it, what I wanted to work on."
Much as each man prefers to deflect attention to his players -- and granted, you cannot reach the World Series without good players -- there is only one man in each dugout with a bull's eye on his back at this time of year. Especially in this age of social media, instant replay and an arsenal of statistical information that provides ammunition throughout the long, cold winter ahead.
"As a position player, we don't have won-loss records on the back of our baseball cards," Red Sox outfielder Jonny Gomes says. "You just go play.
"How a team plays is a direct reflection of your manager. Like as a kid, when you're a good kid in public, it's a direct reflection of your parents."
Farrell has never before been in uniform for a World Series. Matheny has once, as the Cardinals catcher in '04 who was helping to break in a young Yadier Molina. That Cardinals' team roared to a 105-57 record before beginning its World Series odyssey right here in Fenway Park … where the Red Sox began a systematic and thorough sweep of St. Louis.
"It went from the greatest baseball experience of my life, winning 105 games, to getting our lunch handed to us in the World Series," Matheny says.
"It was one of the toughest experiences of my baseball life."
A wise old manager had an expression for coping with moments like that, and equipping yourself to move forward: You can't chew yesterday's breakfast, Leyland likes to say.
But now he's exited, stage left. And it's up to the new guys to make their October reputations, starting with Matheny and Farrell.
Jonathan Singleton was suspended after a third positive test for a drug of abuse

Rodriguez will join Jessica Mendoza and Matt Vasgersian on the "Sunday Night Baseball" boo...

Jeff Wilpon talked about payroll on Tuesday, and it won't make any Mets fan happy
Yelich's agent recently asked the Marlins to trade him before the spring

I've only been in the BBWAA three years, but here's what my ballot would've looked like this...

In the last two votes, Clemens has gained nearly 17 percent in Hall of Fame voting